Los Angeles
Community Group Stages Event To Protest Evictions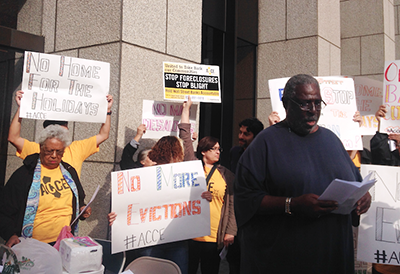 A community group gathered in front of the Bank of America building in downtown Los Angeles Tuesday to protest the bank's foreclosure and eviction practices. The protest ended shortly after police forced the group to relocate further from the business's entrance.
Approximately 30 members of the Alliance of Californians for Community Empowerment (ACCE) started protesting around noon, blocking one door of the Bank of America building at 300 S. Hope with signs and a table full of "Thanksgiving Dinner."
The event, according to organizer Peter Kuhns, was designed to draw attention to homeowners who are being foreclosed on over the holidays, rather than having banks work with them to modify their loans. ACCE, which has more than 10,000 members across the state of California, addresses a number of community issues. Their "Home Defenders League" addresses community housing concerns.The group demanded to have a letter delivered to Bank of America CEO, Brian Moynihan.
The letter detailed demands including escalating accounts in default on first and second mortgages to senior bank employees and negotiating loan modifications. The group also demanded the bank "reinstate" loans for a number of specific cases.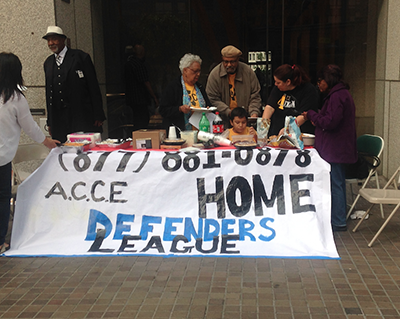 "We're here today demanding to know why banks, like Bank of America and other big Wall Street banks, would rather throw families out on the street to the curb instead of working with them on affordable loan modification when they have the ability to pay for the modifications," said an ACCE organizer.
READ MORE: Reverse Mortgages Ready For a Comeback
ACCE addresses a number of community issues. The organization has more than 10,000 members across the state of California, according to organizer Odilia Mendez.
One woman mentioned in the letter, Nynoska Briceño, has been fighting to keep her home in Downey after a medical condition caused her to go on disability five years.
"This year, still, I applied for loan modification and they refused to send me a package," she said. "[In] June of this year, bank of America foreclosed for me….I'm not gonna let Bank of America take away our property without a fight." Briceño is a former Bank of America employee.
READ MORE: Homeowners Facing Foreclosure Appeal to Lenders for Relief
Patrick Smith spoke next. "They should stop foreclosing on homeowners because they are the ones that created this problem with their corporate greed."
Chants broke out shortly after the testimonials, "What do we want? Justice! When do we want it? Now!" They chanted again in Spanish, "¿Qué queremos?" ¡Justicia! ¿Cuándo lo queremos? ¡Ahora!"
Foreclosures don't neccesarily rise over the holidays, Kuhns said. Foreclosures are down in general, but there are still thousands of foreclosures with communities of color and low-income communities disproportionately affected. These foreclosures are happening despite homeowners having the ability to pay a modified loan amount.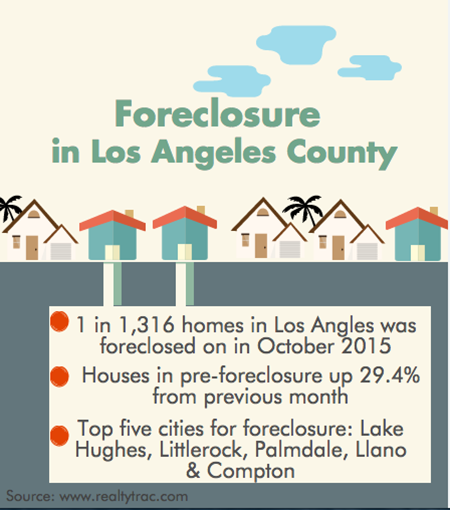 "It's an important time to point out how ridiculous the bank's policy is of throwing people out over the holidays...If we can't have Thanksgiving in our own homes, we're gonna come here," Kuhns said. "The California Homeowners Bill of Rights is the strongest law in the country to protect homeowners against foreclosure and even then sometimes banks don't comply with it."
The group was unsuccessful in enlisting a building security officer, who declined to give his name, to deliver their demand letter. Approximately an hour after the demonstration began, police officers arrived. Police Sergeant Keenan came and ordered the group to move their table, citing a fire hazard and trespassing order.
ACCE resisted, stating if they moved, would lose leverage with the company who had been unresponsive to previous requests. Various members of the ACCE organization stated their case to the police, who agreed to assist the group by requesting security bring the letter "upstairs" and send someone down to talk with the group.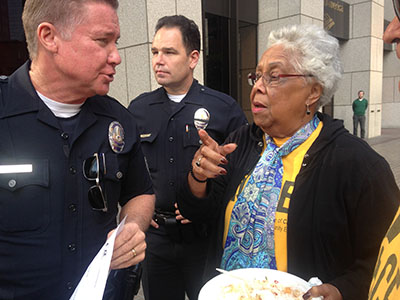 "I can't guarantee they will, but we can give it a try," said Police Sergeant Keenan. He stated later, that he had been to this building on several occasions, and the business was not usually responsive.
Ultimately, the group moved their protest several feet from their original location. Building security personnel declined to deliver the group's letter and stated the bank was "closed" because of the protest.
In response to this event, Bank of America issued this statement:
"We've helped more than two million mortgage customers stay in their homes through loan modifications, or avoid foreclosure through short sales and deeds-in-lieu of foreclosures. We lead the industry with more than 1.5 million modifications and extinguishments through all available programs and more than 500,000 short sales and deeds-in-lieu completed to help homeowners avoid foreclosure since the beginning of the economic. In addition, many more customers reduced their monthly payments by refinancing their mortgages. Foreclosure is always a last resort, after we have reviewed a customer's eligibility for alternative solutions."
There were no arrests and ACCE dispersed at 1:45 p.m.
Reach contributor Chole Mare Rivera here or follow here on Twitter here.