Music
25 Reasons We've Missed Adele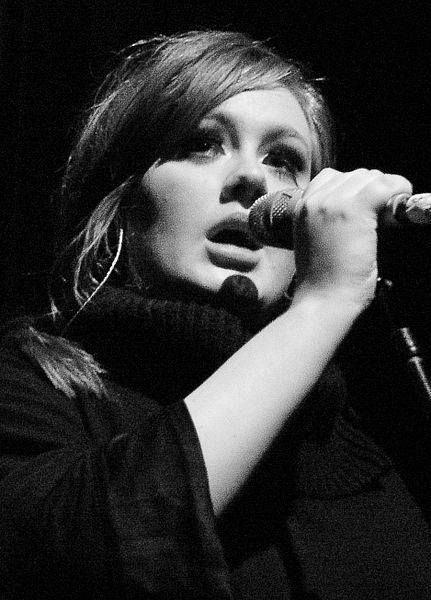 After releasing "Hello," the first song and video from her forthcoming album "25," Adele has made a smashing re-entrance into the spotlight after stepping out for the past four years. Now that she's back and more powerful than ever, we're reflecting on why we've been counting down the days until this return.
1. You've recently been through a break up and it's hard to cry listening to Fetty Wap.
2. She reminds us that last names are irrelevant and we should all just drop our own.
3. The "Adele Cackle" is a real thing. Check this out if you don't know what I'm talking about.
4. She just had a baby and didn't name him something weird, like a fruit or a direction.
5. She's British, one of the hippest things you can be these days.
6. No one uses the word "f$#k" more elegantly.
7. Not to mention using it in her fancy British accent that actually makes cussing sound beautiful.
READ MORE: Roomies Who Review: 'Made In The A.M.' By One Direction
8. She's established her sound without needing other artists to feature on her tracks.
9. That flawless cat-eye. Which is probably unachievable by the average make-up doing human but that won't stop us from trying.
10. She made millions of dollars off a man breaking her heart while also picking up 168 various nominations and 86 awards, including 13 Billboard Music Awards, 10 Grammys, 4 Brit Awards, oh and 1 Oscar. Ugh, boys.
11. Her body confidence is out of this world, and we love it.
12. Her voice is actually her voice, no one's messing with autotune. *cue gasp*
13. While Taylor Swift has been killing it these last couple years, we're ready for some more power ballads about love that lasted longer than a short vacation.
14. We also need to start listening to something other than Kim K's pregnancy woes.
15. Her hair is probably in the mile high club.
16. Her personality fills up a room, without bringing a huge ego.
17. Multiple artists including One Direction, Ellie Goulding, and even J-Biebs himself have moved their album release date as to not conflict with Adele's "25." Slay.
18. She totally gets our adult anxiety. "When I was 7, I wanted to be 8. When I was 8, I wanted to be 12. When I turned 12, I just wanted to be 18. Then after that I stopped wanting to be older," she recently said on Twitter.
19. Back in 2006, she landed a recording contract three days out of high school. #collegenotnecessary
20. She's always wearing black. Like Johnny Cash or Steve Jobs. Iconic, and a total power move.
21. While she's a low key and awesome tweeter, Adele's relatively new to Instagram and managed to share this incredible throwback.
22. Her songs have lyrics like, "Please forgive me for my sins / Yes, I swam dirty waters / But you pushed me in." Same Adele, same.
23. She's not a diva.
24. The "Chasing Pavements" music video was basically just people lying on a sidewalk but it was maybe the best thing to happen in 2009.
25. Yeah, sure, she was gone for 4 years but did anyone ever really stop thinking about her?
So, Adele, we've missed you, but we're also worried your new album will rip our hearts apart.
Reach Staff Reporter Issabella Negri here.