USC Sports
USC Women's Volleyball Downs Fifth-Ranked Washington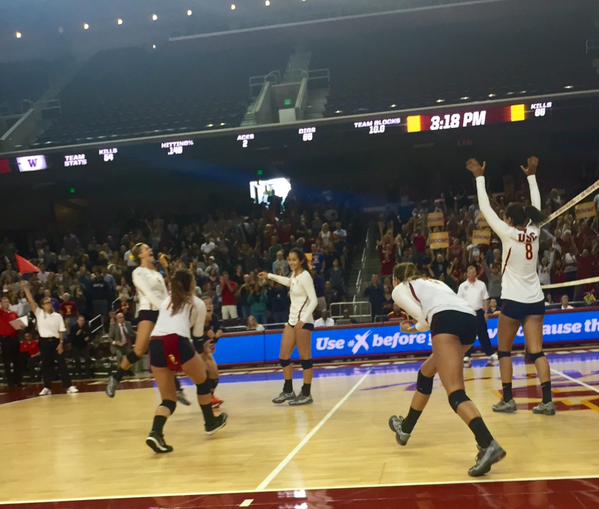 The No. 2 USC Women's Volleyball squad upheld their undefeated record, conquering the No. 5 Washington Huskies in four sets (25-16, 22-25, 25-21, 33-31).
Maintaining solid composure and mental toughness through a tough fourth set helped the Women of Troy top the Lady Huskies and earn their 16th overall win and fourth in the Pac-12 Conference.
The team set the tone early, escaping to a 16-9 lead in the first set following a series of kills by senior Samantha Bricio and a string of attack errors from the Lady Huskies. After clinching the first set 25-16, USC faced some adversity in the second as UW freshman Destiny Julye executed three back-to-back kills to give Washington a 24-20 lead, which they were able to capitalize on to win the set.
After claiming the third set by a score of a 25-21, the true test for the Women of Troy came in the fourth set when the teams battled 37 tied scores.
"We were pretty evenly matched but it came down to how hard we could compete," senior Alicia Ogoms said. "I think that had to be something that we had to focus on, so we just went out there and tried to compete."
The Trojans exhibited this same competitive nature when they fended off four set points in the fourth set, before securing the victory. Veteran Bricio, who earned the espnW National Player of the Week award last week, led the team with 27 kills and 16 digs. Her tenacity and grit was showcased in the fourth set where she provided a crucial kill to combat a Huskie set point and tie the score at 31. Two Huskie attack errors followed, handing the Trojans the win.
"I think you have to give [Bricio] some credit," head coach Mick Haley said. "When you got one go-to that doesn't let you down, every time brings it, that's when you have hope. It's inspiring for everyone."
Yet the win was a team effort and the entirety of the squad exhibited persistence and drive throughout to combat a strong Washington offense.
"They knew that it was not any one person to win that. It was on them collectively to stay together, that's what they're buying into. I'm really proud of all of them," Haley said.
The Trojan newcomers really stepped up, anchoring the team's defense, as Victoria Garrick and Baylee Johnson notced 20 and 11 digs respectively.
"Our freshmen group is just so resilient," Haley said. "They work hard all the time, they don't worry too much about errors. They have fun out there."
Bricio attributes the team's success thus far to the girls' camaraderie and strong work ethic.
"I just think what makes this team special is the new people that we got, they come and work really hard and that makes everyone else want to work hard," Bricio pointed out. "The competition in practice is high level – we always want to get better."
Despite their success to start the season, the Women of Troy are not getting ahead of themselves and are maintaining their focus on each individual game.
"Game by game –that's the mentality that we try to stay on this year. It doesn't matter what you do right now, it matters what you do at the end," Bricio said.
The Women of Troy hope to carry this focus and competitive mindset with them as they head into the remainder of the season.
Ogoms reiterated: "Being able to compete will be our biggest takeaway from this game."
The Trojans will now hit the road next Friday to face Colorado.
You can reach Staff Reporter Samantha Solomon here.