USC Sports
USC Women's Volleyball Continues Undefeated Streak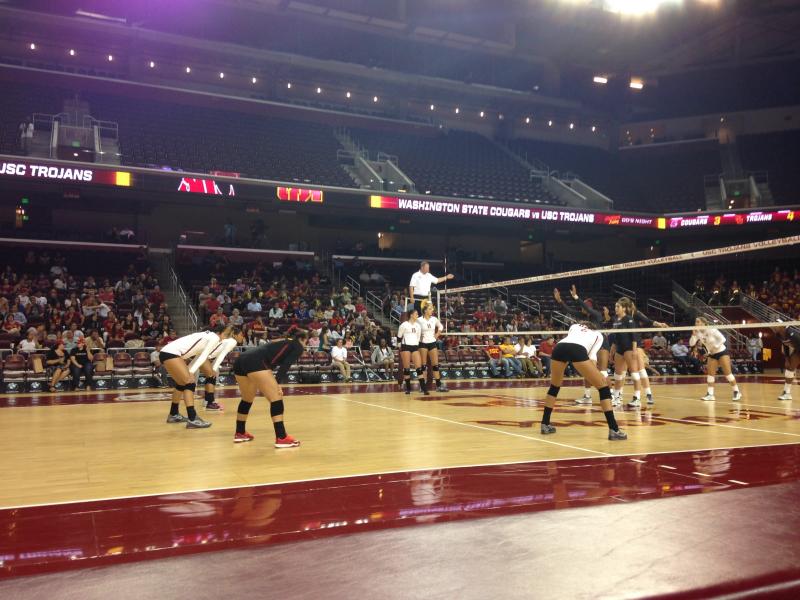 The USC Women's Volleyball team wne to 3-0 in Pac-12 play Friday night, as they swept Washington State.
Despite a third set that featured seven tie scores and three lead changes, the Women of Troy were able to pull out a victory and improve to 15-0 on the season.
Senior Samantha Bricio led the way with 13 kills and 15 digs on the night. Freshman Alyse Ford, had 11 kills, while Baylee Johnson—also a freshman—helped out with 20 assists.
Coach Mick Haley said that he liked that the team used their defense, and that the combination of that, and the blocking, probably won the match for them.
"We showed improvement in this match in some of the areas that we've been really focusing on so that's really a good thing," Haley said. "We got a lot of balls up and with a lot of hustle. Our middle backs played very aggressively to go with the stuff blocking of our middles."
Libero Taylor Wittingham said that it's helpful to have blockers such as Alicia Ogoms because they're very physical at the net.
"It really helps me to be able to see my angles and really cut the court down for me so I don't have to worry about so much," Wittingham said. "Really, all the credit goes to my blockers."
Ogoms, who had seven block assists, said that Wittingham is always there to bail out her blockers.
"It's really nice to have someone behind you that always has your back," Ogoms said.
With injuries and illnesses reducing the team to 12 active players, Ogoms said that she thinks it's going to take all 12 to meet Washington on Sunday. Coach Haley said that the team has lost freshmen Rachel Reed, to tonsillitis, and Tatum Harvey, to an ACL injury.
"It's going to take everything we have, everything we can do together, like in our system, to be competitive," Ogoms said. "We're looking forward to it, for sure, though."
Wittingham said she has never beaten Washington since she's been at USC.
"I'm really looking forward to taking on that challenge and playing our hearts out on Sunday," Wittingham said.
Coach Haley said he would like to see the team have a better serving and receiving match Sunday if they're going to have a chance to win. The team's defensive ability to hold Washington State's McKenna Woodford and Kyra Holt to less than their average four points per set was something that impressed Haley.
"If we could build off that and really get our offense back into the swing of things, I think we have a good opportunity to do well on Sunday," Haley said. "But those are a lot of 'ifs' that we just have to go out there and play our game and step it up."
Haley said the team has been taking games one at a time with the number of tough games the team has played in a row,
"Win or lose, you gotta go to the next one," Haley said. "Our next one's Washington and that's all we're thinking about."
The Women of Troy face the Washington Huskies at the Galen Center on Sunday at 1 p.m.
Follow Jen Ramos on Twitter at @jenmacramos