USC Sports
USC Women's Soccer Uses Second Half Comeback to Beat Arizona State
Down a goal at halftime to Arizona State, USC women's soccer assistant coach Jennifer Klein gave her team a pep talk.
"You've got to have the fire," she said. "It doesn't need to look pretty. You've just got to go for it."
And the players did just that, coming back with two second-half goals to defeat the Sun Devils 2-1 at McAlister Field on a sweltering Friday afternoon.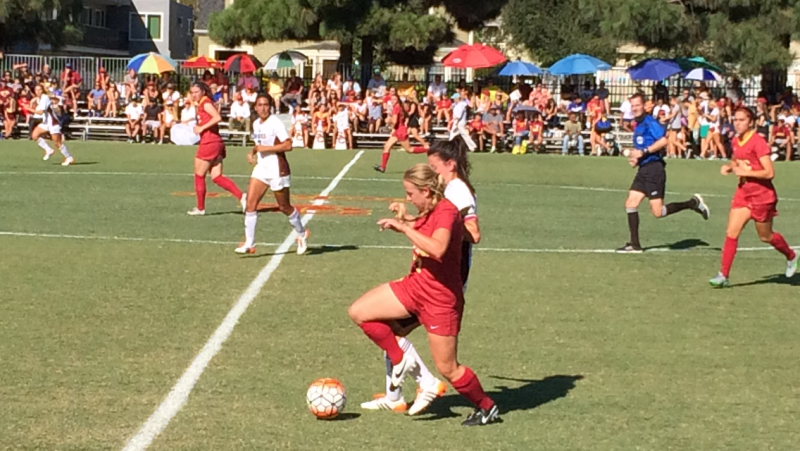 The Trojans caught a huge break on the game-winning goal in the 64th minute by Hailey Hite, who was in the right place at the right time when Arizona State defender McKenzie Berryhill stumbled and fell in her end. The opportunistic Hite took the ball and scored from point blank to give USC a decisive 2-1 lead.
But the goal was no fluke, as the scouting report on Berryhill tipped off USC on a particular detail.
"We knew [Berryhill] liked to play on her right foot," Hite revealed. "She faked like she was going to cut onto her left, but I just stayed on [the right side] and grabbed the ball."
Added head coach Keidane McAlpine: "She knew [Berryhill] is primarily a right-sided player. We told her if she puts it on her right to pressure a little bit to force it onto her left. Sure enough, she picked the ball up and ran to the front."
USC outshot Arizona State 11-4 in the first half, but only forced Sun Devils' goalkeeper Chandler Morris to make one save. Instead, it was the Sun Devils who got on the board first.
The Trojans caught a break in the eighth minute when Sun Devils' defender Madison Stark fired one off the crossbar after making an elusive move. But ASU found the back of the net in the 22nd minute on a goal by Sara Totsi, who took a pass up field from Berryhill down the left side and fired it into the right corner of the net from 15-yards out to put the Sun Devils up 1-0.
Down by a goal, USC came out of the second half with a sense of urgency; it would be a couple of substitutes who would make the much-needed impact. A minute after Reilly Parker's shot from the area went just wide, Tamara Mejia equalized for the Trojans in the 47th minute. Taking a pass from Mandy Freeman, Mejia closed in and buried it in the left corner of the net.
"We knew coming into the second half that we needed a lot of movement from forwards," said Mejia. "I was just constantly moving. I found a gap. [Freeman] had a good ball and I just put it in the back of the net."
The Trojans hung on to the one-goal lead for the rest of the second half, rebounding after a 1-0 loss in Washington to the Huskies last Sunday.
"As we try to get better, game to game, week to week, we have to bring that kind of effort every time we come to the park," McAlpine said. "We started a little slow and then we got into the game and picked it up. That's the kind of winning effort that we need."
It was a physical match, one that saw two Trojans – Hite and Kayla Mills – booked for yellow cards. Arizona State entered the match close to full strength, but several of its players sustained injuries and needed to be helped off the field.
"You never like to see players get hurt," said McAlpine. "Part of being in this conference is making sure you can match the intensity level of teams. [Arizona State] is a very good team even though their results haven't shown. Today they were as close to full strength as they've been in a lot time so we knew we had to bring the right energy."
After wining their first four matches of the season, the Sun Devils came into McAlister Field on a six-game losing streak.
The win was especially pivotal considering the tight standings in the Pac-12. Entering play on Friday, five teams – including USC – had a 2-1 record in conference play, trailing only Stanford, who was 4-0.
"Some people might have gotten nervous about how we're going to do this season," said Hite on her feelings after Sunday's loss. "With this win, we can move on. We can win this thing and it really boosted our confidence."
Overall, the Trojans are 8-4-1 and have won five of their last six.
McAlpine offered: "Coming off a loss, it's all about how you respond. Going down one was a defining moment for us to see how we were going to respond. I thought the two goals were a great response."
Temperatures on the pitch neared triple digits on Friday afternoon, prompting the referee to call for water breaks at the midpoint of each half. The scoreboard also overheated and was out of service for a period of time in the first half.
Nevertheless, it didn't have much of an effect for USC on the field.
"We really focused on hydrating," said Hite. "We subbed a lot. The coaches were super smart about who they put in. They had a good strategy."
The Trojans will take on the Arizona Wildcats at home on Sunday, with temperatures expected to be over 90 degrees once again.
You can reach Staff Reporter Eric He here, or follow him @erichesports