USC Sports
USC Water Polo Dominates Weekend Matchups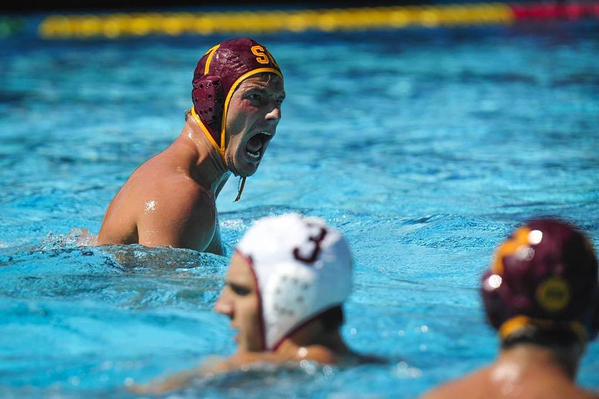 The aquatic center was roaring this past weekend after the USC Men's Water Polo team took down not just one, but two conference opponents giving the Trojans a 3-0 start to the MPSF season and an overall record of 11-1.
The first game of the weekend was one for the books against upstate rival Stanford. The Trojan defense came out in full force, shutting down Stanford's post up players and strong outside shooter Bret Bonanni. USC's goalie McQuin Baron led the defense with 4 saves in the first quarter alone.
During the 2nd quarter the offense lit up the pool with 2 consecutive back handed goals from Sophomore two-meter player Lachlan Edwards and 2 more quick perimeter goals from freshman driver Zach D'Sa and junior newcomer Blake Edwards. Throughout the first half, the Trojan defense kept Stanford in check ending the 2nd quarter 6-3 lead.
The offense carried into the 3rd quarter with a quick power-play goal from Grant Stein and perimeter goal from sophomore utility Bryce Hoerman. However, late in the 3rd and into the 4th quarter, Stanford's offense began to take advantage of the Trojan's faltering defense with perimeter, counter attack, and power play goals from Stanford's Kyle Weikert, Adam Abdulhamid, and Connor Stapleton. Stanford's offense continued to tee-off the Trojan defense with two more goals to take the game to over time ending the quarter 8-8.
Overtime the Trojans revived themselves on both offense and defense coming out with a quick power-play goal from the post from Junior Nick Bell followed by a series of steals from Blake Edwards and Matteo Morelli limiting offensive opportunities for the Cardinals. USC continued to push for the final victory in the last 3 minutes of overtime with goals from Mihaljo Milicevic and another for Lachlan Edwards. Trojan goalie McQuin Baron had many consecutive saves and one save against a Stanford counter attack led by Bret Bonanni. USC's efforts proved victorious keeping Stanford scoreless in overtime winning 12-8.
After playing Long Beach last week, sophomore two-meter player Lachlan Edwards states, "Our main goal was to pick up our defense. Last week we let in too many goal so we needed to step it up if we wanted to win today."
"[This win] is going to help us next week going into the SoCal Tournament where we will most likely play Stanford again in the semi-finals and hopefully UCLA in the final. Our game plan was to take out Stanford's key players and make other components of their team have to step up and we'll continue to do that next week," says McQuin Baron with a career high 18 saves against Stanford.
The next day, the Trojans faced off with newly re-instated San Jose State. The Trojans played a slow game but still played to their own skill level dominating the Spartans 17-3.
"We used this game to keep our intensity and work on our defense and playing strong start to finish," says stat leader of Sunday's game Blake Edwards with 3 goals and 2 assists.
After a weekend of victories, the Trojans are off to a strong start in the season and are looking to win the SoCal Tournament this coming weekend.