Sports
USC Announces $270 Million Renovations to Coliseum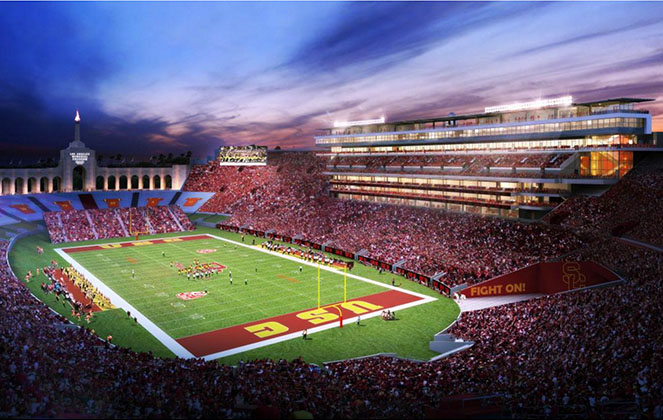 University of Southern California Athletic Director Pat Haden presented plans to the Coliseum Commission Thursday, on behalf of USC, for a renovation of the Los Angeles Memorial Coliseum.
The $270 million renovation is set to commence after the 2017 football season and conclude by the start of the 2019 season. The USC football team, as well as a potential NFL tenant, would still be able to play at the Coliseum while the renovations take place.
Highlights of the $270 million renovation include a structure on the south side of the stadium that includes a new press box as well as suites, loge boxes and club seats. Seating capacity will be reduced to 77,500.
"It's for everybody," Haden said of the renovations. "Whether you're sitting in the 90th row in the end zone like I did when I was a kid with my dad or you're on the 50 yard line."
Wifi connection will be improved throughout the stadium. Every seat in the stadium will be replaced, and handrails–as well as more aisles–will be added.
"You won't have to climb over 18 people to get a hot dog," Haden pointed out.
SEE ALSO: Eventful Decade in Store for Coliseum
Gone are the two video boards atop the iconic peristyle. Missing is a roof to shade the stands–a feature of previous proposed renovations.
Maintaining the historic character of the facility was one of the goals of the renovation. Los Angeles Councilman Tom LaBonge called the changes a "restoration" rather than a renovation.Linda Dishman, President of the Los Angeles Conservancy, said the design of this proposal was much better than previous designs. She said that maintaining the National Historic Landmark Status of the Coliseum was important.
Soldier Field in Chicago, which opened one year after the Coliseum in 1924, lost its landmark status in 2006 after extensive renovations.That will not be the case for the Coliseum.
"This is like an opening drive where they went right down the field and scored," LaBonge said.
The plans are not set in stone yet, as the university still needs to secure more approvals, but Haden said he expected to come back before the commission in spring 2016 to officially launch the project.
You can reach staff reporter Brian Bencomo here, or follow him on Twitter here.