Music
Upset: A Punk Supergroup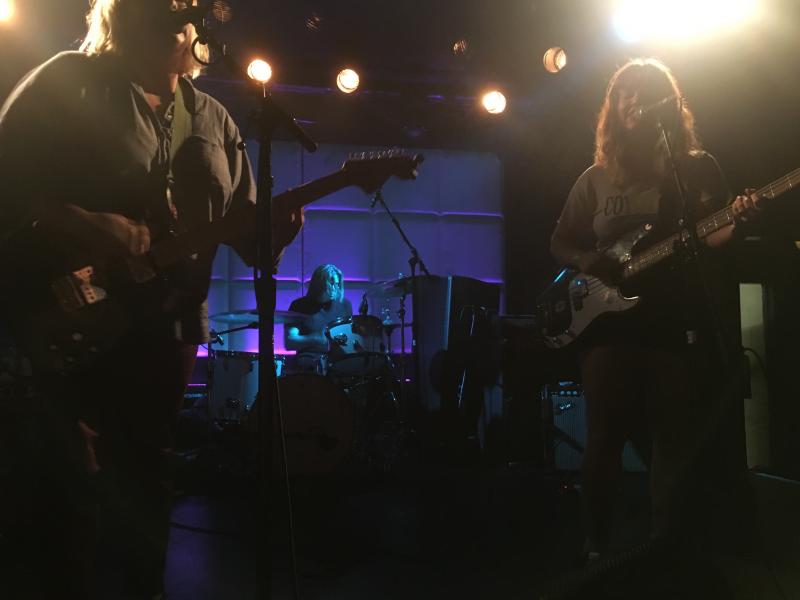 The ladies of Upset played their first show with the original line-up at the Echo over two years ago, and they recently performed their first time back with the new four-person crew that will take the band into their second album. They started their performance by soundchecking, which could have made the show anti-climatic. Except their sound is so intense in person that a preview was a great warm-up. Lead singer Ali Koehler checked her mic, turned up her amp and moved her feedback monitor three times. She ripped a couple chords while drummer Patty Schemel kicked her base drum so hard the loudspeakers spit a couple pops. Rachel Gagliardi on bass and Lauren Freeman on guitar ripped and adjusted, ripped and adjusted, with their backs to the crowd, sending reverbing jets of noise to bounce off the walls, echoing past each other, until everything was perfect. And then they all faced the crowd. Ali loomed over the mic, and a wall of sound came dumping into the crowd like a hailstorm.
The all-female punk band is touted as the first female super-group, and has decades of musicianship, touring, and expertise between the four of them. In the silent throes of women writing history, this band has some of the authors. Koehler comes to Upset by way of Vivian Girls and Best Coast, while Schemel herself is a quiet rock royal and all you have to say is "Hole" and even kids young enough to be her children know the next words are "Courtney Love," "Kurt Cobain," "90's grunge," "independent music," and finally "changed music industry." Gagliardi's other passion project is LA-based punk duo Slutever and Freeman is hot into Upset from Long Beach garage punk band Benny the Jet Rodriguez.
This line-up is slightly different from the original members. In 2013, the music scene saw the creative ways that social media could birth a project, as Koehler and Schemel essentially created the idea of Upset over Twitter. After a public back and forth and then a DM from Koehler to Schemel, Upset was formed and Jenn Prince came on. Prince left the band last year to pursue other projects and the band went through a couple more changes before it took on its two newest members, creating its present four-person line-up.
Gagliardi comments female empowerment and age not being a factor: "We're all kinda different ages, we're doing different things in our lives, but then we come together and we all really like music, we all really like playing, that's my favorite part of this band."
And Schemel on group music dynamics: "I like the energy of our songs, and I like the punk rock pop part of it, and for a drummer it's fun. It feels good to me...It's always been my release, playing drums, it's the endorphin rush, it's the whatever it is, comes out, and you just leave it."
As the group develops their sound together, this next album will show the capacity of what a supergroup can do. Whereas the first album "She's Gone" and the EP "'76" were penned mainly by Koehler, the second album has been mutually decided by the band to be a collaborative project.
On that decision, Koehler says, "For the new stuff I want it to be more collaborative, because I feel... two heads are better than one, and three heads are better than two, so I think that we just worked on something actually practicing today that Lauren wrote and that I really love and it's nice to be able to sit back and think of a song objectively and what you can add to it…"
And Gagliardi adds "This will be the first full length we've ever done with the four of us...so It'll be cool to try to see everyone's point of view...it'll be a new sound...it's cool as soon as you bring something into practice, it comes together so quickly...it's already a song the second time we play it."
The band has a couple last echoes of their spring tour with Colleen Green before their fall album writing process. The album will be a fresh start from the EP they played on tour with Green.
Upset's EP "'76" was recorded by punk legend Todd Congelliere of Recess Records in San Pedro and has its vinyl release on Lauren Records, pressed on coke bottle vinyl. Anticipate a full length in the coming year.
Reach Staff Reporter Sarah Peyton here.