Sports
Top 5 Heisman Hopefuls Through Week 5
In the first weekend of October, college football finally had a multitude of upsets. From Ole Miss being chomped in Gainesville to UCLA potentially showing the country their true colors, it'll be interesting to see how teams move into the grind of October. Looking at the Heisman list, there wasn't much of a shake up, but the top contenders seemed to finally show their stripes. Here are the week 5 list of Heisman contenders:
1. Leonard Fournette (LSU)
He did it again. With people discussing whether Fournette should sit out next season to avoid injury before inevitably entering the NFL draft, Fournette, for the third straight week, ran for 200+ yards. Fournette yet again put up freak numbers with 233 yards and three touchdowns. Through just four games, he has rushed for 864 yards, 11 touchdowns and is averaging 8.7 yards per carry. While this past game was against Eastern Washington, Fournette's consistency has been nothing short of incredible. The 19-year-old sophomore phenom is now playing with a sense of confidence that is the nightmare of defensive coordinators all throughout the country. With South Carolina next on the schedule we might see if Fournette face any sort of adversity until they play number 11 Florida in Baton Rouge. But for now he has to be the favorite.
2. Trevone Boykin (TCU)
Trevone Boykin made a statement on Saturday. After nearly falling to Texas Tech on the road last week, TCU just embarrassed the dreadful Texas Longhorns in Forth Worth. Boykin led the Horned Frogs to an easy 50-7 drubbing and threw for 332 yards along with an impressive five touchdowns. The senior quarterback played his most impressive game of the season and silenced any critics that doubted the team after barely escaping Tech and giving up 37 points to SMU. Boykin and the Horned Frogs are currently 4th in the nation in passing yards per game with an astonishing 396.4 yards. It should also be noted that Boykin and the nation's leading receiver Josh Doctson, who had unbelievable one handed catch Saturday, are torching nearly every single secondary they face. The game everyone will be watching the game against Baylor, the final game of the season that could decide whether or not TCU makes the playoff. But they still face the Oklahoma Sooners the week before so I don't think we will see Boykin and the Frogs lose anytime soon.
3. Ezekiel Elliot (Ohio State)
I want to apologize to all of my readers out there. The fact that Ezekiel Elliot was not in my top five nor my contenders last week is just shame on me. Elliot is the only reason that Ohio State barely beat the Indiana Hoosiers last week in Bloomington. The junior runningback ran all over the Hoosiers this past weekend putting up 274 yards and 3 touchdowns. This season Elliot has played excellent averaging 145.8 yards per game and has run for eight touchdowns. The most impressive thing to me about Elliot is his explosiveness and ability to take over a game. Elliot has been picking up the slack because of his quaterbacks', Cardale Jones and JT Barrett, dismal play so far this season. The Buckeyes (5-0) are slowing beginning to drop in the weekly polls and with the college football playoff's first poll about to be released, the Buckeyes need to prove very soon that they belong in the first top four of the season. Elliot's touches will only increase and the Buckeyes will need to rely on Elliot in order to keep their status as a title contender. Look for Elliot's numbers to continue to be consistent and if he can prove to be the Buckeye's saving grace, then he'll continue to climb Heisman ballots everywhere.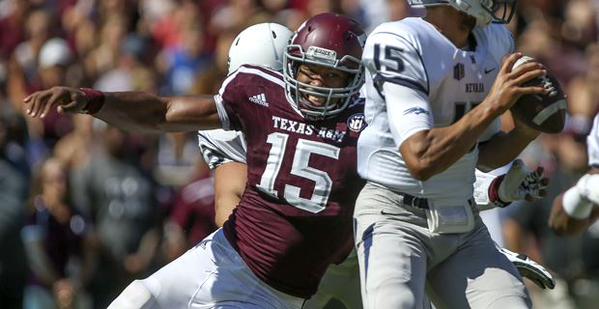 4.
Myles Garrett (Texas A&M)
Myles Garrett was in the short list of contenders last week. With USC's Cody Kessler and JuJu Smith-Schuster having a bye week last week, Myles Garrett bumped his away into the top five. The sophomore sensation put on another great performance last week against Mississippi State Bulldogs. Garrett put up monster numbers seven total tackles, his 2nd most of the season, five of which solo, his most of the year, and two assists. Garrett is rated nearly first in all defensive categories throughout the NCAA and after coming off a bad week against Arkansas he proved to voters that he has the capability of bouncing back from a bad game. Garrett and the Aggies have a lot of hype around them at the moment. They are 5-0 going into a bye week, which gives them an extra week to prepare for Alabama on Oct. 17 in College Station. It'll be interesting to see how Garrett can handle the Tide's tough offense led by Derrick Henry. There is no doubt that Garrett will be the key player on the Aggie's defense as they begin to enter the more difficult part of their schedule.
5. Nick Chubb (Georgia)
The Georgia Bulldogs were embarrassed on Saturday night in a 38-10 destruction by the hands of the Alabama Crimson Tide. In a game where the Tide once again put their name back into the college football playoff talks, Georgia running back Nick Chubb quietly put together another great game among the wreckage. Chubb ran for 146 yards on 20 carries and a touchdown. It seemed to be that the struggles that occurred for the Georgia offense was caused by the hideous play of quarterback, Greyson Lambert, who was 10-24 with 86 yards. Chubb ignited the Bulldogs with an 83-yard touchdown run. The Bulldogs did not perform well on the defensive side of the ball either, allowing Alabama to put up 379 yards of total offense. With Georgia being handed their first loss of the season, we will see what Chubb is made of in the following games to come. Will Chubb be able to put on a Heisman-like display and put the Bulldogs back in the playoff mix or if he cracks underneath the pressure?
Contenders:
• Cody Kessler (USC)
• Derrick Henry (Alabama)
• Travis Wilson (Utah)
• Seth Russell (Baylor)
• Baker Mayfield (Oklahoma)
Reach Staff Reporter Jeffrey Dubrof here.