Los Angeles and Region
Protesters March Against Police Brutality in Downtown Los Angeles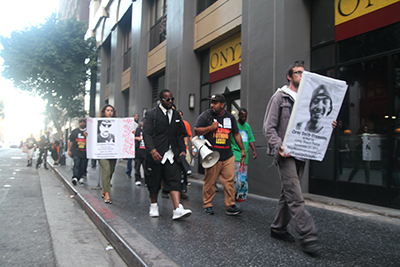 Dozens of people gathered for an anti-police brutality rally and march in downtown Los Angeles on Thursday.
The protest was organized by the Stop Mass Incarceration Network as part of the 20th annual "National Day of Protest to Stop Police Brutality, Repression and the Criminalization of a Generation." Rallies also took place in New York City and other cities across the country. The Oct. 22 demonstration kicked off three days of action to "expose the epidemic of police brutality" called "Rise Up October," protesters said.
"The amount of killing that is going on requires a national response," said Fran Wilson of the Stop Mass Incarceration Network. "We have simple demands. Stop murdering people."
An estimated 50 demonstrators marched down the city's streets chanting "we rise to stop police terror." They walked six blocks while carrying posters featuring photos of those who have been killed by law enforcement in cases of excessive force. One of the signs read "Why kill? We needed help not blood."
SEE ALSO: Audit Finds L.A.'s Domestic Violence Programs 'Inconsistent' Across Neighborhoods
Organizers assembled at the Los Angeles Police Department's headquarters at 100 West First St. around 1:30 p.m. The march began around 3:30 p.m., and it ended at 6 p.m. at 6th and San Pedro Streets, "to remember and honor brother Africa and all the stolen lives."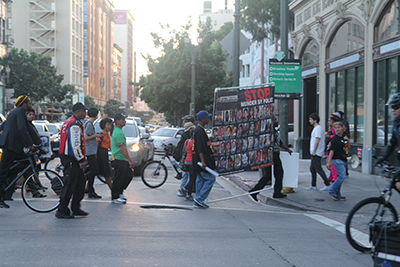 Charly "Africa" Leundeu Keunang, an unarmed homeless man, was fatally shot near the corner of 6th and San Pedro Streets during a struggle with LAPD officers on Skid Row in March 2015.
There were rolling street closures between First and Seventh Streets and between San Pedro and Spring Streets. Before the permitted march, police advised drivers to avoid the area so travel would not be delayed.
There was a heavy police presence. LAPD officers were on the scene in patrol cars and on bicycles while helicopters circled the area overhead. Officers on scene described the protest as "peaceful." No arrests were made.
Reach Contributor Whitney Ashton here, or follow her on Twitter here.