International
International Tennis Athletes and the Pac-12 Experience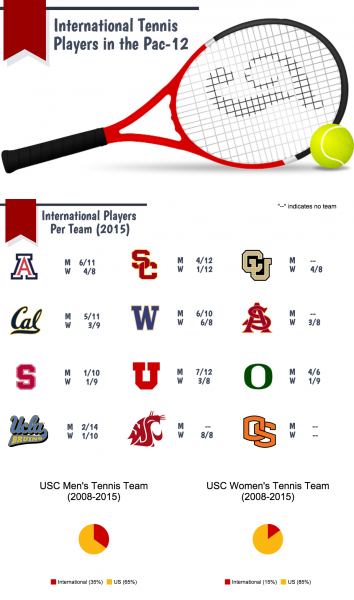 Many international tennis players attend American universities to get the best of both worlds – good training and an education. But for those international tennis athletes whose aspirations include becoming a professional player, the collegiate and NCAA experience is not usually seen as a launching platform.
"Most tennis players, excluding American players, are not aware of how good the level of NCAA tennis is," said former USC tennis player Valeria Pulido. "Most of the international players do not see college as a platform for becoming professional, especially on the women's side."
Pulido was born in Mexico and, although she trained extensively there, opportunities for player development for the average kid are not as easy to come by in her home country.
"In Mexico only a few kids have access to tennis courts and not many have the economic resources to travel," said Pulido."The player is the one handling hotel accommodations, tournament entries and scheduling practices."
But not all countries or federations work the same way. Most countries do not have the same university level competition as the United States.
"The Netherlands or Eastern Europe provide their players with wild cards to tournaments, special invitations and financial support, so they choose to stay in their home country in order to receive those benefits," explained Pulido.
The choice between playing for an NCAA school and staying in your home country to train can stem from language barriers and the comfort of practicing in an environment they are familiar with.
"Athletes tend to be more comfortable at home with family and friends and make it easier since training can be stressful most of the times," said Emilio Gomez, a former USC student-athlete and current Davis Cup player representing Ecuador.
Gomez wanted to combine a great education with tennis training, which is often the appeal of attending a university as part of their student-athlete body.
"You can train with a different teammate almost everyday. You have two coaches that help you to improve your technique or tactics and you learn to play a little bit different from your own style of play," Gomez explained.
The 2013 ITA All-American also chose to attend USC because of a promising scholarship and the ability to work on both his tennis and receive a degree in economics.
But these appealing qualities come with sacrifices and the difficulty of balancing both activities, which becomes increasingly challenging if your goal is to play professionally.
NCAA athletes have training and practice restrictions, capping it off at 20 hours per week during the season. When players train at a tennis academy, they're not limited to the 4-hour training day that the NCAA enforces. There's more freedom to train and not have other factors get in the way.
That's why Gomez chose to put his studies on hold to play in Ecuador as a professional player. He understood that to play professionally, he needed to make these decisions.
"If I would have stayed at USC and gotten my degree I probably wouldn't be playing tennis now," Gomez admitted. "I returned to Ecuador to pursue the dream I had since I was a little kid."
Although Gomez does want to finish his degree in the future and possibly work as a tennis coach, he is taking things one step at a time. Pulido on the other hand reaped the benefits of being part of a Pac-12 team but didn't continue a career in professional tennis.
"Going to USC allowed me to have the option of becoming professional after graduation if I wanted to," she posed.
Pulido currently working in Mexico's entertainment industry and the skills she acquired while participating in collegiate sports have had a positive influence on her.
"As an athlete you are constantly put under difficult situations and are measured on how successful you come out of them. So, thanks to my athletic experience I know how to deal with pressure situations, tough bosses and I´m not afraid of putting in the work."
You can reach Contributor Maria Cavassuto here.