Science+Tech
'Hoverboards' Glide Into California and Out of Britain
It's a scooter! It's a Segway! It's a…wait a second…what are those things!?
Self-balancing scooter-boards—or "hoverboards," as many call them—are snowballing in popularity in America. And as with any new technology, the liberty and limitations on them are only now becoming defined.
As of last month, hoverboards are officially allowed on public property in California. Gov. Jerry Brown signed a bill in October that holds motorized boards to the same standards as bicycles and skateboards.
The booming popularity of the new self-transportation technology in recent years prompted the state's decision to update its law, which was enacted in the 1970s, and referred to petrol-powered vehicles.
READ MORE: MyFigueroa Project Delayed Yet Again
The law also includes some restrictions. For instance, riders must be sober and wear a helmet—to the likely dismay of many. The bill, AB 604, which takes effect on Jan. 1st, 2016, allows "electrically motorized boards" on public streets and bike lanes but only on boards that move no faster than 20 mph, carry only one person, and are no bigger than 60 by 18 inches.
Ironically, on the same day California gave hoverboards the go-ahead, Britain passed a law banning their use on public roads.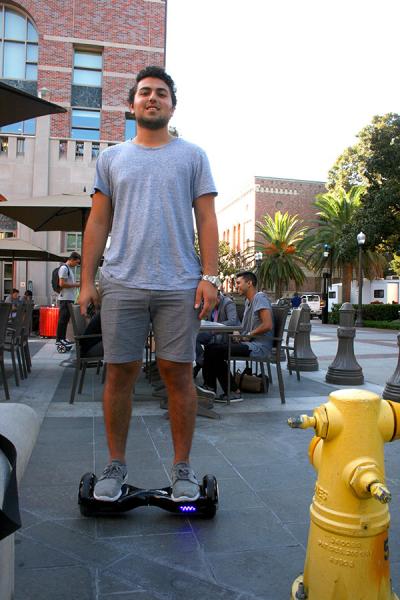 The Crown Prosecution Service recently released a statement saying "you can only ride an unregistered self-balancing scooter on land which is private property and with the landowner's permission."
So while England is trying to contain the self-motorized trend, California is giving the green light.
READ MORE: Futuristic Skateboard Gains Speed At USC
The popularity of hoverboards is rapidly increasing, despite legal contradictions. Hollywood put them in the spotlight recently when mega-celebrities like Jamie Foxx, Justin Bieber, Kendall Jenner and Wiz Khalifa were seen riding them on TV shows and social media videos.
In August, rapper Wiz Khalifa posted a video to his Instagram in which several custom officials at Los Angeles International Airport appear to be holding him to the ground after his refusal to dismount his board.
While the incident didn't result in an arrest, Khalifa voiced his frustrations on Twitter, stating in a caption, "everyone will be using [the technology] in the next 6 months." The tweet went viral and so did the name "hoverboard."

Don't expect to see hoverboards in California airports though. The new legislation maintains the right of private property owners to ban the boards on their property, which means airport officials can still restrain a hoverboard rider—so don't push your luck.
Reach contributor Madeline White here.