Politics
Hillary Clinton On SNL: What The Polls (And Republicans) Are Saying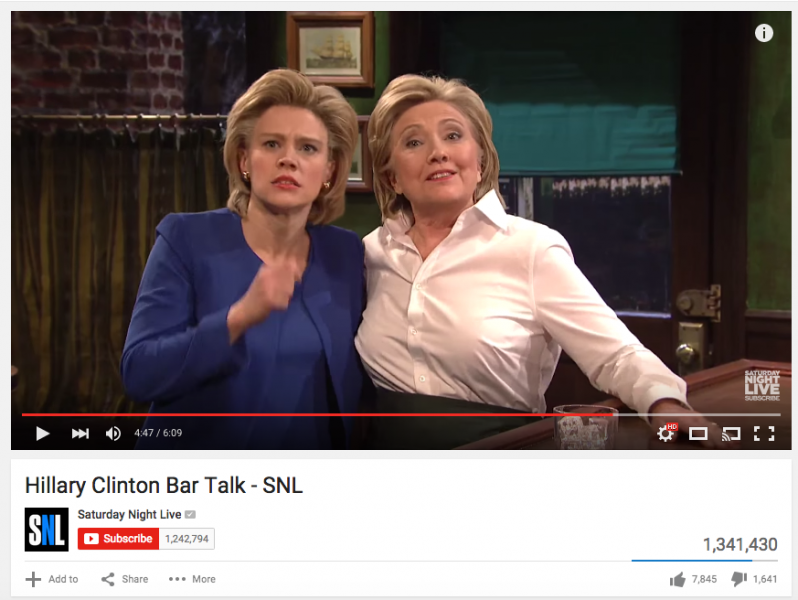 First Lady, U.S. Secretary of State, and now… comedian? Hillary Clinton made a cameo appearance on NBC's Saturday Night Live last weekend, playing a character called 'average bartender Val'.
In the sketch, Clinton, as Val, engages in a discussion with a parodied version of herself played by comedian Kate McKinnon. When McKinnon asks Val about her backstory, Clinton clearly addresses her constituents responding, "I'm just an ordinary citizen who believes the Keystone pipeline will destroy the environment."
Some Democrats are praising Clinton's attempt to distance herself from her less than flattering headlines lately and play the "media game" alongside Donald Trump. Certainly making an impact, Clinton's appearance has racked up lots of YouTube hits (1.3 million and counting).
HEAR MORE: The Hot Seat: A Discussion About Hillary Clinton And Republican Candidates
But some Republicans, despite their approval of the sketch, are disappointed Clinton didn't address critical issues in it, even if only lightheartedly. Intentionally avoiding critical, and relevant, political controversy surrounding Clinton's candidacy is something Republicans feel should not have been overlooked.
Jacob Ellenhorn, President of USC College Republicans, is one of these Republicans who feels Clinton shouldn't ignore issues voters are concerned about and blames the media's partiality for not pushing her to do so. "They're biased towards the Clinton Machine. The biggest news networks aren't focusing on the email scandal, or asking her questions about Benghazi. They spend all their time making fun of Republican policies, and I think eventually this will hurt [Clinton's] campaign. She is sweeping everything under the rug and it's all going to come out."
Ellenhorn continued, "[the media] is participating in the coronation of Hilary as the presidential nominee. We deserve to give every candidate the chance they deserve and give them equal coverage to look into their policies."
READ ALSO: Debate Pays Off For Carly Fiorina
Kristin Hertzer, President of the Palos Verdes Republican Club, echoed Ellenhorn's opinion that neither SNL nor the news media have been as politically pressing towards Clinton as they should be. "The things Hillary did, as far as shielding her emails from the State Department, if she worked for a major corporation, or the private sector, she would be in jail," Hertzer said. "With SNL, the Democratic Party tends to pander to special interests, that's what's supposed to be politically correct and I find it disappointing."
Despite their critiques, both Republicans give Clinton credit for trying to relate to a younger audience.
Ellenhorn acknowledged that tossing up some was good for the former First Lady's public perception. "Hillary has a very tarnished image with young people and one of the ways for her to reestablish her image was to go on SNL to be funny and be a comedian with the other stars because her numbers are slipping so much."
Clinton's obvious attempt to appeal to a younger demographic may have gotten her more YouTube views, but not better poll ratings. According to the Huffington Post Pollster, an aggregation of various political opinion polls, Hillary's approval rating has been steadily declining since January of 2015 from 47.1 percent to currently only 40 percent.
Hertzer thinks this is largely because it is historically the older demographic that comes out to vote. "Until you are in the working population, and have a family, it is not as big of a deal to vote" Hertzer comments. "It's difficult now because everything's really changing with Millennials. As we saw with Obama, the entertainment industry was really important; the Democrats really used that to their advantage, and they're trying to do that here [on SNL]."
WATCH MORE: Donld Trump Banter Explodes On Twitter Ahead Of Republican Presidential Debate
Throughout history, we've seen many political candidates take advantage of the media to build their public images and gain widespread political support. The feat isn't always successful, but if done properly, it can sway the election's outcome, much like former President John F. Kennedy managed in the Kennedy-Nixon debates of the 1960 Presidential race—the first televised presidential debate in history. Demonstrating the power of working the media, Kennedy is said to have only won the debate because of his on-screen image compared to Nixon, who was thought the clear winner by the event's radio audience.
SNL has proved to be a fickle friend to candidates in the past. Sarah Palin, for example, may never live down Tina Fey's spoof of her saying "I can see Russia from my house," which was (and probably still is) thought to be a comment Palin had, herself, said. Fortunately for the From a Republican standpoint, though, Clinton will have to do a lot more than crack a few jokes to satisfy their desire for richer candidate information.
Reach contributor Paige Parker here.