Entertainment News
'Dragon Quest Heroes: The World Tree Woe And The Bright Below' Review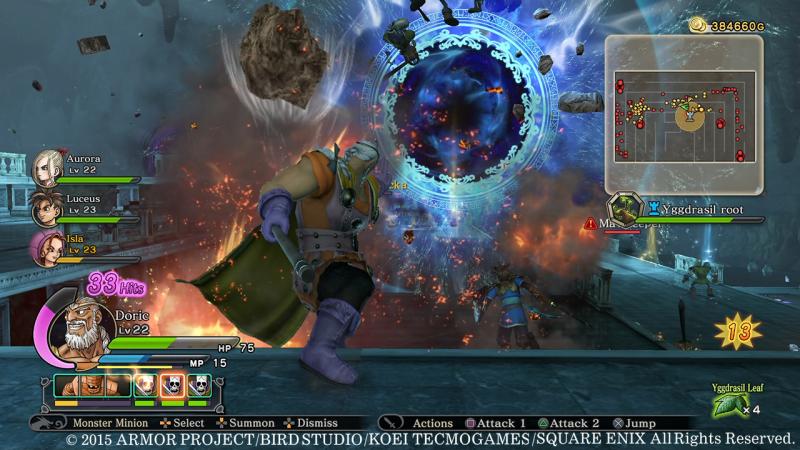 It has been quite a while since we have seen a main Dragon Quest game on home consoles in North America. Koei Tecmo subsidiary Omega Force in conjunction with Square Enix has just recently released "Dragon Quest Heroes: The World Tree's Woe and the Bright Below" for Playstation 4 and Playstation 3 in hopes of scratching that itch. The result is a game that mashes the hack-and-slash gameplay of Dynasty Warrior games with the world of Dragon Quest. The verdict? Dragon Quest Heroes is a surprisingly good game, however, not without flaws.
I would like to consider myself as quite the critic of hack-and-slash games over the years. For me the games became too repetitive and I found myself facing no true challenge over hours of gameplay. Prior to downloading this game, I carried the same stigma, however, the novelty of Dragon Quest allowed me to persevere. I was pleasantly surprised over my 20 or so hour gameplay experience to realize that Dragon Quest heroes is unlike hack-and-slash games before it.
First of all, the game is gorgeous. Famed anime creator Akira Toriyama did much of the artwork for the game and its beauty truly shows. Main characters Luceus and Aurora look amazing to say the least. The various enemies you encounter across your playthrough and the world you seek to defend are equally as impressive. Secondly, the myriad of Dragon Quest references and homages helped make the game that more enjoyable. From the menu style down to the various sound effects the game feels like a main series entry yet it isn't.
What is a beautiful game with a great score without good gameplay to go along with it? As mentioned above Dragon Quest Heroes take the familiar Dynasty Warriors gameplay and turns it on its head. That is not to say that you are not put in situations of 1 vs 1000 as Dynasty Warrior games so often put you in but the situations and style vary. The biggest change is the ability to freely switch between up to four characters on the battlefield. Each of these four characters have their own benefits and negatives to them which in turn adds an element of strategy to the game. This makes boss fights particularly fun in that you are able to perform an array of special movies with various characters' multiple times in order to whittle down their freakishly large health bars. The end result is a sort of pseudo-micromanaging system in which you yourself are in charge of your players on the battlefield and your job is to not only keep them alive but finish the mission as well.
Finally, the game is also very welcoming to new players as well as players hoping for a challenge. Right off the bat there is a manual mode for veteran players and easy control mode for newcomers in order to pull off combos more easily.
While this game is certainly very fun and very much so a sleeper hit amongst the "AAA" releases of this fall it is not without flaws. As with many of the Warrior games that have come before it the ore you play the more repetitive the game can be. With that repetition often comes bland environments which really offsets the very detailed character models that fill it. The AI is often hit-or-miss and can die frequently in boss battles which becomes frustrating at times is also an issue. Above all, the games story could be a bit better as well. Dragon Quest games are known for solid stories, however, this game's story unfortunately lacks lots of depth or reason.
All in all, "Dragon Quest Heroes: The World Tree's Woe and the Bright Below" is a fun game. It may not have a great story and can get repetitive at times but it does have fun gameplay. Whether or not this game is worth it to you depends on whether you are looking for a game with an engrossing story or fun gameplay. If the answer to that question is the latter, then you are in the right place.
8/10
Reach Staff Reporter Johnny Flores, Jr. here.