USC Sports
Behind The Commitment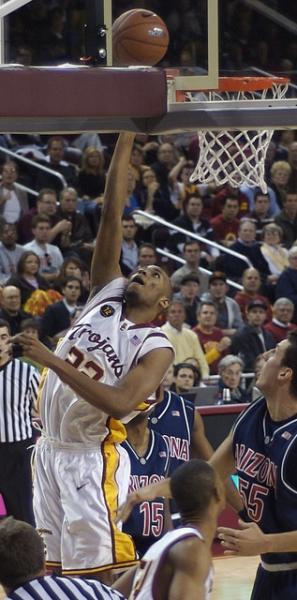 Within the next few months, the signing days for both basketball and football will take place and make official the commitments of high school athletes in both sports. The recruitment process, though, isn't as simple as a commitment and a signing.
Occasionally, athletes who commit to a school may continue with the recruiting process to enjoy the perks. Coaches can be blindsided when that same athlete decides to de-commit and commit to an entirely different school right before signing day.
The practice of athletes signing with the unexpected choice is not a new trend. NFL Hall-of-Famer Emmitt Smith was expected to sign with the University of Nebraska, until he chose to go to the University of Florida on signing day.
Why do coaches let this occur, and why do some players ultimately de-commit?
In order to discover the reasoning behind the decision, one must understand the difference between committing and signing.
"A commitment is non-binding," said Ryan Abraham, owner of USCFootball.com. "A player may commit to USC, then de-commit and still commit to USC. None of it is official."
A signing, however, is official. A player who chooses to leave after signing would most likely have to sit out a year on his or her new team, said Abraham.
Because a verbal commitment does not make for a non-binding contract between athlete and school, players still have the choice to continue the recruitment process with other schools.
While some athletes commit to a school like USC and go through with the signing, other athletes may continue the recruiting process with USC to get a free flight and a visit to Los Angeles, according to Abraham.
USC football coaches appear to be more lenient when it comes to recruiting.
Freshman cornerback Iman Marshall wasn't outwardly committed to the Trojans at first and took his maximum five official visits to other schools. He didn't even take an official visit to SC; yet, on signing day, Marshall chose to be a Trojan.
"Some schools don't want you continuing the recruitment process with another university," said Abraham. "USC is pretty confident with what it can bring to the table."
While a sport like football does not suffer major losses if a player de-commits, sports like basketball—particularly on the women's side—have more obstacles to over come if a de-commitment occurs.
Beth Burns, Associate Head Coach of the USC Women's Basketball team, said a de-commitment affects her sport differently.
"I've heard a joke on the men's side: 'We love it when they verbally commit. It allows me to know who my competition is,'" Burns said. "We only have a certain amount of scholarships, so when a junior commits to USC we have one fewer scholarship to offer. We then stop recruiting that position."
A de-commitment, especially a high profile one, can affect a school's basketball program greatly. Players being recruited for 2016 affect the 2017 recruiting class and so on, said Burns.
Five-star recruit Destiny Slocum committed to Washington in fall 2014, but after realizing a different school may give her a better opportunity to win a national championship, Slocum committed to the University of Maryland.
When a talented player commits to a school, other talented players at his or her position consider different schools, said Burns. Basketball coaches can often lose an entire recruiting cycle if a player de-commits.
Many factors, aside from wanting a championship team, can lead to players de-committing from a school. If an athlete commits to USC, for example, the location of the athlete's home state can affect the decision.
"The further away you are geographically can have an impact," said Abraham. "If a sophomore from Florida commits to USC, he has two more years of schools in his state trying to recruit him."
Former USC running back Joe McKnight from Louisiana committed to USC silently and didn't announce his decision until signing day. McKnight therefore avoided having Louisiana schools all over his recruiting decision.
In addition to geography, athletes can often times just find themselves making an uneducated decision.
"All these people are coming in and descending upon them, and you're pretty impressionable at that age," said Burns. "Sometimes you de-commit because you shouldn't have committed in the first place."
Burns firmly believes an athlete needs a strong mentor to help guide them in the decision process, especially with experts critiquing an athlete's every move on social media.
"It's the biggest decision they've made to date," said Burns. "They're pretty much incapable of solely making it; however, they're the ones who feel the impact of it."
How can schools overcome these obstacles to ensure committed players follow through with the commitment?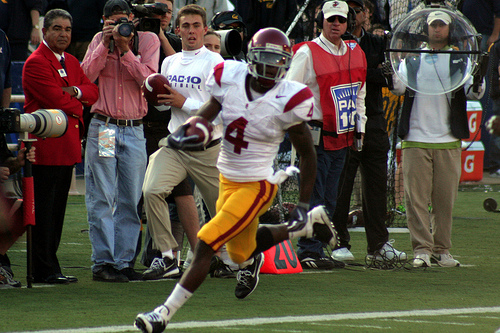 For women's basketball, building a strong relationship with the recruit and holding her accountable to the commitment are crucial. Burns said she holds true to her saying "K.R.O.P.", which stands for: "keep recruiting our players."
"The initial recruiting is to get them to be a part of your family. Once they commit, they're in your family and you give them more insight into what you're doing."
Burns said it's important to identify the recruit's champion, or mentor, to ensure that person is helping the recruit make the best decision possible.
On the men's side, as the NCAA decides whether to have an earlier signing day for football, schools have used other measures like having a player sign financial aid paperwork early.
"If a player graduates from high school early and enrolls in January, they may sign financial aid paperwork," said Abraham.
While the paperwork is non-binding and still puts the school at risk for losing the player, schools have seen some benefits.
"USC can build momentum by announcing a player has signed the paperwork," said Abraham. "The athlete has unlimited contact and can see the playbook. It gets them started."
Football's signing day doesn't occur until the first Wednesday in February. Basketball's signing day is soon approaching; the second Wednesday in November.
As recruits get ready to make their final decisions, Burns said it's the job of the recruiter to ensure no misinformation is out there for the recruit.
"There's a great saying in coaching: 'It might not be my fault, but it's my responsibility,'" said Burns.
"Try to keep it fresh. Try to keep it real, and if you stay honest, you don't have to worry about it."
Contact Contributor Brenna Devanney here and follow her on Twitter here.