Music
Dear Blink-182, We're 'Lost Without You'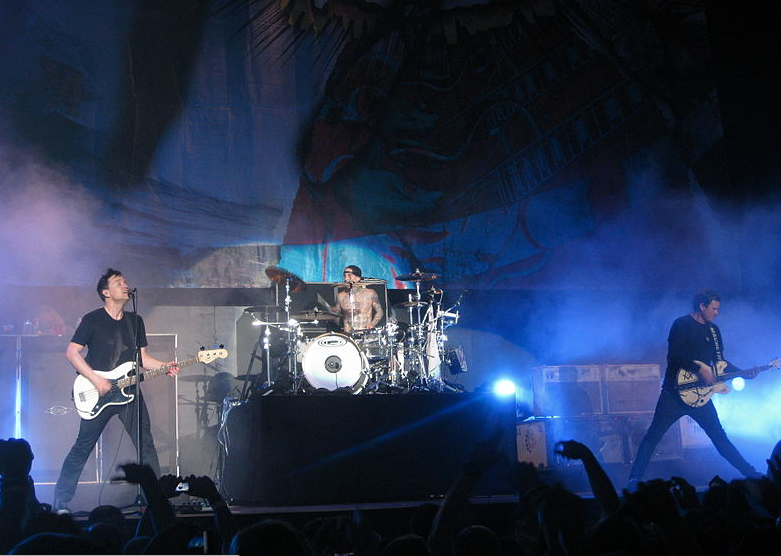 Oh,
Blink-182
. "I Miss You" Blink. Knowing that you are broken up makes me ask, "What's My Age Again?" It feels as if "I'm Lost Without You." Your fans love "All The Small Things" about you. Whenever it is "After Midnight," I feel "Down" because "Every Time I Look For You," I wonder "What Went Wrong."
Blink-182 will not be the same without Tom, Mark and Travis together.
Thomas Delonge, known as Tom, has left Blink-182. We need Blink-182 in our lives, but it is difficult to imagine it without Tom Delonge's spunky personality. Both Mark Hoppus and Travis Barker posted a statement saying that Tom decided to leave the band and that Alkaline Trio's Matt Skiba was going to replace him. This caused back-and-forth drama when Tom posted on Instagram that he never left the band and that all the coverage about him leaving was "weird."
This all proved to get even more heated when Hoppus explained it all to Rolling Stone. Hoppus stated that the band agreed to play at Musink Festival and were working on finalizing their record deal when Tom's manager emailed them to tell them that they were out. It was very set in stone as well as disappointing to the other band members. Travis Barker stated in an interview that, "Why Blink even got back together in the first place is questionable." On the other side, Tom stated that leaving Blink-182 will allow him to experiment in other projects that he is interested in as well as to expand his career artistically. As heart breaking as all of these factors are, fans still have hope for Blink-182 to continue to make great music.
Blink-182 has experienced many setbacks in their 23 years of being a band. The development of their band name proved to be a challenge from the start. Their original name was "Blink" and they added the "182" after they were threatened with legalities by an Irish band with the same name. As they were growing fame in the late 90s, their original drummer Scott Raynor was fired. His alcoholism proved to be extremely detrimental for the band. When Travis Barker was brought into the band in 1998, the band only continued to soar. However, nothing lasts forever, no matter how much we want it to.
Fans all over the world were crushed when the band declared a hiatus in 2005 for the sake of supporting their families. That immediately changed when fans became so excited when the band reunited in 2009. The "roller coaster" of Blink-182's past has led to more drama with the well-loved Tom Delonge declaring his leave.
READ MORE: 50 Greatest Boy Band Songs of All Time
Blink-182's influence on their fans has been such a strong factor that it might be difficult to adjust, but change is nothing new in their field. If fans can handle Scott Raynor leaving and enduring a four year hiatus, they can last through anything.
Blink 182 should get back together because when they are in concert, their chemistry is amazing. They have produced such an amazing sound during their over all span of being a band. Even when they got back together after their hiatus, their style was different, but still in-sync. They are the type of band that is likely to always have an audience that supports them. When they had tension in the past, they found a way to work through it and get back together. They have such a legacy, that even if they did not want to keep producing, they could still play their older songs and still have a crow that goes wild. Blink 182 needs to make a strong comeback because a majority of their followers are loyal, dedicated and willing to hear what they have to bring to the table.
After all, Blink-182 has undergone many changes and who is to say that change cannot possibly be good?
Reach Staff Reporter Gabriela Fernandez here