USC Sports
USC Women's Soccer Struggles To Finish in Double Overtime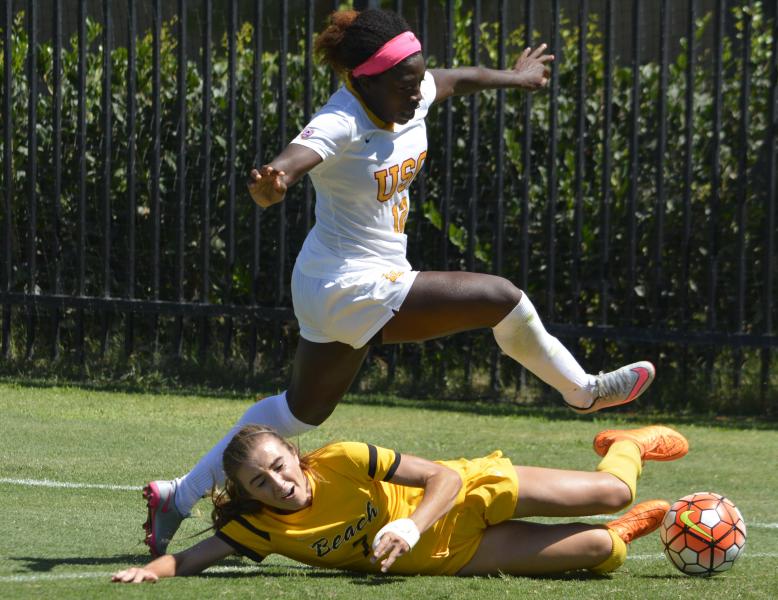 As the final buzzer blew at McAlister Field, the Women of Troy jogged slowly to the sideline half-heartedly exchanging high-fives. After two overtimes, USC had held the No. 23 Long Beach State team to only two shots on goal, but their own scoring struggles had left the score at 0-0.
Throughout 110 minutes of play, USC dominated possession of the game, applying aggressive pressure to the Lady Prospectors' attacking third. Yet despite notching 23 total shots, the game finished in a scoreless tie. The match served as a powerful example of the team's struggle to finish in the box — a weakness that could haunt USC later this season.
Leading the team on the attack on Sunday afternoon was sophomore midfielder Nicole Molen, who took seven shots and placed two of them on frame. The rest of the attack was evenly spread out; a total of seven players took shots throughout the game, and four players placed them on frame.
"Finishing has always been one of our problems, and we really haven't scored many goals yet this year," Molen said. "We get nervous around the box, and that's something that we have to improve as we continue on in this season."
An increased intensity in attack was part of the USC game plan coming into today's match. Although satisfied with the 2-1 victory over the University of San Diego on Friday, the team felt that their attack hadn't taken enough risks when they were on the offensive.
Long Beach State showed to be a team comfortable in their backline, building attacks from the back and spreading the field at a comfortable rhythm. By keeping constant pressure on the defenders, USC disrupted that rhythm, forcing Long Beach State into a frenzied style of play that the team couldn't sustain.
"I think we have to be proud with the effort we put onto the field today, but the effort we're putting out isn't matching up with the score," senior captain Jamie Fink said. "We wanted to come in and take risks, and we did that. We wanted to come in and dominate the tempo, and we did that. But the scoreboard doesn't tell you that."
For head coach Keidane McAlpine, the difficulty of finishing shots isn't something that can be fixed in practice. It's a matter of experience, and McAlpine believes that the risks that the team took Sunday against Long Beach State will manifest into improved shot-taking in the future.
"We have the pressure, we have the intensity," McAlpine said. "Now what we need is that player who is going to step up and be the woman for the team. Once we see that player step up, I think you'll see a whole different level of play out of this team."
Reach Staff Reporter Julia Poe here, or follow her @jpoe24601