USC Sports
USC Women's Soccer Edges Past SMC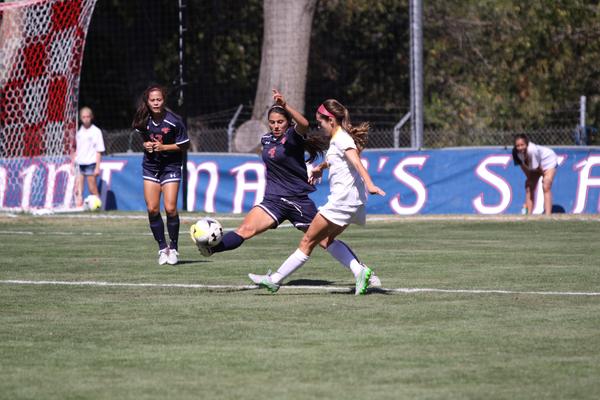 The USC Women's Soccer team (5-3-1) finished off their quick two-game road trip with another strong showing in their 2-0 win against Saint Mary's College (5-3-2) on Sunday. The usually high-powered Trojan offense that scored 42 goals last season hadn't quite looked themselves to start the year, having only scored six goals in the seven games before the win against Pacific.
But on Sunday afternoon, the Women of Troy looked back to normal with a 3-1 win over Pacific on Friday, outshooting the Tigers 23-2.
After Friday's big win, the Women of Troy started their match against SMC looking a bit slow and sloppy. Eventually, they got into a rhythm and controlled possession throughout most of the half, but remained quiet on offense. A handful of the squad's 12 shots in the first half were saved excellently by Lady Gaels' goalie Julia McDonald, but USC failed to convert on a number of opportunities. The Women of Troy went into the half all tied up at 0-0.
Jamie Fink broke the tie in the 52nd minute with a volley finish to the upper-left corner that gave Fink her first goal of the year and the team a 1-0 lead. Mandy Freeman and Morgan Andrews were both credited with the assist.
READ MORE: USC Women's Soccer Struggles to Finish in Double Overtime
McDonald continued to single-handedly keep her team in competition, saving nine of USC's 24 total shots, while the Gaels could only manage to get four shots off.
Freeman followed up her assists with a goal of her own— the first of her career—in the 67th minute with a strike to the upper-right corner from 20 yards out.
After their second goal, the Women of Troy didn't need to do much else but maintain possession and let the clock run out. Trojans' goalkeeper Sammy Jo Prudomme only had to make two saves, but earned her fourth shutout of the year.
It wasn't their best offensive performance, but USC made up for it with some staunch defense and a few key plays. The Women of Troy simply outmatched the Gaels and ended up with a solid road win, and now they'll return to McAlister field and begin Pac-12 play with a matchup against Oregon State this Wednesday.
Reach Staff Writer Carly Fasciglione here and follow her on Twitter.