USC Sports
USC Women's Soccer Beats USD On A Late Goal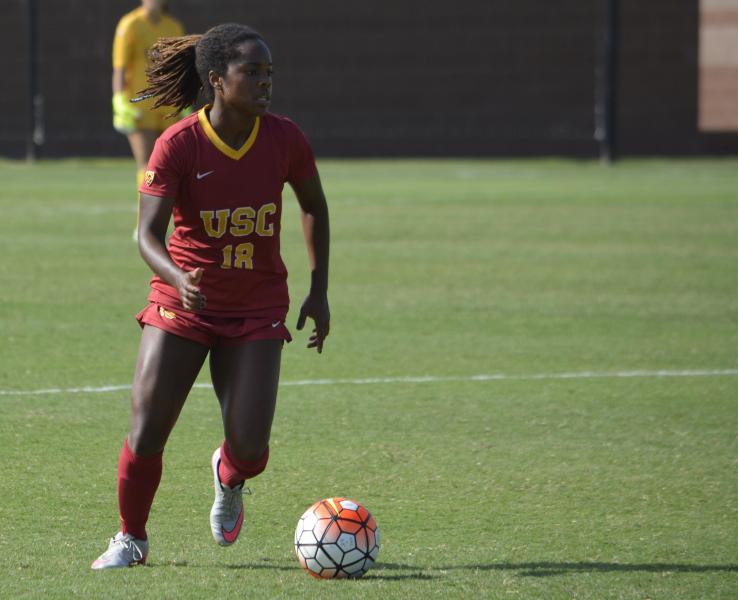 A chorus of shouts rang out from the sidelines, all yelling the same two words.
"Beat her!"
Junior defender Kayla Mills hesitated for half a second. There was only one University of San Diego player between Mills and the goal. Behind her, the scoreboard read 1-1 with only ten minutes left in the 2015 season home opener.
So Mills beat her. She dodged several feet to the right and sliced a kick towards goal. It slammed into the side netting, ricocheting into the back of the goal as the rest of her team screamed, arms thrown in the air.
"My coaches were yelling at me to beat her, to just get something on frame," Mills said. "I knew we needed it, and going into that game I knew I would do whatever it took to get a win, so I took my chance when it came."
The goal gave USC the lead exactly when it was needed. After a slow start and a scoreless first half, the team came alive when sophomore Sydney Johnson chipped in a shot off of a muffed corner kick in the 68th minute. But only six minutes later, USD tied up the game with a header off of a similar corner kick.
With a score of 1-1 and under 20 minutes left to play, the Women of Troy were left scrambling. Coaches shouted from the sidelines, encouraging the players to take a risk, take a shot and focus on the goal. It only took another six minutes for Mills to find the net. When she did, it gave the team the spark they needed to defeat USD 2-1 in their 2015 home opener.
Although this was one of the highest scoring games for the Women of Troy so far this season, the strength of the attack came from the back. They outshot USD 19-2, allowing only two shots on goal. This was mostly credited to junior defender Dominique Randle and her backline, who smothered the USD attack and allowed a minimal amount of movement in the box.
"I think our defense is the base of how we play, and today really proved that we can cement that victory," Randle said. "But what was best was how we were pushing the ball up on offense. That kept the ball out of our half of the field and made it a lot easier on our back line."
Although USC kept the ball in their attacking third for most of the game, they showed a hesitancy in taking shots that cost the team early on in the game. After settling into a rhythm in the second half, the offense still found difficulty in finishing shots, often flicking headers too far to the side or lofting balls over the crossbar. Head coach Keidane McAlpine says that this was an anticipated growing pain due to starting the season with a difficult tournament in North Carolina.
"We've started out playing so many strong teams like UNC and Duke that we haven't really had the opportunity to get into our attacking third," McAlpine said. "We haven't really had that in-game practice of finishing shots on goal, so it'll be something that we will see improve further down the road."
Reach Staff Reporter Julia Poe here, or follow her @jpoe24601