USC Sports
USC Triumphs Over UCLA With Sweep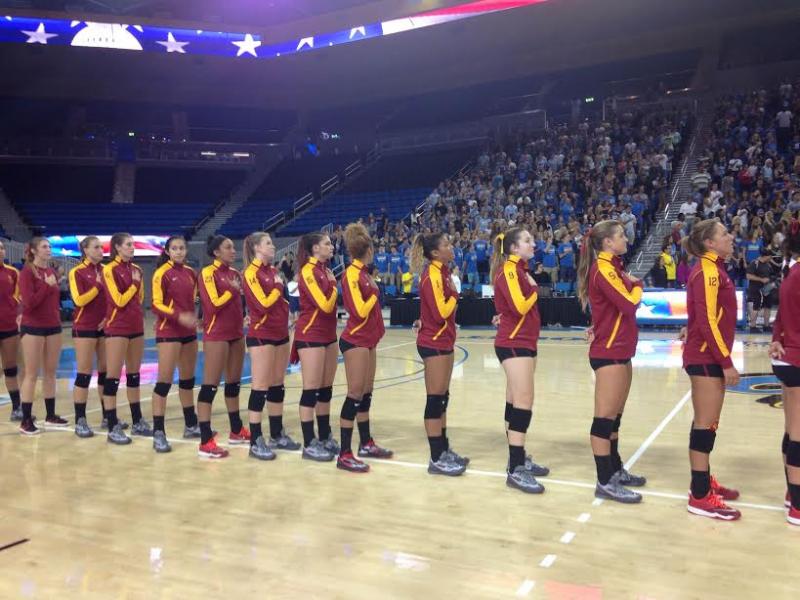 Over an enthusiastic crowd at UCLA's Pauley Pavilion Wednesday night, the third-ranked USC Women of Troy pulled out their 13th win of the season with a 3-0 set sweep of the No. 13 Bruins.
Freshman outside hitter Alyse Ford lead the kills with 11 on the night while Samantha Bricio, senior outside hitter, had 10. Freshman setter Baylee Johnson led the assists with 18.
"I thought we played pretty well," Coach Mick Haley said. "I was pleased with our blocking and defense. I felt really good about the things we've been working on. I told the team afterwards I think we can get even a lot better."
With freshmen such as Ford and Johnson leading the way for USC, Haley noted that the new crop of talent was unfazed with by playing their crosstown rivals.
"They're just too new to know what this rivalry's all about," Haley said. "They go to battle every night and it doesn't seem to matter if we're in Oklahoma or if we're in Iowa or if we're over at UCLA. They just come and bring it every night. And you almost have to put a stake through their heart before they all quit."
Ford, whose older brother plays football for UCLA, said that she heard some rivalry trash talk from her brother before the game. But that didn't change her approach.
"I wasn't really anxious," Ford said. "I did my same pregame routine and everything and just approached it the same way. Just go hard every game."
Team captain Bricio said that some of the newer members of the team were anxious before the game because of the rivalry.
"I was like, 'Just calm down, it's just another game, it's gonna be a big crowd, just do what you know'," Bricio said.
The Women of Troy capitalized on Bruins' 10 errors in the second set and won it 25-12, but the first and third sets were decided by closer scores: 25-22 and 25-19. Coach Haley was waiting to see how the team would prevail in in close situations.
"I was interested to see when UCLA came back and put pressure on us, how we would respond," Haley said. "It was kinda shaky there for a while and then, again, when we got into a situation where we could win, if we just executed, that was another thing that I wanted to see. And it seems to me like, yeah, they're gonna be okay in pressure situations."
The Women of Troy face the eighth-ranked Stanford Cardinal in Stanford on Sunday night.
Reach staff reporter Jen Mac Ramos here and follow them on Twitter.