USC Sports
USC Cross-Country Starts Season Off on a High Note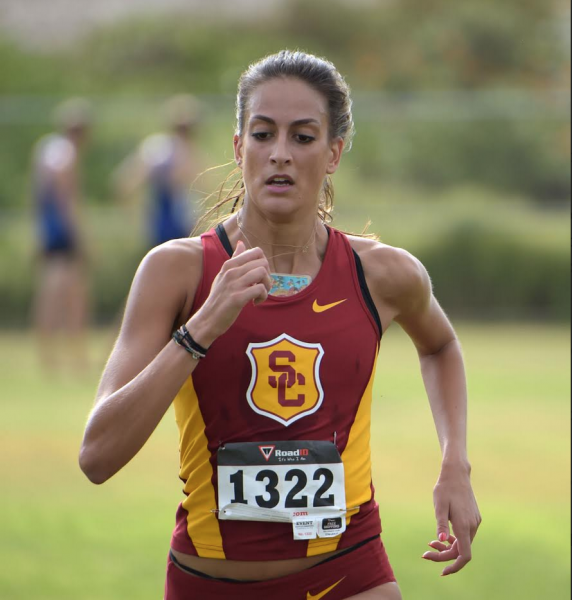 The USC Women's Cross-Country team started their Labor Day Weekend off by competing at the UC Irvine Invitational on Saturday morning, as they finished first amongst Division I schools, and took seventh place overall at the invitational 5K.
Leading the Women of Troy was senior Katerina Berdousi, who placed fifth with a time of 18:11.02.
Berdousi, who is originally from Greece, ran a stellar race and was part of the front-running pack the entire way.
Amber Gore a true freshman from Redondo Beach, finished second for the Trojans and 23rd overall with a time of 19:03.65. Not far behind her was senior Jenna Tong, who finished 29th with a time of 19:12.17
Resdhirt freshman, Madison Ricks and true freshman, Taylor Seamans, rounded out the scoring for the Trojans by finishing in 44th and 46th place. Their respective times on the 3.1-mile course were 19:31.21 and 19:38.67.
After the meet, coach David Freeman had nothing but praises for his young team.
"Kat ran pretty well, but that's normal for her. The people who really stepped up were our freshman because you never know how freshman are going to respond, especially in their first meet," said Freeman.
"We had three freshman finish in our top five, so that's a really good sign for the future," he continued.
Senior Natasha Strickland and freshman Lauren Maurer also competed for the Women of Troy. Strickland finished in 79th place with a time of 20:23.18, while Maurer battled hard to finish the race after suffering heat exhaustion. As she came down the final stretch, Maurer walked across the finish line with the help of an athletic trainer. She still finished ahead of nearly 20 runners with a time of 22:45.24.
Coach Freeman described the atmosphere at UC Irvine on Saturday as "laid-back and easy-going." He said it was the perfect meet to open the season, as his young team is still trying to get used to the logistics of running in a collegiate meet.
After a week off, the squad will be headed down to San Diego State on Sept. 18 for their next meet at the Aztec Invitational.
Freeman expects the competition in San Diego to be tough, but he isn't concerned about that. He says the Trojan's main competition is themselves.
"Our goal is just to get better every meet," he said. "It's nothing beyond that. We are just going to try and be better than we were today and see where that takes us."
The Trojans only have four meets left on their short schedule before PAC-12 Championships begin in Pullman, Washington in late October.
You can reach Staff Writer Scott Cook here. Or follow him on Twitter here.