Sports
Top 5 Heisman Hopefuls Through Week 4
Four weeks have passed and the college football season has not been what most experts predicted it to be. Injuries have already begun to plague teams and their chances of making it to the college football playoff. Teams are already starting to underachieve despite the preseason hype that surrounded them for months, and most are just beginning to get to the meat of their schedule.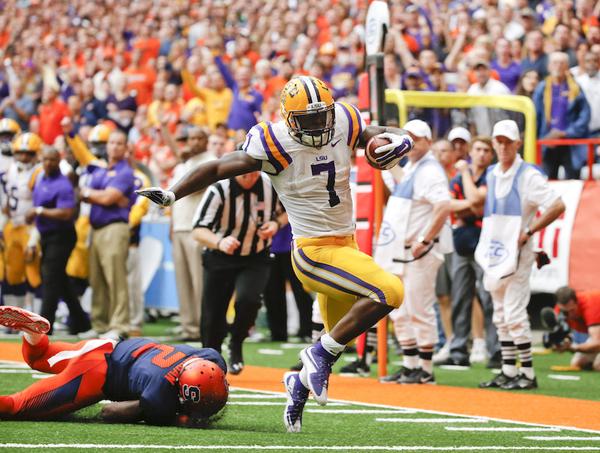 As October begins, college football will finally begin to be good again. No longer will we have to watch Central Michigan play Oklahoma State, but instead we watch LSU and Alabama. With October comes great games and great individual performances. The Heisman race will begin to heat up as the season pushes on and as of right now, the race is tight. Here are my top five Heisman candidates.
1. Leonard Fournette (LSU)
This should not come as a shock to anyone who pays attention to college football. When you run for 228 yards in one week and then turn around only to put up 244 yards in the following week, your name is not going to go under the radar. Leonard Fournette is on track for one of the best rushing years in SEC history. With 631 yards and eight touchdowns through just three games, Fournette is putting on a show that you don't want to miss. He is just 403 rushing yards away from matching his total from last year. Fournette is becoming a nightmare for defensive coordinators and is finding an answer to anything that is thrown at him. LSU does not have the hardest schedule in the SEC. With games against Eastern Michigan and a dismal South Carolina team, look for Fournette, who is currently holding the third highest rushing total in the country, to continue to put up monster numbers.
2. Nick Chubb (Georgia)
Yes, another SEC running back on the Heisman ballot. Personally, I did not see myself putting Chubb down at all this year, until I saw him actually play. Chubb can do it all and will do it all. Chubb is boasting some outrageous numbers: 599 rushing yards, six touchdowns and the most impressive stat to me is 8.4 yards per carry. Chubb is hitting the hole hard and is making defenses pay, even when they are stacking the box to try and stop Chubb. Chubb has played well through his first four games of the season but the real test will come this week as Georgia will host the Alabama Crimson Tide. The Crimson Tide don't allow that many yards in a game to begin with, 267 to be exact, but if Chubb can put on a performance similar to the ones we have been able to see all year, look for Chubb to jump to the top spot in this list.
3. JuJu Smith-Schuster (USC)
I feel as if I am the only person who is giving JuJu a look. It has nothing to do with school pride or bias but when you look at the numbers, Smith-Schuster has been on a tear this year and it has been nothing short of amazing. Smith-Schuster has had one game this year in which he hasn't caught 100+ yards. When you have a quarterback as talented as Cody Kessler, the numbers are going to come. Smith-Schuster has 537 yards and six touchdowns through four games this year; his touchdown total is already more than it was last year. He is third in the country in receiving yards and is only a mere 56 yards behind the leading receiver, TCU receiver Josh Doctson. Smith-Schuster has been Kessler's favorite target this year hauling in 27 passes already this year. Expect these numbers to only increase dramatically as the season continues on and look for Smith-Schuster to get some national recognition very soon.
4. Trevone Boykin (TCU)
The TCU Horned Frogs have not lived up to the high expectations placed on them thus far. Injuries and suspensions have plagued this team's defense and now this has made TCU a national target for a potential upset. After barely escaping Lubbock with a last second win against Texas Tech, TCU looks ahead to Texas, a team that has lost back-to-back heartbreakers. TCU will have problems if their defense continues to struggle, but Trevone Boykin will be the guy to get the Horned Frogs a win. Boykin has had a tremendous season thus far with 1470 yards passing, 14 touchdowns and just 3 interceptions that came within the first two games of the year. Let's not forget that Boykin has also run for 190 yards. If those stats are not convincing enough, just watch some highlights. Boykin is so elusive and so talented that you almost laugh at the plays he makes because they are just that absurd. Boykin will need his defense to step up if they want to stay undefeated, but if they are in the game with two minutes left, you can count on Trevone Boykin getting a win for the Horned Frogs.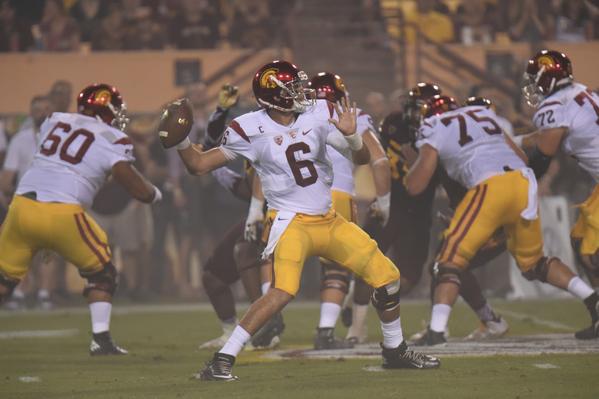 5.
Cody Kessler (USC)
Picking the number five player on this list was tough. But in the end I had to show some love to our boys and give this spot to Cody Kessler. Kessler has earned this spot in my opinion based on the numbers he has been putting up thus far. It took until week 4 for Kessler to throw an interception but he still threw five touchdowns and 375 yards. Kessler is so calm in the pocket and has the ability to trust that his receivers are going to be open. He does not rush in making his decisions. Kessler's stats this year thus far are equally impressive. Kessler has thrown for 1297 yards, 15 touchdowns and just one interception; oh and let's not forget he is completing 73 percent of his passes. Convinced yet? The only reason Kessler is not higher on the list is because of the loss to Stanford, a game in which he still put up phenomenal numbers. If Kessler and the Trojans can find a way to run the table and win the Pac-12 South, look for Kessler to skyrocket on not just my list but on the ballots of voters all over the country.
Honorable Mention
• Josh Rosen (UCLA)
• Derrick Henry (Alabama)
• Adoree Jackson (USC)
• Devonte Booker (Utah)
• Royce Freeman (Oregon)
• Myles Garrett (Texas A&M)
Reach Staff Reporter Jeffrey Dubrof Here