International
State Of The Media: International Coverage In U.S. Journalism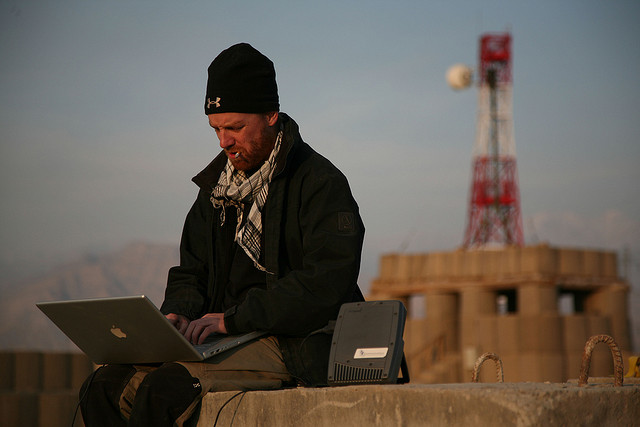 The field of journalism is undergoing a fundamental metamorphosis. Major reductions in funding have limited the amount of foreign coverage news organizations are capable of producing. At the same time, advances in technology have slashed borders and boundaries, facilitating levels of human communication and connection in ways that were unheard of only one decade ago. But what does this all mean for the future of foreign news coverage in the United States?
READ MORE: Syria 101: When "Never Again" Became "Not Again"
The Money
According to an American Journalism Review (AJR) survey of foreign news coverage, 18 newspapers and two newspaper chains closed all of their overseas bureaus between the years of 1998 and 2010. Many of these organizations now rely upon wire services such as the Associated Press and Reuters for much of their international coverage, the AJR reports. This trend was confirmed by a 2008 report from the Pew Research Center entitled, "The Changing Newsroom," which reported that 64% of newsroom executives experienced a reduction in the amount of space apportioned to foreign news over the past three years.
Professor Roberto Suro believes that the development is not a new one. "Foreign news coverage declined starting all the way back to the late 1980s, as the number of major news organizations that could do everything started shrinking and foreign coverage got increasingly expensive," he says.
The changes are not limited to print media. Major television networks are also cutting their foreign coverage and closing bureaus across the globe due to unsustainable expenses. "We went through a period where the broadcast networks had big operations overseas and massively retrenched," Suro explains.
And the networks continue to do so. A 2014 article from The Guardian reported that ABC's coalition budget cuts are resulting in plans to scale back majorly in their 11 foreign bureaus, including Tokyo, Bangkok, New Delhi and New Zealand. The impetus to do so comes from the expectation of money saved. ABC predicts that this move will save their news budget several million dollars, "by cutting about 20 international jobs including camera operators, producers and local fixers."
Pew reports similar trends in CBS's foreign bureaus. According to their 2013 report on the state of the media, CBS closed bureaus in Moscow, Paris, Baghdad, Islamabad, Kabul, Tel Aviv, Amman, Hong Kong and Johannesburg between the years of 2008 and 2013.
The Tyndall Report monitors the weekday nightly newscasts of the three American broadcast television networks: ABC, CBS and NBC. In a recent report, Tyndall found that when the Berlin Wall fell in 1989, ABC, CBS and NBC devoted a collective 4,828 minutes to international news. By 2000, after ten years of declining coverage, the same three networks aired only 2,127 minutes of international news during newscasts that totaled between 14,500 and 16,000 minutes.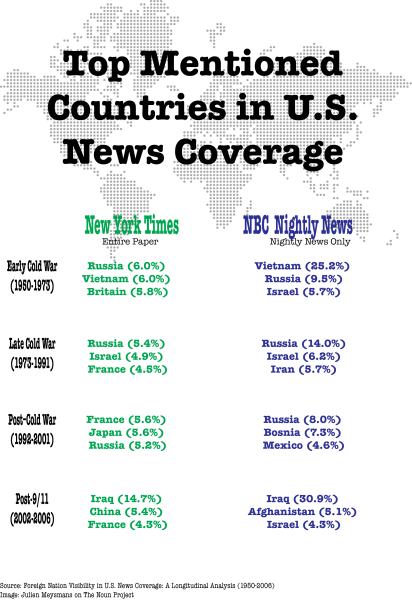 Jennifer Siebens, a former CBS News Bureau Chief in Paris, Los Angeles and London, says that for most media organizations, the airtime that is allotted to foreign affairs is a precious commodity, and is therefore spent covering international issues and events that primarily affect Americans. If there is not a connection to the United States, the likelihood of an international story making the nightly broadcast is much lower.
In addition to budget constraints, consumer fatigue also affects foreign coverage in the news. "This has been a nation at war for 14 years, and for the first 10 years, it was a lot of war," says Suro. He believes that Americans are tired of hearing bad news all the time, and that is reflected in the popularity and ratings of news programs. The media are responding to what their readers and viewers want, and what they don't want, to stay competitive in the ratings game.
The Technology
Technology has had a major impact on the coverage of foreign news in the United States. Siebens sees the rise of the internet as one of the greatest threats to the profits of major news networks. "[Millennials] don't want to pay for movies. They don't want to pay for music. They don't want to pay for content. They don't want to pay for books. They don't want to pay for magazines. They don't want to pay for newspapers. And they sure don't want to pay for television." Online news websites, social media and other innovative forms of content creation, he says, have created an environment of expectation. And the expectation is that the news should be free.
This technology has facilitated the rise of free citizen journalism through organizations such as Reported.ly. With increasing and widespread access to smartphones and the internet, great historical moments such as the Arab Spring can be recorded and disseminated for free by non-journalists using the power of social media. And the impact of such technology has had a definitive impact on the profits of traditional sources of media.
During a panel held at USC Annenberg last week entitled International Crisis Reporting Online, Wendy Carrillo of Reported.ly discussed the use of citizen journalism and technology in reporting."Some of the work behind Reported.ly is about verification, ensuring we're looking at content that is not being reproduced or manipulated in some way, especially on social media." Carrillo's words reflect the emergence of a wave of new media that is focusing on meeting the international coverage needs in the U.S. by harnessing the power of technology and social media to tell stories from across the world.
The panel also shed light on the steps traditional media organizations are taking to keep up with the changes in technology. According to Hanna Ingber who works at the foreign desk of the New York Times, "My challenge is to take those great resources and to take those amazing reporters and editors and to try to get them to think differently." And by differently, Ingber means digitally. The Times is only one of many well-established media outlets that is attempting to cover foreign news by using new technology. These stories are no longer being printed in newspapers or broadcast on televisions. Instead, they are online.
Rising costs, shrinking budgets and competition from the internet have pressured traditional media organizations to reduce their foreign coverage. But the resulting void in American journalism is beginning to be filled by new media organizations that harness the power of technology to tell global stories. These newer outlets are pressuring more traditional outlets to transform and change the way they deliver news to meet the changing needs of their consumers.
According to Suro, "It's a long arc of change both in the financial and technological structure of news, which now brings us to this point where we can say maybe the decline is over and maybe we're seeing ways where this stuff becomes possible again."
Contact Staff Reporter Neha Wadekar here.