Los Angeles
Red Means Go: USC Grad Rides The Red Line To Her Future
She stands on the platform with a book in hand, anxiously awaiting the next train. Keeping to herself, she looks down at her feet while fingering the corners of her book.
A recent graduate of the University of Southern California with a Masters degree in public relations, Justine Carleton, 24, has just begun to map out the next phase of her life. She hopes to land a career that combines her PR skills with her passion for music.
Though Carleton has spent the last two years of her life in Los Angeles attending USC's Annenberg School of Communications, she's still relatively new to California.
Born and raised in Arizona, Carleton wanted to stay on the "best coast" for college. Upon graduating from high school, Carleton went on to study at the University of Arizona's Fred Fox School of Music.
"I am actually a classically trained musician," she says with a light laugh. Carleton was a conductor and also played the clarinet.
A zealous instrumentalist, Carleton participated in Arizona's concert bands and performed as a solo artist on several occasions. In the spring of 2013, the avid Arizona Diamondbacks fan graduated cum laude from the University of Arizona and begun the next chapter of her life in Los Angeles.
Every morning, Carleton begins her commute by taking the L.A. Metro to Koreatown. Though she owns a car, she finds the Metro system more convenient.
"I live in the Culver City area so, I started taking it going to USC – it's a direct line, the Expo Line."
While Justine is still looking for a 9-to-5 position, she spends her weekdays volunteering in Koreatown at Los Angeles' CicLAvia, the L.A.-based organization that temporarily removes cars from the streets, urging Angelenos to get out and be active through alternate modes of transportation. After working as a public relations specialist at USC's School of Diplomacy, Carleton hopes to do PR for organizations like CicLAvia in the future.
Though she frequently takes the Metro from Culver City to Koreatown, she admits to still getting the Metro lines confused, realizing half-way into the ride that she missed her transfer stop to the Purple Line.
But missing her stop is no big deal. She brushes it off and laughs, saying she doesn't mind "taking the scenic route."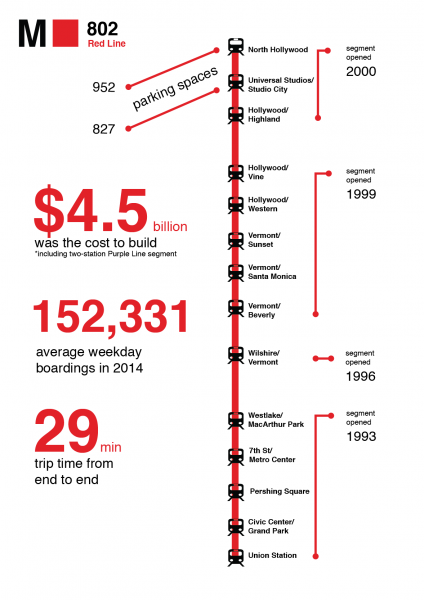 Contact Contributor Morgan Evans here and follow her on Twitter here.