Sports
Pac-12 Power Rankings: Week 4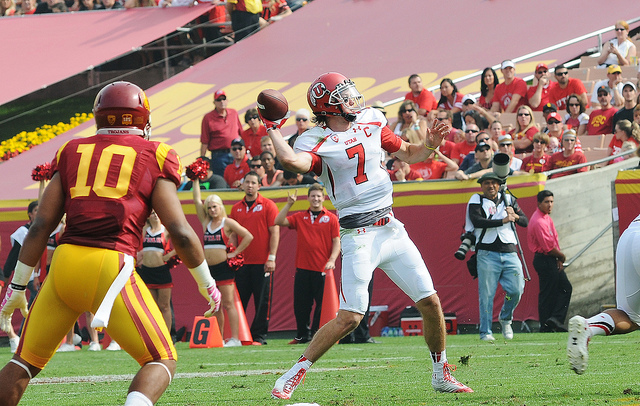 1.

UCLA (4-0; 1-0)
Despite losing their third starter for the season due to injury, this time standout linebacker Myles Jack, No. 7 UCLA looked truly impressive on Saturday.
The Bruins steamrolled Arizona on the road, and freshman quarterback Josh Rosen entered conference play looking anything like that of a freshman. The Bruins' two-dimensional offense scorched an Arizona defense that was graced with the return of linebacker Scooby Wright. UCLA now has consecutive wins against AP Top 20 teams and will look to continue rolling against a shaken Arizona State team next week.
2. Utah (4-0; 0-0)
Well, just about nobody saw the walloping that Utah delivered on Saturday coming, as the Utes scored the most points EVER for an opposing team in Eugene. Quarterback Travis Wilson looked masterful after returning from a week-off due to injury, throwing for four touchdowns and 227 yards.
Utah is undeniably the real deal, a fact that is proven by two impressive wins against Michigan and now Oregon. The No. 10 Utes will host Cal on Saturday in another important conference showdown.
3. Stanford (3-1; 2-0)
No. 18 Stanford pulled away from the Oregon State Beavers in the second-half of their second consecutive Pac-12 win. Running back Christian McCaffrey had a career day on the ground, compensating for a banged up Kevin Hogan, who played the whole game on a sprained ankle. Stanford has shaken all doubts after their Week 1 loss to Northwestern and will look to carry their momentum at home against a shaken Arizona team.
4. USC (3-1; 1-1)
It's tough to get a good read on this Trojans team, but it appears that No. 17 USC is a very good football team and that the Stanford team that beat them is a great one. The Trojans went up 35-0 on the Sun Devils in the desert at halftime, quite the surprising exclamation point after last week's loss. The Trojans are off next week, but an important win this weekend was key to the Cardinal and Gold's chances at winning the Pac.
5. Cal (4-0; 1-0)
The No. 24 Golden Bears were able to hold on against the Huskies on Saturday, improving to 4-0 for the first time since 2007 and jumping back into the AP Top 25 for the first time since 2010. Jared Goff continues to impress and has arguably been the best quarterback in the conference. The Golden Bears should stay undefeated with a matchup against Washington St. next week.
6. Oregon (2-2; 0-1)
The Ducks laid an egg on Saturday, already racking up their second loss of the season after falling to Michigan State earlier this year. Oregon's defense looked lost, and quarterback Vernon Adams Jr. was pulled in the first half after a shaky performance, hastened by his broken finger. Oregon will look to turn things around quickly and regain some much-needed conference at Colorado next week.
7. Arizona (3-1; 0-1)
Ouch... A beat-down at home for the Wildcats certainly stings on the heels of linebacker Scooby Wright's return. Arizona's dynamic offense was not terrible on Saturday, but there were simply too many unforced errors made. Quarterback Anu Solomon was knocked out of the game with a head injury in the second quarter and never returned. Arizona is going to need Solomon back on the field next week in order to reassert their position in the conference, as they head to The Farm for a very telling matchup.
8. Washington (2-2; 0-1)
The Huskies could very well be 4-0 at this point of the season, but failing to close out close games, like this past weekend against Cal, prevents Washington from climbing the rankings. Washington is undeniably a team on the rise and will continue to improve alongside freshman quarterback Jake Browning; however, Washington and Browning's ability to rise up in critical moments are very much a concern. Washington will face the Trojans after a bye this week.
9. Arizona State (2-2; 0-1)
It's crazy to think that this team was considered a playoff contender entering the season. Turnovers on offense and incompetency on defense minutely describe the Sun Devils' problems. Luckily (or very much the opposite), the Sun Devils face UCLA next weekend with an opportunity to quickly rebound with a statement win or wither away into the depths of a lost season.
10. Colorado (3-1; 0-0)
The Buffs beat up on another non-conference opponent this week, but next week's matchup at Oregon will really show how much improvement this Colorado team has made. It will be interesting to see how the Buffs fare against a potentially vulnerable Oregon squad.
11. Washington State- (2-1; 0-0)
The Cougars were on a bye this week and face their first legitimate opponent in Cal next week. A win would certainly shoot the Cougs up in the rankings, and a loss from the last-place Beavers keeps them afloat from last place.
12. Oregon State (2-2; 0-1)
The Beavers put up a fight against Stanford, but fell apart in the second half. Freshman quarterback Seth Collins once again showed reason to be excited looking ahead, but this Beavers' team is nothing more than a work in progress. The Beavers are on bye next week and will need to do some serious rethinking in preparation for Arizona the following week.
Contact staff reporter Garrett Schwartz here or follow him at @gschwartz95.