Los Angeles
An Outstanding Ticket Brings Lincoln Heights Resident To The Rails And Buses
Nick Horton, 22, sold his car so he could have enough money to move to Los Angeles.
READ MORE: Exceptional Transit: How L.A. Metro Failed Low-Income Riders
As a result, instead of driving over 10 miles from Lincoln Heights to work in La Brea, he takes the Metro's Red Line from Union Station, jumps onto the 720 bus at Wilshire and Vermont and rides it to the stop at Wilshire and La Brea Avenue.
The whole journey takes Horton a little less than two hours and to do it with his unlimited tap card costs him a hundred a month.
After about two years of working in Los Angeles, Horton landed a job as a broker at Western Reach Real Estate Fund, but he is still saving money by living in what he called a "dirt cheap apartment in Lincoln Heights."
Although Horton could purchase a car to make traveling easier, he has not. Mainly because he would not be able to drive it.
Horton has an outstanding ticket for jaywalking on his license that has turned into a $900 fine. The more Horton refuses to pay it, the longer his license will remain suspended.
"It's a bunch of foolishness," he explained during his Wednesday morning commute. "So I'm just cool with the Metro for right now, I suppose."
Originally from Maine, Horton use to drive everywhere he went becasue there was very little public transportation.
But when he lived in Boston, he began riding public transportation, mainly the subway.
"That's probably the metro that I'm most familiar with," Horton said. "It's a lot older so it's a lot dirtier than the L.A. metro."
Comparing the Los Angeles metro to "the T" in Boston and the subway in New York, Horton said it is less confusing, though he admitted it could use some Wi-Fi.
Rather than surfing the net, Horton said he spends most of the time during the morning commute either listening to music or reading a book.
Since Horton has the unlimited tap card, he does not just use it to commute. He also rides L.A.'s public transportation when he wants to spend time with friends or run errands.
"A lot of times I'll take the bus," Horton explained. "But if it's late at night and I'm going out I usually take Uber to and from or something like that because that plus the Metro, it's easy to get pretty much anywhere."
Even though the buses and trains are convenient to Horton's apartment and work place, he said taking public transportation still requires extra effort and a couple adjustments to his wardrobe.
"I don't look like [a broker] how I'm dressed but that's because I have to change when I get there," he said, pointing to his black t-shirt and shorts. "I have to do a lot of walking, and you don't want to walk in a shirt and tie."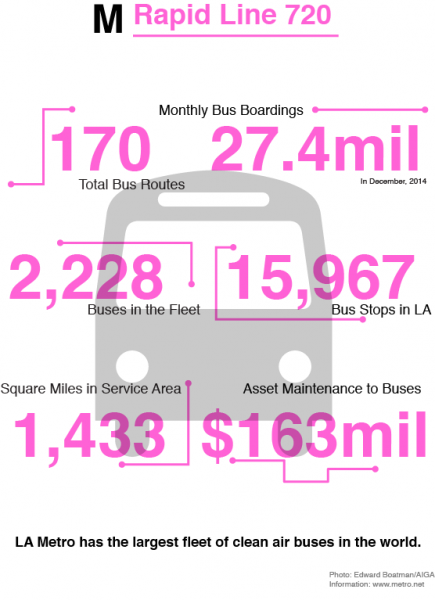 Contact Staff Reporter Carla Javier here and follow her on Twitter here.