Los Angeles and Region
L.A. Metro: Not So Underground For Locals In The Know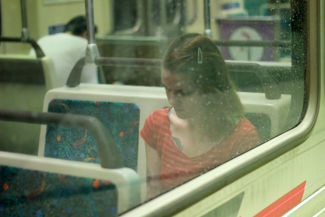 At 11:45 a.m. on any given Wednesday in Los Angeles, California you might expect the chaos of the city to be at full volume, no matter where you are. In most places in L.A., you'd probably be right. But that's not the case in one underground spot one artist knows like the back of her hand.
Dressed in a bright orange top, casual black pants and kids' Converse sneakers with lightning bolts on the sides, Artie Terra, 26, coolly rides the escalator down to the Wilshire/Western platform of the Metro Purple Line in Koreatown.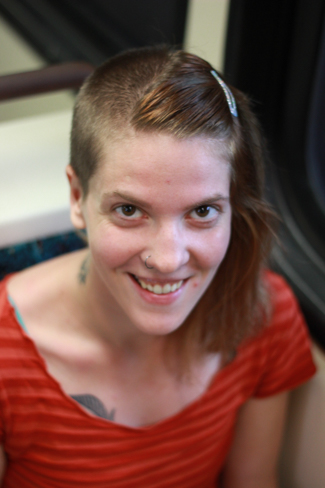 Terra feels no need to rush. "Everywhere is 20 minutes from Koreatown [when I'm using the Metro]," she says.
Driving by this stop on the Metro Line, you might not even notice it. There's little signage aside from one pillar at the corner, which is easily overshadowed by the historic Wiltern Theater across the street. But Terra had the inside scoop on the Metro before coming to this side of town.
"I used to live and work in Culver City, so I used the Metro a lot there," she says. "There, it's above-ground. You can easily see that one, so I already knew about it when I started moving around to different areas after a few years."
Terra moved to Los Angeles from upstate New York in 2009. She originally came here for a career in makeup effects but now works for herself under the social media pseudonym @superapplepie as an illustrator and cartoon designer.
Being nearly a six-year veteran of the city, Terra understands that it takes a while to get your bearings in L.A. "I feel like your first year in Los Angeles you have no idea where anything is," she says. "And people are trying to explain to you that it's all little suburbs and you're like 'Whaaat?' until you actually get to experience it, and be in each place, and then you're like 'Ooh, I get it. Now I understand.'"
It's understandable, then, that it wasn't until Terra had been here a full year that she started embracing the Metro. She hasn't stopped since.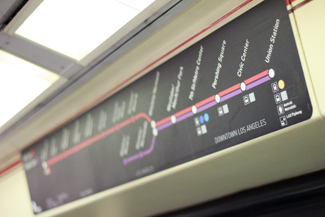 Her friends use the Metro, too. "[We ride it together when we're] going downtown or if everyone is going out to party," she says. "It's a lot easier to just get everyone together on the Metro versus trying to carpool everyone with someone having to be the designated driver."
Terra would never get stuck being the D.D., though, because she doesn't even own her own car, which is practically unheard of in Los Angeles. "My boyfriend and I have a car together," Terra explains, "so we share one car. But he uses it more than I do. A lot of what I do is social networking, and I only have to leave the general surroundings of my apartment to do things like this!"
When she says "things like this," Terra is referring to her trip downtown today, to have coffee with her best friend and her best friend's mom. It's her favorite place to take the Metro. "I love the Metro going downtown because then you don't have to pay for any parking," she says. "It's perfect."
Terra says the Metro has only gotten better over the past five years since she's been using it. There's only one place she really can't go on it, and that won't be the case for long. "They're going all the way to Santa Monica [soon]," she says. "They're building a track through Culver City right now."
The train stops at Pershing Square and Terra hops up. "This is my stop," she says. In under a 15-minute ride, Terra is off to her coffee date. She'll spend more on her drink than the $1.75 it took to get there, and that's how she takes her coffee.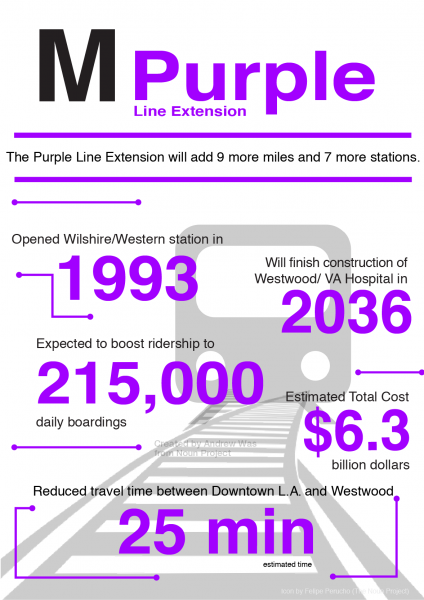 Contact Contributor Stephanie Haney here and follow her on twitter here.