Los Angeles and Region
L.A. Rider Finds Metro Gold
In a packed Metro car headed north towards Pasadena, Kadek Rabindra sits quietly in a seat near the door. He concentrates intently, flipping through the pages of Men's Health magazine. His exposed arms and legs show that this is less light reading and more intense study on how to improve his physique.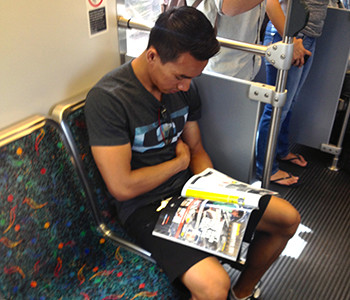 "Oh, I want to just walk around and [get] something to eat [for] lunch in Old Town Pasadena," says Rabindra. He is heading out there to meet some friends, a trip he takes twice a week. His destination is just a few steps off the Del Mar Station along the Metro Gold Line, which extends, in full, 21 stops from East Los Angeles to East Pasadena.
The Chinatown resident is an avid rider of the Gold Line as well as other Metro lines. "I take the Metro for work too. I work in Downtown, so I take [it] almost every day," says Rabindra.
Hailing from Indonesia but having lived in the U.S. for a few years, Rabindra lauds the ease with which the Metro affords him in getting around an unfamiliar city. "It's really helpful; especially [since] I'm new in L.A. I've lived here about one-and-a-half years and I don't drive right now," says Rabindra.
"You know, parking, especially Downtown, is typically expensive," he laments.
In his words, avoiding driving is just one reason to use public transportation. "It's [a] very short [commute]. It's like only two miles from where I live, so I just [keep] taking Metro, says Rabindra. He doesn't currently own a car, but he plans on purchasing one eventually.
Rabindra says that he has never had a bad experience while riding the Metro. "So far, it's good for me…. Everything's clean. I'm glad about taking [the] Metro," he says.
Downtown, Rabindra works at a bar, often late into the evening. "When I get off, I usually take bus. Buses run 24 hours so it's really helpful," says Rabindra.
Rabindra has been using the Metro App to keep track of all the routes. "There are some bugs to fix…I think the Metro App needs some more improvement or the bugs fixed," he says.
Finances are another major factor in Rabindra's decision to ride the Metro. "I think it's seven dollars, I mean for one day. And for one ride, I think like $1.75," says Rabindra. He buys a monthly pass because he rides the rails so frequently. That price, which is normally $100, is discounted through his work. "They give me [a] very cheap, very good deal, like $300 for one year, instead of $1200."
With all of the savings and convenience afforded, it's a clear call for Rabindra to choose to ride the Metro.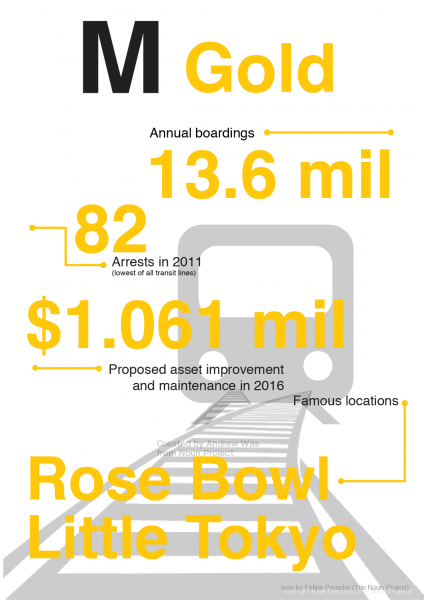 Reach Staff Reporter Michael Radcliffe here or follow him on Twitter here.