Arts+Culture
Futuristic Skateboard Gains Speed At USC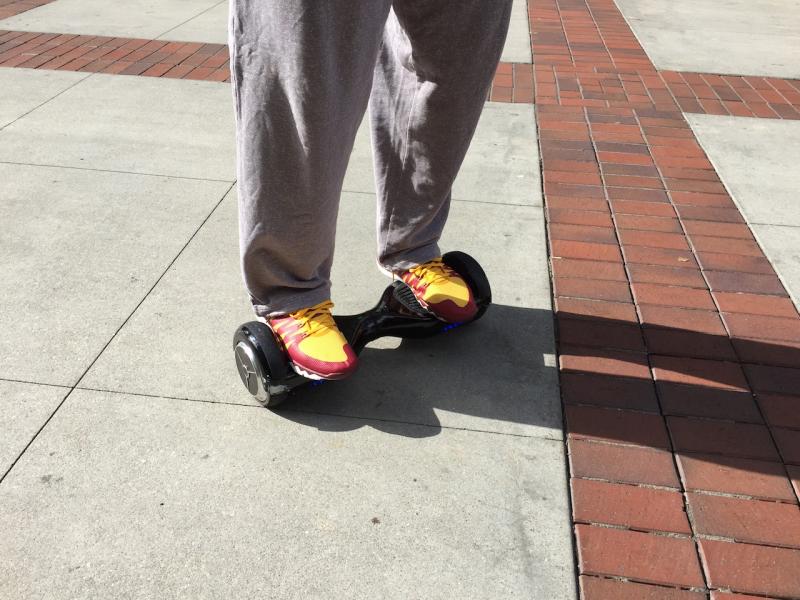 In today's early morning rush down Trousdale as students walked, biked or boarded to class, a group of athletes buzzed along without moving their legs at all. They weren't riding bikes, long boards, scooters or skateboards along the brick pavement. Instead, they showed off the newest, most entertaining way of getting to class: the hover board.
The IO Hawk and similar PhunkeeDuck look like Segways with no handlebars. They have two wheels but move like sideways skateboards.
"It's kind of cool to own the next big thing, as it is becoming the next big thing," said Max Goldwasser, an undergraduate student at USC. "It's honestly addicting at this point. I don't even want to walk anymore."
Some may say that USC is a "bike campus" due to the numerous bikes surrounding most building entrances. But lately students are choosing to hover instead of pedal.
"You're moving but you're standing in place – it's a weird concept. It's fun, effortless and a little bit of a leg workout," said Goldwasser. "Honestly it's such a thrill and just a fun thing to ride."
Celebrities who have gotten ahold of this hover board pushed it to popularity through social media. David Pierce, senior staff writer at Wired, listed celebrities who broadcasted themselves riding the new device in the past few months.
"The Biebs himself, Chris Brown (who is awesome at it), Nick Jonas, Zedd, Soulja Boy, Kendall Jenner, JR Smith, Nicki Minaj, Wiz Khalifa, Nina Agdal, David Ortiz, Karim Benzema, and Skrillex. It's been on the Tonight Show, and showed up at the NBA Finals," he said.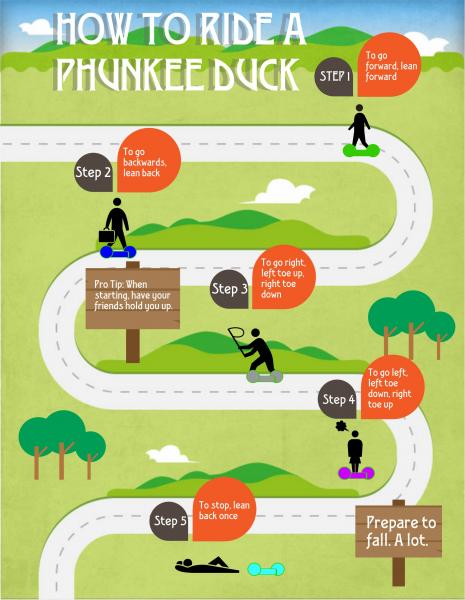 The athletes at USC have caught on quickly. The hover board is trending for entertainment and transportation purposes, but it also serves as an asset for athletes.
Darion Clark from USC's men's basketball team said, "This is better on our legs since we do so much physically. It's a break from walking to class. I just rode to class. With our busy schedules it helps us get from point A to point B faster."
Clark expressed the convenience of owning the electronic skateboard and wants more students to have them.
"It's very easy to use," he said. "Everybody could move on campus the way they want to, and I could get a couple races in."
Rider Divij Vaswani, another undergraduate student at USC, thinks campus transportation is evolving.
"Bikes and long boards are super old-fashioned, and we're getting to a point where technology is insane," he said. "I think this is the future of transportation."
As Vaswani steps on his IO Hawk, neon bulbs immediately light up the bottom.
"Right now, it's blowing up on social media. You can turn and do tricks," he said. "A lot of celebrities have it, and it's a fun way of transporting yourself, and it's cool."
Although the device is trending online, it's comparatively a rare sight on campus to bicycles. That might be in part to the price: the Phunkee Duck rings in at $1,500 and the IO Hawk at $1,800.
With any method of transportation, there are safety precautions. Riding this new Phunkee Duck creates some concern on campus. Vaswani explained that the hover board can only ride over obstacles up to an inch high.
"If there's a rock, you can easily fall. I've fallen a lot of times, and I think that could cause issues at USC because if a lot of people start buying them and they start falling a lot, that could be a liability," he said.
Even with possible safety issues, students continue to be intrigued.
Vaswani said, "I like it because you don't see a lot of people with them, and it's futuristic."
Contact Contributor Joy Hahn here.