NFL
Best of NFL Sunday: Week 2
Week 2 of the 2015-16 NFL season has to go down as one of the weirdest weeks of the season. In fact, it was the first time ever that the Raiders, Jaguars, Browns, Buccaneers, and Redskins each won on the same day. Go figure. Nonetheless, it was another eventful day filled with football. Ten of the fourteen games played on Sunday were decided by ten points or less, but five games stood out above the rest.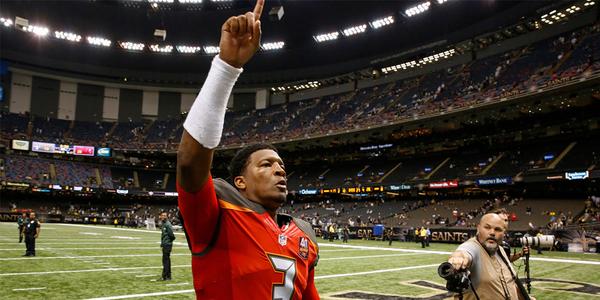 Tampa Bay Buccaneers (26) vs. New Orleans Saints (19)
How It Played Out: Coming into this game, there was pressure surrounding Jameis Winston after his extremely disappointing Week 1 performance. On the other hand, the Saints were coming off a road loss to the Cardinals, but were expected to come out on top with this game. However, these aren't the same New Orleans Saints who don't lose at home. Winston marched right into the Superdome and led his team on multiple scoring drives that included a touchdown pass to Vincent Jackson, and an ankle-breaking run by Winston himself. Entering the fourth quarter, the Bucs had a comfortable 23-7 lead.
However, not to be out done, a struggling Drew Brees still found a way to lead his team to two scoring drives to bring the Bucs' lead down to 4. However, a crucial fumble from Mark Ingram would set up a field goal for Tampa Bay to extend its lead to 7. Brees and the Saints had one drive left in them, but Brees couldn't find the endzone from the Tampa Bay 27 yard-line as Winston and the Bucs escaped with the win. The bigger question coming out of this game was Drew Brees' throwing. He left many passes short and looked banged up after the game. On Monday, an MRI would reveal that Brees had suffered a bruised rotator cuff that will have him out for "several games."
Key Matchup That Decided the Game: Buccaneers passing defense vs. Drew Brees. Even though Brees wasn't exactly 100% for the entirety of the game, Tampa Bay did a great job getting pressure on Brees with legal hits as well as forcing turnovers.
Player of The Game: Jameis Winston. It was a crucial bounce-back game for the rookie quarterback, as all the critics were ready to label him as a bust and claim that Tampa Bay should have gone with Mariota. Winston responded with a strong road win, earning him the game ball for this one.
New England Patriots (40) vs. Buffalo Bills (32)
How It Played Out: After an impressive win against the Colts in Week 1, Tyrod Taylor and the Bills were looking confident heading into Sunday's game. Tom Brady, on the other hand, had no issues in Week 1 with the Steelers. The Patriots looked like the top dog in the AFC after the first week. In Sunday's game, the Bills opened up with a 2-yard touchdown run from Karlos Williams, but the Patriots responded later in the first quarter with a touchdown pass from Brady to Julian Edelman. After a big punt return from Danny Amendola and a bad penalty on the Bills, New England was back in business in the red zone and Dion Lewis easily found his way from six yards out. This is where things got ugly, as to open the second quarter Taylor was intercepted by Malcolm Butler, which led to great field position and another touchdown from Brady but this time to Rob Gronkowski. Buffalo would respond with a touchdown pass from Taylor to Charles Clay, but found themselves down 24-13 at the half.
The third quarter was the big difference maker, with two Stephen Gostowski field goals and another Julian Edelman touchdown bringing the Patriots lead to 24 points. However, this Buffalo squad still had some fight in them. Taylor found Sammy Watkins and Robert Woods for two touchdown scores, while also running into the endzone from 7 yards out for a third score to bring the Bills right back into the game with 4:16 to go only down 5. The Patriots drove down the field and hit a field goal to extend the lead to 8, but it was still only a one-possession game for the Bills. Their chance was short lived, as the first play of the potential game-tying drive ended with a Logan Ryan interception.
Key Matchup That Decided The Game: New England cornerbacks vs. Buffalo wide receivers. The three Tyrod Taylor interceptions each came crucial times with big implications. The first pick by Butler set up the Patriots for an easy touchdown score, and the other two interceptions came on potential scoring drives for the Bills that ended in turnovers. With this type of aggressive turnover-forcing defense, the Patriots are looking scarier than ever.
Player of The Game: Dion Lewis. It's safe to say that Lewis may have solidified his spot as the starting back in New England. He only received 7 carries and rushed for 40 yards and 1 TD, but his dual-threat ability is what makes him valuable. He also finished the game with 6 receptions for 98 yards. Who needs Shane Vereen anymore?
Baltimore Ravens (33) vs. Oakland Raiders (37)
How It Played Out: A game with the Oakland Raiders was one of the best games of the week? Yes, it actually was. Both teams put on an offensive clinic (or poor defensive performance, however you want to look at it) in this one, with each quarterback finishing the game with over 350 yards passing. Amari Cooper opened up the game with a big catch and run of 68 yards for his first NFL score, and the Ravens would respond with a touchdown of their own later in the quarter to knot things up at 10. The two teams would exchange touchdowns and field goals in the second quarter, heading into the half tied at 20.
The third quarter was all Oakland, with Michael Crabtree getting some end zone action, extending the Raiders lead to 10. Not to be outdone, Baltimore opened the fourth with 13 straight points to take a three point lead with 2:10 remaining in the game. A calm and collective David Carr led his team on a 9-play, 80-yard drive that finished with a Seth Roberts touchdown catch and a 37-33 upset victory for the Raiders.
Key Matchup That Decided The Game: Amari Cooper/Michael Crabtree vs. Ravens cornerbacks. Crabtree and Cooper absolutely torched the Ravens secondary for 220 yards and 2 TDs combined. This was the key difference in the game, as David Carr not only discovered his top two targets, but also found a lot of success passing to them which ultimately played the difference in this offensive-showdown.
Player of The Game: David Carr. He not only threw for over 350 yards and 3 TDs to three different targets, but he led his team on a poised game-winning drive. This could go down as one of the best games of Carr's career thus far, and hopefully can serve as an indication of more to come from the young quarterback.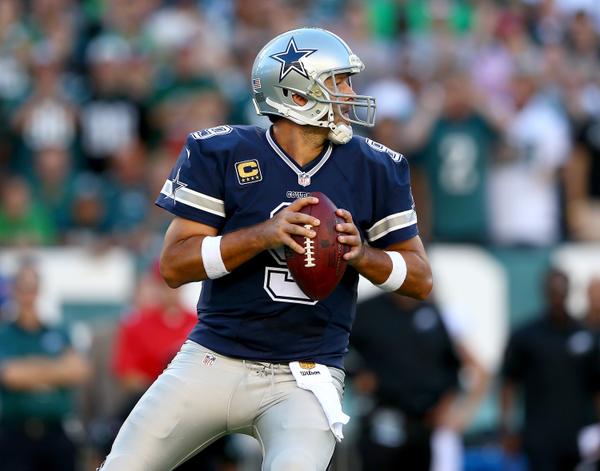 Dallas Cowboys (20) vs. Philadelphia Eagles (10)
How It Played Out: The first thought probably going through many of your heads: "Why is this game one of the best games of the week? Well, my philosophy is that this game was so terrible, that it was worth watching. The hype coming into this game labeled this matchup as "the game of the week," with two of the top teams in the NFC East facing off. Nonetheless, it was an ugly game by both teams offensively. The Cowboys moved the ball fairly well up the field, but committed way too many penalties (18, to be exact) and settled for two field goals in the first half that easily could have been 14 points.
The second half is where things got interesting. Sam Bradford and the Eagles offense continued to struggle immensely, and DeMarco Murray at one point was sitting at 8 carries for -15 yards. Then the unpredictable happened: Romo was hit hard after losing the ball, clutching his left shoulder. Later, it would be revealed that Romo fractured his left clavicle once again, a crushing blow for the Cowboys season. In this game, it was no Romo, no problem. Brandon Weeden came in and went 7-7 for 73 yards and a touchdown to Terrance Williams that sealed the deal for Dallas. Bradford found Jordan Matthews for a garbage-time touchdown, but other than that, Bradford's mediocre two-interception performance has caused worries in Philly. Is the hype around Philadelphia too much? Sunday's game proved that the Eagles may not smell the playoffs this year if their offense continues to struggle this way.
Key Matchup That Decided The Game: Dallas run defense vs. DeMarco Murray. Dallas did a marvelous job of containing Murray. One of the best features of Murray is his ability to run outside, but Dallas' defense did a fantastic job of containing him and not allowing him to hit those lanes. Murray finished with a measley 2 yards on 13 carries. What about Ryan Matthews and Darren Sproles? Philly didn't even test the Dallas run defense, as Matthews had one carry for no yards and Sproles had one carry for -4 yards. The Cowboys couldn't have done a better job with their run defense, and because of that, Sam Bradford was forced to throw the ball 37 times which clearly did not pan out well.
Player of The Game: Sean Lee. Finally, the old Sean Lee. For any NFL fan, it was extremely encouraging and great to see Lee back on the field. Battling injury after injury, the star-linebacker has not been able to return to his original form. On Sunday, he was all over the field swarming and making plyas on what seemed like every down. Lee finished the game with 14 tackles and a key red-zone interception. He may have single-handedly been the reason why Dallas somehow managed to win without Romo.
Seattle Seahawks (17) vs. Green Bay Packers (27)
How It Played Out: All eyes were on SNF. So many eyes, in fact, that there were whopping 26.4 million viewers, while the Emmy Awards fell to its lowest viewership ever. Oops. The Packers and Seahawks didn't disappoint those who tuned in. Aaron Rodgers opened up the game with a 29-yard strike to James Jones, not afraid of testing corner Richard Sherman. Seattle struggled to move the ball on offense, and as a result, the Packers led 13-3 at the half.
A halftime motivation speech was all the Seahawks needed, as they opened up the second half with two scoring drives led by Russell Wilson who found Fred Jackson and Doug Baldwin, to take a 17-13 lead. However, there was a bad bad man by the name of Rodgers sitting on the other sideline. That man would lead his team to a touchdown drive with 9:28 left in the fourth, to get Packers fans on their feet. A Mason Crosby field goal with 1:56 left in the game would seal the deal in a ten-point Green Bay win.
Key Matchup That Decided The Game: Packers run defense vs. Marshawn Lynch. Lynch carried the ball 15 times for only 41 carries and was practically non-existent in this game. Eliminating Seattle's rushing game is one of the biggest keys in beating them, and Green Bay's defense displayed their ability to do just that. Forcing Russell Wilson to throw 30+ times in a game is what opposing defenses around the league should look to do, if they want to add to the 0-2 record Seattle has started off with.
Player of The Game: Aaron Rodgers. He did it all for the Pack, throwing 2 effortless TDs and protecting the ball. He controlled the ball extremely well, and made the small plays that only an MVP caliber player would make. His success passing the ball opened up the field for James Starks, who replaced Eddie Lacy and rushed for 95 yards.
Honorable Mention: Tennessee Titans (14) vs. Cleveland Browns (28)
In the battle between rookie quarterback Marcus Mariota and second-year quarterback Johnny Manziel, one QB clearly outshined the other. Despite only throwing the ball 15 times, Manziel was the player that made the big games for his team to lead them to victory. Mariota did a fine job aside from his two lost fumbles, but it was Manziel's big play ability to find Travis Benjamin for two bombs that set these two apart. It was a statement game for Cleveland and especially Manziel, but now leaves a question mark of who will be named the starting QB come Week 3.
Week 2 was not exactly what we all expected, but it only opened the door for the crazieness that can ensue in Week 3.