Entertainment News
Backstage At The Teen Choice Awards 2015: Trends And Top Moments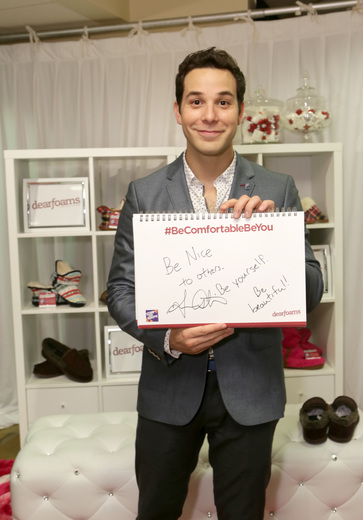 Be comfortable, be you, and don't be afraid to have a few minor mishaps along the way. That was the theme of the night at last night's Teen Choice 2015 Awards -- both on-stage and behind-the-scenes.
TV stars like Sarah Hyland ("Modern Family") and Gina Rodriguez ("Jane the Virgin") reminded viewers that yes, even they are human, and they can sometimes be clumsy or flub up lines from time to time. It was authentic, beautiful, and downright refreshing.
The show was broadcast live on Fox from USC's Galen Center, and featured some of the hottest stars of the moment in film, television, music, sports, fashion, and the web. Many of them stopped by the glamorous official Teen Choice 2015 Celebrity Retreat gift suite backstage -- which was styled by Josh Johnson and produced by Backstage Creations this year -- for some cool swag, including new tech toys and fun back-to-school gifts like cozy slippers from Dearfoams. Even cooler, they also offered heartfelt messages of positivity and courage.
Here were a few of the trends and top moments from #TeenChoice2015:
It's cool to be yourself.
"What makes you different right now makes you stand out later in life, so you should be proud for being different," said Choice Comedian winner Ellen DeGeneres, the first to receive the iconic surfboard trophy last night.
Her message echoed loudly throughout the evening during the acceptance speeches, and backstage the celebs took to the Giving Suite part of the Teen Choice 2015 Celebrity Retreat to lend their support to Dearfoams' #BeComfortableBeYou partnership with STOMP Out Bullying.
Dearfoams slippers are an old-school classic you might know vis-a-vis your beloved Nana, but make no mistake: she knows what's up. Being comfortable inside and out = being the best you possible. They've created a brand-new line of moccasins, scuffs and booties that are not only super cute, they're super cozy. And, in addition to a $100,000 donation to STOMP Out Bullying, Dearfoams invited celebs to share why it's important to be comfortable in your own skin as part of a social media campaign for tween/teens (#BeComfortableBeYou).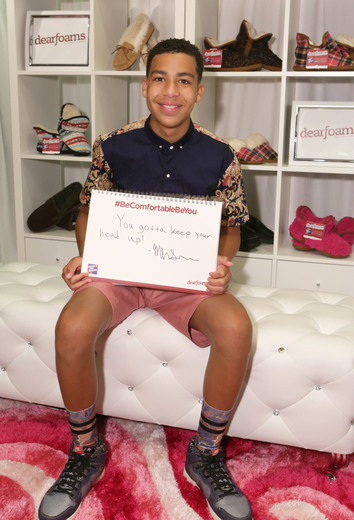 Celeb trend: Host Ludacris stopped by with his 16 year-old daughter to pick out matching pairs of his-and-hers moccasin slippers and to offer advice, as did second time "Choice Movie" winner Skyler Astin ("Pitch Perfect 2") and Marcus Scribner ("Blackish").
It's cool to be hydrated.
Jamba Juice was the shizzle in the '90s and early 2000s (and still is, IMHO), but ever since cold-pressed juicing became a thing -- especially here in Los Angeles -- they've had to rethink their marketing strategy. They've just launched a new line of organic, non-GMO cold-pressed juice blends that are delicious and perfect when you're running from class-to-gym-to-internship. I tried the Organic Cayenne Lemonade™ and its natural kick will keep you refreshed and alert for your afternoon classes.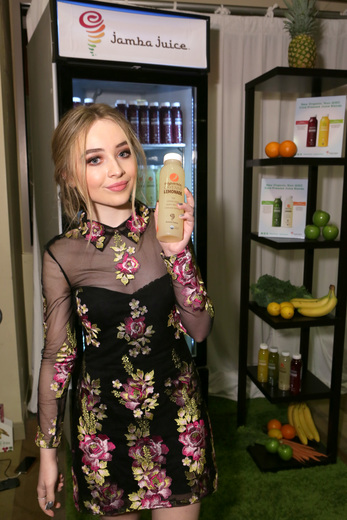 Made with real whole fruit and vegetable juices, Jamba Juice currently offers five flavors including: Organic Citrus Breeze, Organic Orange Reviver, Organic Cayenne Lemonade, Organic Mango Limeade and Organic Tropical Greens, with the addition of Organic True Greens available in September.
Celeb trend: Singer/actress Sabrina Carpenter stopped by, and Teen Choice co-host Josh Peck said he loves Jamba Juice, exclaiming, "Oh, I love these! Drink them all the time." The producers for the show also ran through the suite and grabbed lemonades to rehydrate mid-dress rehearsal.
It's cool to be energized (not by caffeine).
Sabra Dipping Company is a staple on craft services tables in Hollywood, and it's for good reason. They make the best-selling hummus in America, along with a number of other delicious and nutritious vegetable dips to make snacking fun and healthy. Celebs like Rachel Platten and rapper Ludacris stopped by backstage.
Feeling like you're about to have a blood sugar crash? Don't go hangry. Grab a hummus and pretzel snack pack, tangy mango salsa, or one of their other fabulous choices to keep you going sans the drama.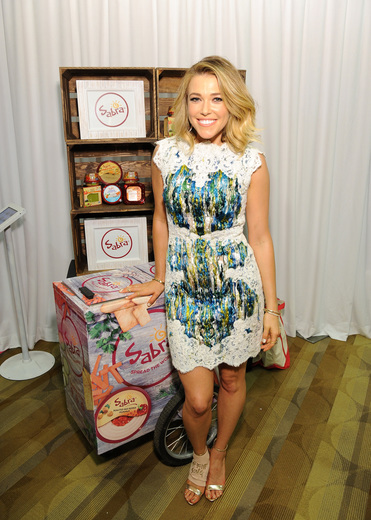 Celeb trend: Teen Choice host Gina Rodriguez couldn't get enough of Sabra's yummy hummus while visiting the backstage gift retreat. She said, "I have the roasted red pepper in my fridge right now. I love you guys."
It's cool to be safe.
The tribute from Vin Diesel and the crew from "Furious 7" (who won for Choice Movie) for the late Paul Walker (Choice Male Actor winner) was touching, but also heartbreaking. "We make these movies with our hearts...we are a true, true family," he said. "I can't stand here and be rewarded like this without talking about somebody very, very important to us."
It was a bittersweet reminder in the middle of all of the noise of the summer blockbusters, and action-packed thrillers, that he's gone.
Have fun, but be smart, and please be safe. Look out for -- and protect -- the ones you love. (And -- on a lighter note -- that can include your four-legged friends, too. #catladiesunite) It was over 100 degrees in Los Angeles during the Teen Choice awards, and personally I worried non-stop about my pup at home all alone with a semi-questionable air conditioner.
Thankfully, new technology makes protecting and monitoring your home -- whether it's your first apartment or your room in the sorority house -- easier and more affordable than ever.
Piper by Icontrol Networks is a home security system with an immersive 180-degree camera, and a simple, intuitive mobile app, so you can see, hear and know exactly what's happening in your home or office, all thanks to a live video stream sent directly to your mobile device. You can actually monitor things like the temperature inside your home, and set it up so that you can remotely turn on and off your lights or, ahem, your curling iron...or whatever. Seriously, though, peace of mind is priceless.
Celeb trend: "Baby Daddy"'s Chelsea Kane said she's super curious about what happens in her house while she's not home, so this Piper camera will come in handy!
It's cool to #fighton.
One of the most inspiring moments of the night was when Rachel Platten performed her hit girl power anthem, "Fight Song," live on-stage, as she honored young women who are fighting for social justice the world over.
"This has been the summer of kick-a-- women!" declared Jake T. Austin ("The Fosters"), referencing the U.S. Women's Soccer team's win at the 2015 Women's World Cup and boxer Ronda Rousey.
Showing courage may sometimes have a softer side, such as a foray into fashion, but it's equally important when the right people are behind it. At the backstage retreat, celebrities checked out the necklaces by SIS BY SIMONE I. SMITH, who donates a portion of its jewelry sales to the American Cancer Society to help fight cancer.
The company was founded by Simone I. Smith, a cancer survivor herself, who is also a fearless entrepreneur, and the beloved wife of hiphop icon LL Cool J. Reportedly, she insists her customer embody her sense of strength and integrity.
"She's every woman of every age and race," says Smith on her website of her customers. "She's fashionable, career-minded and comfortable with who she is...she's also unafraid to defy tradition."
Celeb trend: Host Gina Rodriguez is a fan of the line and of Smith's, and picked out a necklace before the show. Vanessa Ray ("Pretty Little Liars") was touched by the brand's story and commitment to fight cancer.

Reach Guest Contributor Kristin Marguerite Doidge here. Follow her on Twitter here.