USC Sports
Pac-12 Media Day: USC Is Focusing On the Future In More Ways Than One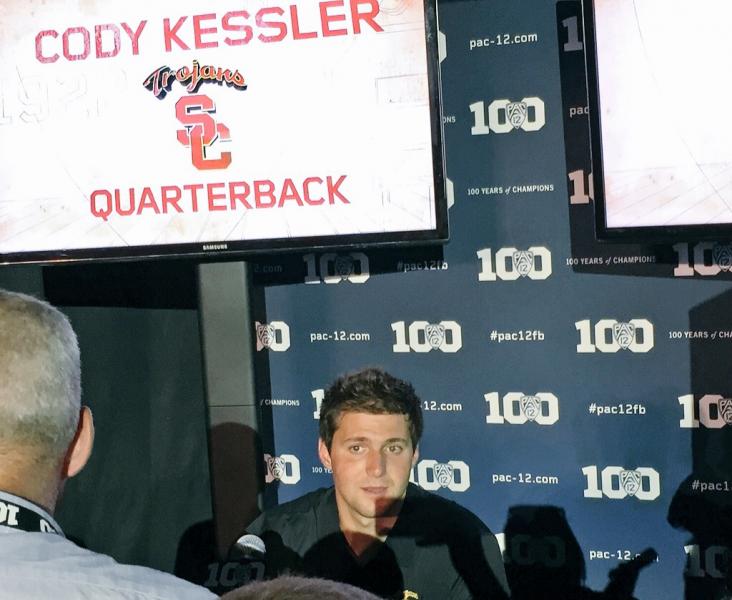 Pac-12 Networks President Lydia Murphy-Stephans stood proudly on stage on Day 2 of Pac-12 Media Days in Burbank, Los Angeles. A video presentation began to play behind her.
The first few images? ASU's QB Mike Bercovici stepping up and flinging a pass — a prayer — up to the Southern California skies.
Everyone knows what happened next; watching the video yet again, however, accentuates how unbelievable it was that the ball eluded the many Trojans defending the play, falling right into the hands of WR Jaelen Strong and giving ASU the comeback victory.
"That's one play I wish we could try again," QB Cody Kessler later said during his media availability session.
Both Kessler and head coach Steve Sarkisian were asked typical "hindsight is 20–20" questions regarding last season, and both referred to that ill-fated moment embedded in the minds of many.
"ASU, I would have made sure I had a timeout at the end of that game," Sark admitted.
If there was one thing derived from last season that stuck with most —from the players, to the coaches, to the fans — it was the fourth quarter letdowns the Trojans fell prey to repeatedly. As improbable as that play was, the very fact that it had a possibility of happening exposed a weakness: late-game performance.
Said Sarkisian:
"We lost two games on the last play of the game, we win those two we win the conference."
A weakness indeed, but it's one that this Trojans team, now older and more experienced, is trying to extricate from their reputation heading into next season.
"We weren't perfect last year," said Sarkisian. "It takes time to build a program. Ultimately we want to be at our best in the most critical moments."
"Concentration and focus." That's what LB Su'A Cravens said needs to improve and has been improving.
"We were kind of immature and in the fourth quarter we let games get away form us," he explained. "This year we're big on 'Finish' … make sure that we execute to the best of our abilities."
When asked if the infamous sanctions USC has been riddled with for the past few years had any effect, Cravens didn't want to make excuses, but was realistic about the repercussions.
"The depth played into it, the sanctions that we had definitely affected us," he said. "We don't use that as a crutch or give excuse to why we didn't finish the game we just didn't finish. We were tired and we had a lot of young guys playing last year."
Cravens — who says he is embracing the leadership role thrust upon him by mentoring defenders and wide receivers alike — can identify the silver lining, however, and said he knows that the second time around, things will be much different.
"I think this year that actually becomes a positive because those guys have that experience, so not only do the starters have to go out and compete, but the second-string, and the third-string, and the true freshmen that played last year have to get ready to go out and compete and play in those games where teams are going no-huddle and you have to get subs in and out."
The sanctions, much like the 4th quarter talk, were referred to repeatedly, and Kessler did not shy away from saying how he felt about finally being released from the shackles that the NCAA put on the Trojans.
"It feels good to be sanction-free, and free from all these restrictions," the quarterback admitted, looking relieved while he said it. "It was tough, it was hard, I'm not trying to sound dramatic, but it was difficult … There were games when you'd get to the fourth quarter and we only have one or two receivers at each spot."
That won't be the case this year, and though Kessler lost his main weapon in Nelson Agholor, he said he's excited about the "really tall" flock of talented receivers at his disposal this coming season.
In the end, Kessler made it clear that the sanctions — and the ASU game — both define the past, things that are further back in his rearview mirror more so than at the forefront of his focus.
"We're over that, we got through it together and now it's time to play ball."
Only 36 more days to go.
You can reach Sports Editor Paolo Uggetti here, or follow him on Twitter at @PaoloUggetti