Music
Outside Lands 2015: Do's And Don'ts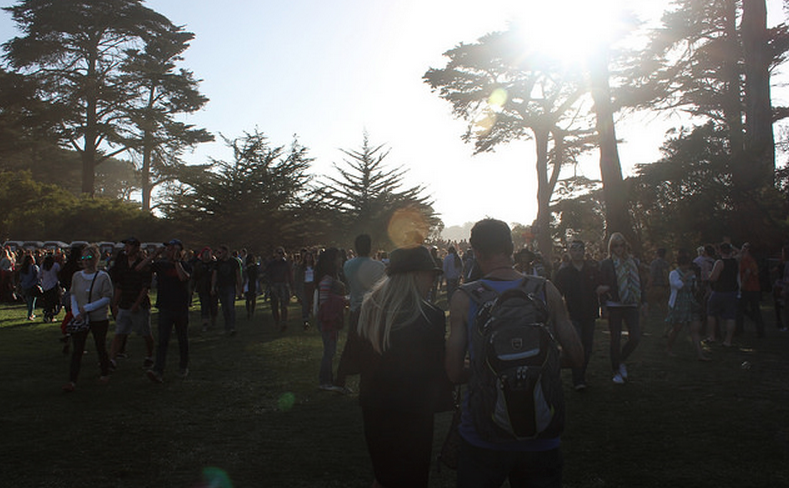 In recent years, music festivals have seen a tremendous rise in popularity. Perhaps it is due to word of mouth, social media, etc. but it seems as though tickets to these occasions are worth the value of say a first-born child.
Outside Lands is one of those "to die for" festivals. Though less than a decade old, OL has gained impressive lineups matched by equally impressive reviews.
Whether you have been going to the three-day festival for years or this is your first, be sure to know what to do and what to avoid with these helpful tips.
Do: Spend time (and a little extra money) eating the marvelous food.
There's no denying Outside Lands attracts crowds because of the stellar lineup but...have you checked out the food? Simply legendary. Choco Lands? Cheese Lands? Food trucks? Absolutely.
Don't: forget to pack snacks.
Sure, there is plenty of food to eat and you definitely won't go hungry. However, lines can be quite tiresome and there's nothing worse than missing your favorite new act because the line for chili cheese fries took triple the time you predicted. So be sure to pack a few granola bars—the festival allows outside food.
READ MORE: Outside Lands 2015: 7 Acts You Can't Miss
Do: see the comedy acts that have been added to this year's festival.
The Barbary is what OL is calling their comedy and improv section that has been added to the festival. These comedians are hilarious and definitely worth the break from the crowds and music to have a hearty laugh.
Don't: wear flower crowns.
Just don't.
Do: put down the phone.
How many times are you going to watch that 10-minute video of Elton John? Zero. Is it really worth interfering with the experience of person behind you? No. No, it isn't. Take time to enjoy the festival. These memories only happen once-in-a-lifetime.
Don't: buy fake tickets.
Last year, the festival had tons of people stranded outside the gates. You want to be in Golden Gate Park dancing with your friends, not outside waiting at McDonalds in full festival attire.
Do: wear durable shoes.
Sure, everyone wants to look trendy at a festival. However, the lands of Golden Gate park are quite hilly, dusty and dirty come Sunday. Grab some Doc's or trainers.
Don't: Wear clothes that are so trendy they're not comfortable.
Yes, you'll get a cute pic. No one cares. The festival is slated to be in the sixties, so be sure to bundle up because shivering isn't fun.
Do: use public transportation in San Francisco.
The hilly city is notorious for having marvelous transportation—not just trolleys, but also buses and trains. Find out more about BART and other services here.
Don't: Uber it.
Ubers are notorious for being cheap, but also for surge pricing. With how many people attend the festival, combined with Uber's popularity, surge prices are going to be through the roof.
Do: enjoy Wine Lands.
You're in Northern California where wine is comparable to that of Tuscany. This year, the festival is even going cashless with its wine meaning you can pay in advance through your festival pass. Enjoy life's divine drink.
Do: visit the art.
San Francisco is a city beaming with art. Don't forget to enjoy the collections that will be on display.
Don't: forget to look around.
Take time to really stop and focus on the atmosphere. Outside Lands is like no other place in that it is such a jovial setting in a wonderful city. The music is only the cherry on top when you think about the wonderful ambiance of food, drinks and people that the festival offers.
Do: plan ahead.
But…
Don't: be strict with set times.
It's a festival. There are going to be songs, bands, foods and sets you miss. Don't sweat it. If you only wanted to see one performer, you should have bought an individual show ticket. A music festival is meant to be enjoyed as a whole, with an array of colorful people and an unbeatable atmosphere. Dance, sing, enjoy.
Reach Music Editor Jillian Morabito here.