USC Sports
Fall Camp Day 1: The Trojans' Backfield Core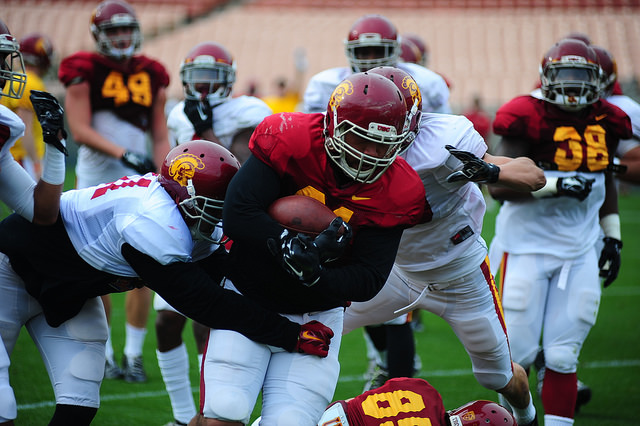 Read this story on Neon Tommy's Medium Blog.
QB Cody Kessler looked extremely pleased as someone asked his opinion on how the freshman had looked so far, and who had stood out to him at Saturday's first fall camp practice.
"All the running backs," he said with excitement. "I told Sark, 'we've got some weapons now.'"
Sure, the Trojans are heading into this season sans now-NFL weapons like Nelson Agholor and Buck Allen, but with the influx of such a loaded recruiting class, there are certainly more possible weapons to choose from now.
In the backfield, the triumvirate of Ronald Jones III, Aca'Cedric Ware and Dominic Davis are bringing a plethora of skills to a position that suffered from lack of depth last season.
"They all stand out in their own way," explained returning tailback Tre Madden. "Dom [Davis] is a quick dude, he's like a Darren Sproles type. Ronald Jones is a freak athlete and 'Ced' [Ware] is a workhorse, he does everything really well."
Fullback Jaleel Pinner stood by and vehemently agreed, emphasizing how good they looked through summer workouts and Day 1 of fall camp.
READ MORE: USC Football's Roster Updates
The freshmen certainly bring much-needed depth to the backfield and the actuality of them being new faces to the field make them novelties. But both Madden and Pinner are also looking to get themselves in the best position to contribute as much as possible.
Said the previously injured Madden: "We had a great summer workout and everyone is hungry to get out her and contribute and have a role."
Though nothing is set in stone, all signs point to Justin Davis being the lead running back once the games begin, yet that second spot has many suitors, the leading of which is Madden. The redshirt senior is coming off a turf toe injury that forced him to the sideline for second time during his tenure as a Trojan (Madden injured his knee in 2012.)
"Coming of injury, I've been healing myself, getting my body healthy and conditioning," he elaborated. "Just getting ready."
The backfield will certainly need his health and contribution, especially when Coach Steve Sarkisian has said multiple times that he believes this team is run-first squad even without Buck Allen.
"Buck was a good running back, obviously we lost him, but everyone is going to step up," said Pinner. "We've got Tre, JD [Justin Davis] and the freshmen coming up."
Madden expanded: "Coach said we don't have a depth chart, we're just out here trying to get work in, and that's what we're here for."
That would seem to be the theme across the board for this prior to kickoff. Keeping their heads down and just doing work.
Pinner, for his part, knows his role diminished last season (2 carries, 6 yards and one 3-yard reception), but he's already been working on improving in ways to get himself more playing time and touches.
"I lost about 10 pounds this off-season, just cut up, got a little more muscle, lost a little bit of fat," he admitted. "I got a lot quicker just to run the ball and do the stuff they want me to do at fullback."
The senior was certainly getting touches during practice today and was clearly working on his ball-catching skills from the backfield as well.
Davis carried the brunt of the running back reps, of course, but Madden showed he still has plenty of skill and burst to return to the level of production that headlined the beginning of his 2013 campaign. 6 games, 703 yards on 138 carries with 3 TDs, and 15 receptions for 201 yards with 4 TDs. The offense would certainly take that gladly this coming season.
READ MORE: USC Football's Quest for Realistic Success
Because there are now numbers at the position, replacing Allen will be akin to replacing Leonard Williams on the defensive line. Not by one player alone, but as a collective effort.
"We definitely have a lot of talent, obviously this is what we come to SC for, and we're competing every day," said Madden.
As fall camp continues, this "run-first team" will be hoping that the whole is is not just greater than the sum of its parts, but greater because of each of its parts.
You can reach Sports Editor Paolo Uggetti here, or follow him on Twitter at @PaoloUggetti