Theater and Dance
A Ballet for Every Season: American Contemporary Ballet Brings New Life to Lost Ballet
It may have been a hot and muggy summer night in downtown Los Angeles, but American Contemporary Ballet (ACB) took audiences through all four seasons Friday at Farmers & Merchants Bank, where they presented "The Seasons."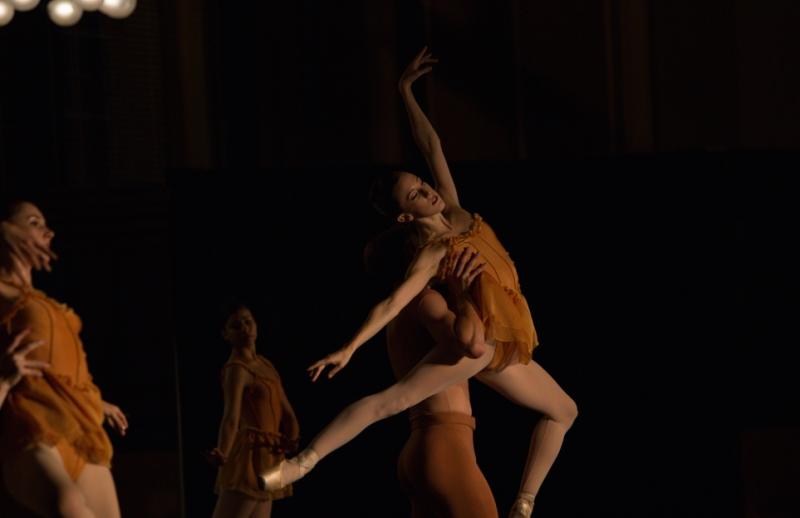 Originally choreographed by 19th century ballet master Marius Petipa, "The Seasons'" ballet was lost to time, but its score, created by Russian composer Alexander Glazunov, survived. The remaining music inspired ACB's Artistic Director Lincoln Jones to reinvent the ballet for his company's 2015 "Music + Dance: LA" performance series, which concluded Sunday.
The result of this cross-century reimagining was a splendid evening of pure and beautiful ballet, with a pastoral touch.
For the opening number "Winter," Jones created a delightful flurry for ACB's ensemble. A quartet of dancers, representing Hail (Kaila Feldpausch), Snow (Cleo Magill), Frost (Kelly Williams) and Ice (Rochelle Chang), moved like a soft snowfall across the stage. They echoed each other's hops and turns in cascading ripples. But Jones did not ignore winter's more testy temperament either, using Hail's solo to demonstrate Kaila Feldpausch's mischievously quick footwork, Frost's variation to showcase Kelly William's airy levity and the final Coda to generate a darting criss-cross of impeccably timed leaps and bounds.
From wintry storms, ACB moved to more mild climes in "Spring." Ensemble members Lydia Relle and Crystal Serrano provided a reliable and evergreen backdrop for partners Emily Parker and Andrew Wingert. While exuding a supple quality, Parker was a little too languid for Wingert's hands. He couldn't always keep up with Parker's lyrical limbs, but she may have also taken the leafy tendril affectation a tad too far.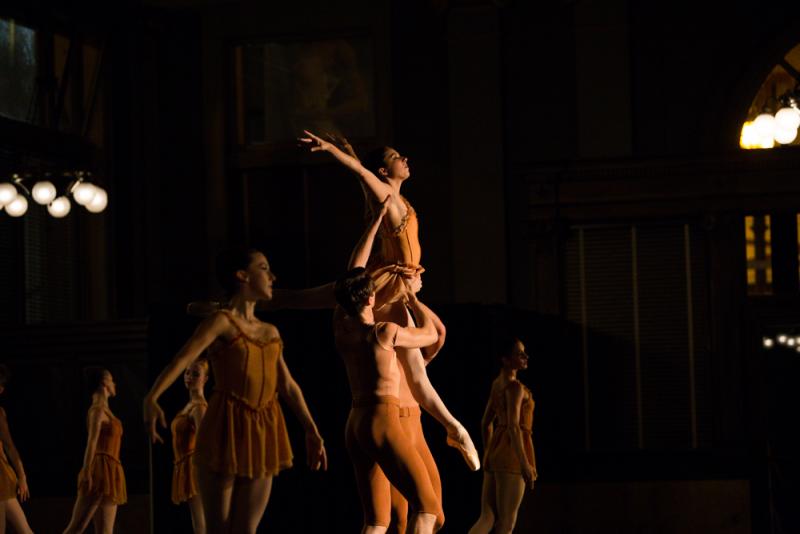 The flowery feel continued in "Summer," but to more shimmering effect, as the ensemble fluttered like sunflowers caught in a buoyant breeze. If ACB transformed into a field of sun-worshipping flowers then soloist Eva Burton was their sun queen. Burton radiated a regal elegance throughout her variation and partnering with Colby Parsons, penetrating the night's balmy atmosphere like a pure ray of sunshine.
The finale, "Autumn," revealed Jones' eye for architectural arrangements. Even as the corps, tossed, turned and swirled in fits of organized chaos, delightfully unpredicted symmetries unfurled—a perfectly framed pas de trois, a lilting lift, a precisely placed ponche. The effect was like pulling back a curtain to reveal a wonderful surprise. Among those presents was Lauryn Winterhalder, who centered the windswept movement with a warm and joyous glow.
Musically speaking, a marvelous arrangement of Àstor Piazzolla's Cuatro Estaciones Porteña's (The Four Seasons of Buenos Aires) set the mood for this tour through winter, spring, summer and fall. Pianist Alin Melik-Adamyan, cellist Peter Myers and violinist GaHyun Cho cavorted through Piazolla's evocative score, sliding through the music's slippery spills, stringy spirals and suave swoons masterfully.
Costumes designed by Jones and constructed by Reina Alirez were simple in style, yet incredibly chic. Short, chiffon ballet skirts paired with lightly ruffled, pastel leotards, gave a lovely hue to each season—baby blue for winter, a light green for spring, a golden yellow for summer and a coppery orange for fall. Their classical simplicity showcased the dancers' superb technique and graceful bodies, while their palette enhanced each movement's seasonal character.
With "The Seasons," Lincoln Jones is a magnificently musical and imaginative choreographer with a gift for elegant economy. Never wasting a beat or note, he always pulls the best balletic phrasing out of every bar. Summer may be almost over, but there is much to look forward to in American Contemporary Ballet's next season. Winter can't come soon enough.
"The Seasons," ran at Farmers & Merchants Bank in downtown Los Angeles (401 S. Main St.) Aug.14-16. For more information about American Contemporary Ballet visit www.acbdances.com
Reach Contributor Christina Campodonico here.
For more Theater and Dance coverage, click here.