Sports
From The Special Olympics: How Tennis Connected A Man and His Son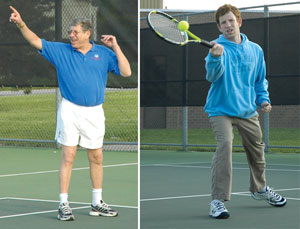 When U.S. Special Olympics Head Tennis Coach Sid Kanter stepped out onto the UCLA courts last week, the moment meant more than a game on the biggest stage. It was a moment for him to appreciate all that tennis has been for him — his lifelong passion, his way to connect with special needs athletes and his strongest bond with his son, Michael.
Tennis became a way of life for Sid during the summer that he turned 12. Before that summer, Sid was a baseball junkie, the first baseman on his Little League team. He was pretty good — if he said so himself — until his opponents learned how to throw a curveball, that is.
"I could not for the life of me hit one of the dang things," Sid said. "I got so frustrated, I quit, and I knew I needed a new sport."
That's when tennis came into the picture. The Kanter family lived next door to Homestead Country Club, a tennis-based country club with eight courts and a backboard. Sid walked over to the club for lessons; lessons that rapidly became three-hour practices, five days a week. He subscribed to World Tennis magazine and began idolizing players like Rod Laver. It was clear to anyone who knew him — Sid was hooked.
Tennis quickly consumed all of Sid's hours outside of school. As a senior in high school, he was ranked as the seventh-best 18-and-under singles player in the Midwest. It was enough to make college — a heavy expense for a family struggling to keep their family furniture business afloat — a reality through a scholarship.
He accepted an offer from the University of Kansas, where he played tennis all four years. At the time, he saw tennis as his passion, his way of life. It wasn't until years later that he realized it would become the way he would make a difference in the lives of hundreds of special needs athletes.
Sid's involvement with special needs athletes started with his own son. His oldest boy, Michael, suffered trauma at childbirth — during labor, his heartbeat began slowing rapidly, forcing the doctor to perform a C-section operation. The process kept oxygen from flowing properly to Michael's brain.
When he was born, the doctor didn't say there would be a problem. He continued to describe the issue as "trauma." But a year later, Michael wasn't meeting milestones. His movements were slow, awkward, and he couldn't keep up with other children. Sid and his wife, Nan, were forced to realize that those moments during birth created damage that would last a lifetime.
"After a year, we had to deal with the reality that Michael was going to be different than other children," Kanter said. "It's one of those moments when you know your entire life is going to change."
The change was not easy. It meant struggling to find the right daycare and education, struggling to communicate with a small child, and cheering over tiny successes. It was sports, in the end, that helped Michael become the confident, cheerful young man he is today.
It's difficult to find a sport that Michael hasn't tried. He's a big fan of bowling, soccer and bocce. He doesn't mind basketball and volleyball, but he's decided that water sports aren't for him.
But his absolute favorite sport is tennis.
When Michael and Sid aren't practicing with their Special Olympics team—the Blue Valley Blue Streaks—they're watching sports together, religiously following University of Kansas basketball and Kansas City Royals baseball. Michael keeps the TV turned on when he's home, always checking for the latest update.
His knowledge of sports is so extensive that one of the Kanters' friends printed business cards emblazoned with the logo: "Michael Kanter, Sports Consultant." Michael gave them out to strangers for a week.
"He could be on ESPN he knows so much," Sid said. "It's incredible. But that's what he loves, and I'm glad I can share that with him."
The impact that sports have had on Michael is a source of pride for Sid. He sees the way that playing sports and following professional teams makes Michael confident. It gives Michael a way to connect with people who he would otherwise struggle to communicate with. And it reminds Sid of the importance of his job as a coach.
"This love that we have [for sports] is something that we can share, and it's something that will keep us together for a long time," Kanter said. "There's value in every special needs athlete having that. It's not about sports for most of them — it's about the social side of [sports], about connecting to people over something that everyone can share."
Sid first became involved with the Blue Streaks when Michael was young. He volunteered with the team to keep an eye on Michael, then became a head coach and quickly took over the tennis practices in the spring. Now, Sid and Nan direct over 10 sports and six teams for the Blue Streaks.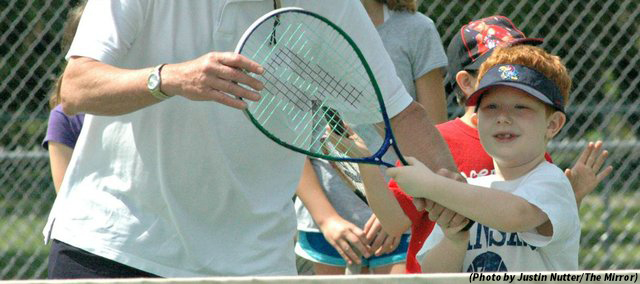 It was Nan who convinced Sid to apply for the national coach position. Years earlier, she had also encouraged him to apply for the Kansas head tennis coach position in the 2006 U.S. Games.
The hardest part of coaching the national team for Sid was the lack of hands-on training. With his seven athletes scattered across the country, it was nearly impossible for Sid to meet with the team. They flew into Indianapolis for a five-day team camp in October, where Sid evaluated each athlete's abilities. From there, he set each athlete up with a local coach to train with until the Games began.
"I only got about three days before the opening ceremony to train with them, but those three days were special," Sid said. "They're a hard-working group. These athletes love the game more than most professionals you'll meet."
Michael adored his father's new position. He brought it up whenever he could, introducing Sid to people who already knew him just so that he had the chance to remind everyone. At Blue Streaks practices, he would proudly repeat the same string of words to anyone who would listen — "My dad's the head coach for the World Games for the United States."
When Michael and Nan flew out to Los Angeles to see the Games, they were able to see first-hand the impact that Sid made on his athletes. The seven athletes kept telling Sid the same thing — that this was the best week of their life, that they were so happy, that they never wanted to leave. This enthusiasm and unfettered joy made Sid even prouder of his position.
"It's been unbelievably rewarding to see the impact that this kind of event can make on a group of athletes," Kanter said. "I don't think it's possible to explain the growth and the change that happens in that week."
And Los Angeles treated the team exactly how Sid was expecting. He couldn't find anything to complain about, describing everything from the opening ceremony to the dorm food as being "absolutely great." With his team playing on the court, and Nan and Michael in the stands, Sid knew he was right where he belonged.
"I am beyond appreciative that I have been part of these Games," Kanter said. "As I go through life, I will always remember this as one of the highlights of my life."
You can reach Staff Reporter Julia Poe here or follow her on Twitter here.