Film and TV
Why The World Needs Amy Schumer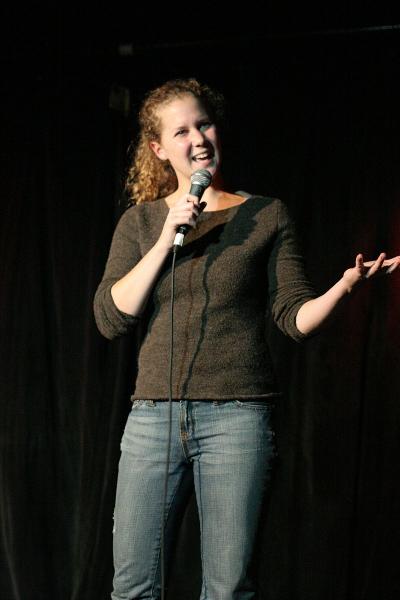 With her big-screen debut underway, recent
Emmy nominations
, viral clips from her show circulating constantly, and various groundbreaking stunts this past year, Amy Schumer is unstoppable. Though one cannot pin down the "X factor" or whatever magic formula propels someone to stardom, we're sure as hell Amy has it.
Audiences were first acquainted with Amy, a bright and promising comic, at the Comedy Central Roast of Charlie Sheen in 2011. Although she has appeared on NBC's "Last Comic Standing" prior to her Comedy Central debut, her ruthless and biting set on the Roast almost 4 years ago led to her pilot deal with the network and launched the sketch-comedy show that introduced Amy as a household name.
"Inside Amy Schumer" premiered as a strange but enticing mash-up of sketches, stand-up, and candid interviews. Amy decided to treat the show like a dream sequence, with each episode featuring fresh takes on modern-day problems. Simple inconviences that millenials face are exaggerated on the show and shed light on larger problems. Take this bit on the unrealistic standards of modern-day sexting for example; the amount of time spent perfecting the selfie and portraying a constant ultra sexualized image of oneself is not only annoying but also required nowadays.
READ MORE: Film Review: 'Trainwreck'
Many describe Amy Schumer as relateable, applaud her for her candid discussion of sexuality, and comment on how refreshing it is to see a "normal" body-type on the big screen. (Though I'd like to add, Amy's persona presents herself as less attractive than she actually is. In fact, constantly making her appearance the butt of many jokes actually seems to help her likeability grow even further.)
Amy presents herself as an everyday woman and thanks to her we're finally we're seeing our side of the story on the screen. Her persona on stage is the friend we all have (or wish we had); the slutty weekend friend who comes back with crazy stories from Mexico or dating a professional wrestler.
Other than Amy's exciting sex life, probably one of the most touching and influential speeches Amy gave at the Gloria Awards last year was describing an encounter she had during her freshman year of college. In a raw and touching piece, Amy chronicles her journey as a young woman struggling with self-worth into the powerful bitch we've come to know and love. Coming from this college student who read Amy's speech during my freshman year, I'd like to personally thank the comedian for going through that period and sharing it, so someone like me wouldn't have to.
Slowly, Amy's popularity began reaching new heights as the second season of "Inside Amy Schumer" premiered and continued to bring in a growing audience. After all, how could her fan base not increase after this gem?
Earlier this year, however, is when Amy's name grew faster than ever, as numerous hilarious public stunts and bold quotes constantly had people buzzing. After all, if pranking Kim and Kanye wouldn't have us worshipping Amy for years to come, what would?
READ MORE: 6 Reasons You Need To See 'Trainwreck' This Weekend
The last couple months have had Amy and her work circulating like we've never seen before. From her Milk Milk Lemonade video, to her Emmy nominated episode "12 Angry Men Inside Amy Schumer," we were finally getting treated to a new and refreshing take on comedy. Instead of a rehearsed and hackneyed attempt for the spotlight, Schumer geniunely seems like the girl she's continuing to portray, as she claims "Trainwreck" is fairly autobiographical and her trend-worthy statements and actions are coming from her and not merely a crafty marketing scheme. We trust, believe, and appreciate her. And don't forget her recent trending Star Wars inspired GQ cover that has garnered its own fanbase the last couple of days.
The later half of 2015 will be sure to see Hurricane Amy engulf the United States, as "Trainwreck" is sure to become a cult classic. With beautifully played out characters, hilarious sequences, a switch of traditional romantic-comedy gender roles, and impressive acting (Amy can thank her college theater degree for that!), "Trainwreck" is a masterpiece straight from the mind of the woman we're all falling in love with.
And just like that, a superstar is born.
Reach Staff Reporter Sonia Gumuchian here. Follow her on Twitter here.