Entertainment News
'Rivers' End' Documentary Takes On California Drought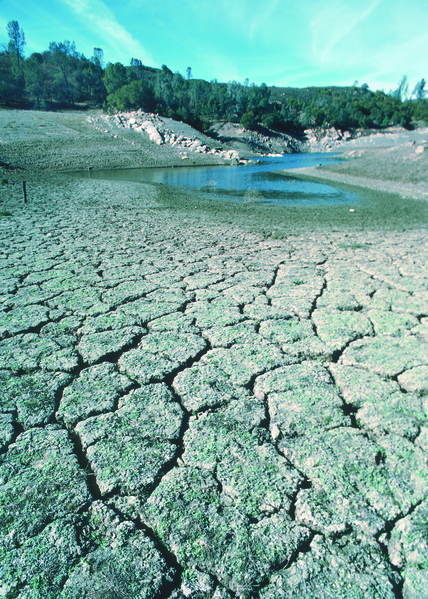 Unless you've been living under a (dry) rock this past year, you must be somewhat aware that California is in the midst of a devastating drought.
Scientists estimate that California has about a year left of water. Since temperature have increased in the past few decades, the water cycle has taken a turn. Not only is the environment taking a toll—jobs have also been severely cut within the California agriculture industry.
Oftentimes, when one thinks of sunny California, the drought is not the first thing that comes to mind. Usually it has to do with beautiful beaches, stunning people and a lavish life. Oh, and there's that rather famous town that always pops into mind—Hollywood.
Like it or not, the entertainment industry and the celebrities who compose it have a lot to say and oftentimes maintain a large influence in this country because of the persistent press they receive.
Seeing as California is home to a majority of celebrities, what have they been saying about the drought?
Well, Jennifer Lopez, Kim Kardashian, Jessica Simpson and Hugh Hefner have been maintaining their lush lawns. Furthermore, there are reports that affluent neighborhoods littered with celebs such as Beverly Hills, Montecito and Bel-Air are actually trucking in their water.
Though stars such as Conan O'Brien, Lady Gaga and Barbra Streisand have spoken up, there is still much awareness left to be raised.
For the environment being one of the popular (almost "fad") causes in Hollywood, it's interesting that very little celebs are using their influence to curb citizens' water wasting habits.
We spoke to Jacob Morrison who recently filmed a documentary about the drought titled "River's End." The film focuses on the San Joaquin River Delta, which supplies water to about 27 million people. The documentary also highlights that this is not just a crisis for humans, but the different species that thrive in the delta as well, especially fish and various aquatic ecosystems. Illegal water exportation continues to this day and there is no telling when this will stop.
Morrison says he decided to make "River's End" because he felt as though people needed to be educated about this crisis. So he went out with a camera and began filming.
Morrison says there is a "water war" occurring, meaning that people are fighting over the limited supply based on their own agendas. The different interests fighting for the delta include the exporters, agriculturalists, and Department of Water Resources, all of whom are disputing water that is simply not to be wasted.
As far as Hollywood goes, Morrison says: "I do think it's very important that people do what they can to conserve water. Different people have different abilities. Celebrities have a power of influence and being role models."
"It's easy to say that movie stars should be an example by advocating for water saving activies," Morrison says. However, he maintains that they should be raising awareness for less known issues such as the fact that cities actually only use 20 percent of our water—most of it goes to irrigation. Therefore, "It is important to look at the bigger picture," Morrison states, "Celebrities would do very well at educating people and telling them kind of how to get involved."
Although it seems difficult to cut back on ways to conserve water this way, one simple trick is to switch from beef to chicken. That's right—cattle use between 400 and 1,000 gallons of water while chickens use far less in terms of how much it takes to raise them. The filmmaker is just one who person has made this switch, and he urges everyone to do the same.
As a whole, Morrison says that the entertainment industry simply can do what he's doing—making movies to direct culture in a positive way.
"There really is a lack of serious discussion and implications when it comes to the drought," he says. "There are a lot of stories here waiting to be heard. It's just up to the entertainment industry to help those voices."
However, the drought goes deeper than Tinseltown.
Everyday citizens can make their own effort to curb California's wasted water. Morrison advises that the best thing regular people can do is be educated: "The most powerful thing we have is information. If people take their time to become educated and to learn more, that is the most important thing [in relations to the drought]. Learn about these things and be apart of this discussion…We live in democratic society, but we can try and make a difference."
Reach Music Editor Jillian Morabito here.
See more about the "River's End" kickstarter here.