Is Los Angeles Ready For A Second Soccer Team? Part 3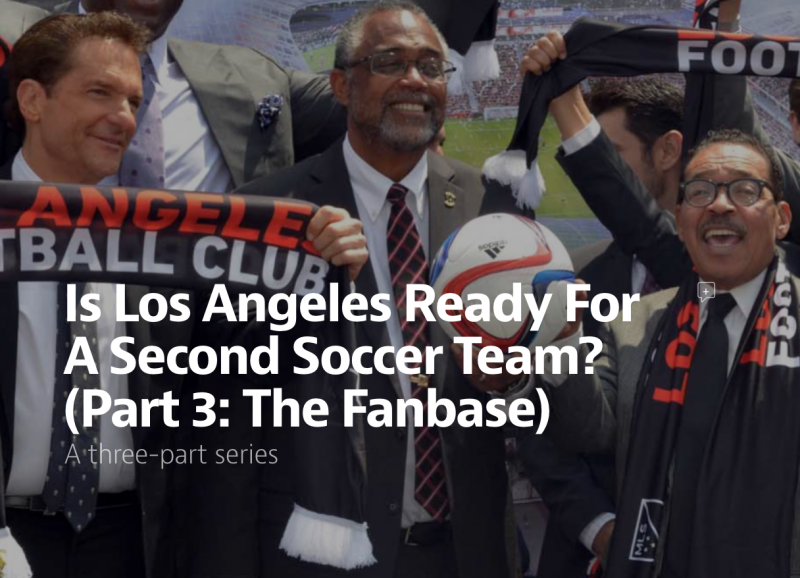 On November 22, 2014, the whistle blew and the confetti flew as Landon Donovan received the fairytale ending to his soccer career; his third MLS championship. For Donovan, this was his crowning capstone, but for the MLS' most successful franchise, it was yet another entry in a long list of achievements.
Five MLS Cups, three Supporter's Shields, three U.S. Open Cups and one CONCACAF Champion's Cup. All since the turn of the century.
Fast forward three years. In 2018 when LAFC comes to town, the Galaxy will not only have to battle a stronger, better league across the country, they'll also have to deal with a new potential rival just 15 miles north of the StubHub Center.
The newcomers recently finalized their deal to make the Sports Arena site their home stadium in 2018, and the team is looking ahead to make sure they not only survive, but thrive in Los Angeles despite the Galaxy's history.
"Los Angeles is a large enough city to support two teams," said a spokesperson for the LA Riot Squad, one of the long-standing supporter's clubs for the Galaxy. "But only if those two teams are able to have a quality product on the field and market themselves properly."
As mentioned in Part 1, whether LAFC likes it or not, the looming history of the failed Chivas USA experiment will haunt their journey until they prove they are here to succeed. Though the two franchises are solely connected by geography, Chivas' story does present a cautionary tale for the survival of a second team in Los Angeles.
A product of less-than-optimal front office management flawed marketing, Chivas was more a burden for the league than a competent, threatening rival to the Galaxy.
LAFC is looking to distance themselves from that past completely, and early signs do point to a more concerted effort to parlay a patient and effective strategy into success. To their credit, they have already enticed both of Chivas' supporter groups — the 'Union Ultras' and 'The Black Squad' — to seamlessly transfer their allegiances to the new team.

"We, as former Chivas USA supporters, understood that a change was needed," explained Julio Ramos, a Union Ultras spokesperson. "The Commissioner promised us a better team, a team that will represent what Los Angeles is all about, and LAFC is doing that, so we are all in for that."
"We really needed a distinct break," said MLS commissioner Don Garber at the inaugural announcement last October. "We needed to accept that what we did in '05 didn't work and the new team shouldn't be saddled and burdened with that legacy, the league should."
Garber's thoughts were echoed by LAFC's star-studded ownership group. They are looking to find the success Chivas USA squandered away with careful, strategic patience as their foundation.
"We only have one chance to make a first impression," admitted managing partner Henry Nguyen at a press conference earlier this year. "It's about being able to plot a course from the beginning and not worry about trying to revise some past. We need some runway to do this right … It takes time."
The runway has been set; in fact, it's been extended from 2017 to 2018 due to the demands of tearing down the old Sports Arena and constructing a new venue from what is essentially scratch.
Until then, LAFC is ramping up efforts to concoct the lifeblood of any sports franchise in the United States: A loyal fanbase.
" I think the Galaxy has done a great job of converting existing soccer fan in the Los Angeles marketplace. I think that LAFC has an opportunity to convert people who never saw themselves as soccer fans, which would expand the existing marketplace." — LA Riot Squad Representative
Riding the coattails of a World Cup that saw record-breaking viewing numbers here in the States, the 2014 MLS regular season also saw record-breaking total gate numbers and attendance averages.
The numbers, though certainly encouraging, could be exactly that: a rapid peak only due to the World Cup that will fall back down to earth once the high of the tournament wears off.
Step back and look at the last 7 years for the entire league, and you'll see that the average attendance has been on a gradual rise. For LAFC's neighbors, however, what has been gradual since 2011 is their slight attendance decline.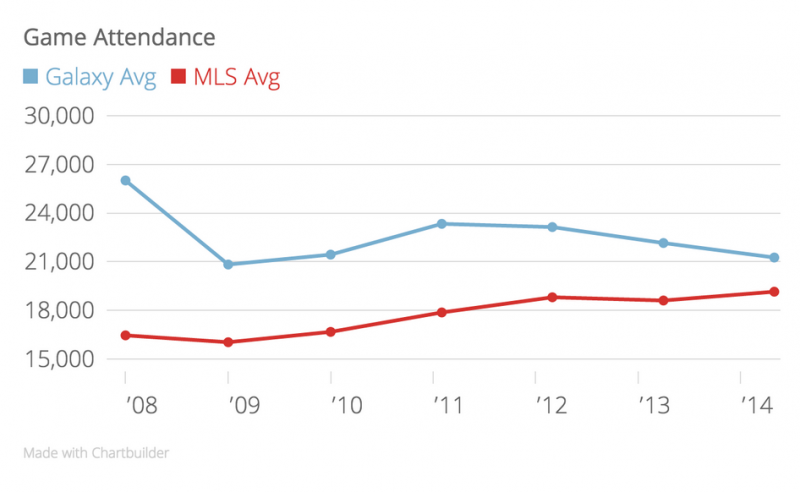 Upon first look, MLS' ascent, coupled with the ever-growing infatuation the American public has with watching European soccer on TV, would appear to bode well for LAFC, as they'll attempt to fill their 22,000-seat cathedral in 2018 with rabid fans absorbing the growth of the beautiful game.
Locally, the story and trajectory differ slightly. In 2014, the Galaxy had their lowest attendance numbers since the 2009 campaign. Weirdly enough, the common denominator in both seasons was a trip to the MLS Cup final.
This past year, the team went into the season with excitement from top to bottom. Championship aspirations and a fairytale storyline — the retirement of their most beloved player, Landon Donovan — were expected to bring the masses out to the StubHub Center. But the numbers do not lie; the team failed to get as many fans in the seats, continuing that slow descent.
This could mean good news or bad news for LAFC. Soccer is undoubtedly growing rapidly around the country. The league is expanding, both horizontally with new clubs in cities like Orlando, and vertically, as clubs are setting up developmental teams and academies very much akin to clubs in Europe. The Galaxy's lackluster numbers could provide an opportunity for LAFC to swoop in and win over the city. This is the good news.
The bad news is that if the local numbers tell us anything, it is that the Los Angeles market is either not as fully engaged and enamored with the long-standing franchise anymore, or finding more interest in watching from home, whether that be the Galaxy or their preferred European club instead.
"I had season tickets for 18 years, and after I abruptly cancelled them, they never even bothered to call me." pointed out Ed Derse, a longtime Galaxy fan. He says he was aghast that the team did not even bother to email him asking him to renew tickets. So much so, he's considering buying LAFC tickets once the team arrives.
How will this affect LAFC in the years, months and days leading up to their arrival? Will the lukewarm fans easily switch over to this shiny, new toy with a brand-new stadium? Or will the team find themselves looking to tap an already tapped-out contingency?
The reality is that the sport is not so entrenched in American culture as its other counterparts like football and baseball, and there is little generational attachment to the league's clubs; these aren't your grandfather's LA Galaxy because well, your grandfather is older than the LA Galaxy. The effect of the lack of such connection could be minimal, and there's no denying MLS fans are now as diehard as fans of other sports, but if there's a case to be made for poaching fans from a rival team, it appears soccer is the most plausible setting in which it could happen.
Then again, there might not be a need to. Los Angeles is certainly not short on people, and by the time 2018 rolls around, it might be not short on soccer fans, either.
"There's no denying the soccer culture in America is growing rapidly," said longtime Galaxy fan Anthony Interiano. "L.A. is a huge city. What's stopping LAFC from becoming another big-name team?"
Others, however, think the fanbase is not as big a priority as it used to be, or at least not a direct indicator of success and survivability. Not in this day and age.
"In the end, [the fanbase] matters less than the potential for future earnings on broadcast media," pointed out USC Sports Business professor Dan Durbin. "Ultimately, what all sports organizations seek is access to media and the ability to create and sell media content."
Durbin believes the added revenue and investment is good for the area, and that the market is certainly fertile enough for a second team to succeed.
"With the swift expansion of interest in soccer in the U.S, the continued growth in broadcast sports as a generator of revenue, and the upcoming expansion of broadcasts of World Cup and international soccer events, the revenue potential for a second team in Los Angeles would seem fairly secure."
Broadcast media may be the consummate goal and definitely the most profitable one, but LAFC is still depending on their fans substantially.
The outlined revenue plan that the team has laid out visually on their website–LAFC.com–illustrates that to reach their goal revenue, they are expecting nearly $1 million annually from sales, business and parking, not including the tourism they hope to attract to the renovated Expo Park hub.

LAFC is certainly getting out ahead of the game. Knowing full well how essential the fanbase is to a fruitful future — and how it was a substantial factor in Chivas' downfall — they've begun their efforts through social media, viewing parties, public gatherings and crowdsourcing surveys asking fans everything from what kind of food they would like at the games, to how much they would be willing to pay for season tickets.
And as far as the rivalry goes? Time will tell, and given that despite Chivas' lack of competency, they were still able to provide us with captivating "rivalry" matches in their lifespan, LAFC can only hope to improve upon that.All of this in hopes that cultivating enough interest and excitement will be enough to last up to, and through, 2018.
"It's on them, we're here. We're champions. It's on them to create a rivalry," Galaxy defender Alan Gordon said in response to the rivalry talk. "They're going to have to take what we have."
In many more ways than one, when 2018 rolls around, LAFC will be attempting to do just that. Three years out, the foundation appears to be here, but the next three years of both literal and figurative construction will determine whether what LAFC is trying to build will be able to both succeed and remain here for the long haul.
You can reach Sports Editor Paolo Uggetti here, or follow him on Twitter at @PaoloUggetti