Theater and Dance
Adding Music To The Mayhem: 'Heathers: The Musical' Brings The Cult Classic To A Whole New Level
For many, high school was all about surviving classes, school lunches, and the ever-universal mean girls. But one thing most of us didn't worry about? Planning our next murder.
1989 saw the release of "Heathers"—starring Winona Ryder and Christian Slater—which became an instant cult classic. Audiences were seduced by the dark world of Veronica Sawyer (Ryder) and her gun-slinging boyfriend JD (Slater) as the couple paired the former's knack for faking suicide notes with the latter's thirst for revenge to purge Westerberg High of the cruel popular kids. A surprisingly entertaining film, this black comedy manages to satirize teen suicide while simultaneously preaching against it.
"Heathers" was given new life, and exposure to a new generation of audiences, with the creation of "Heathers: The Musical", which officially premiered Off-Broadway at the New World Stages in New York in 2014.
This summer, at the Salvage Vanguard Theatre in Austin, TX, Doctuh Mistuh Productions (doctuhmistuh.org) performs this fresh new show through July 11. Doctuh Mistuh Productions is only the third U.S. regional theatre company to receive permission to produce this show. As a fan of both the film and the musical's soundtrack, I had high hopes for this production, and the dynamite cast— including Aline Mayagoitia (Veronica), Gray Randolph (JD), Taylor Bryant, Kassiani Menas, and Cesleste Castillo (the trio of Heathers), along with Director Michael McKelvey—definitely delivered.
Written by musical geniuses Kevin Murphy and Laurence O'Keefe (who seems to have found his sweet spot of adapting fan-favorite films into musicals, also creating "Legally Blonde the Musical"), "Heathers: The Musical" remains faithful to its genesis. However, as with most screen-to-stage adaptations, there are significant changes that make watching the film and watching the musical two different experiences. Although both are dark, the stage production's addition of music infuses the story with a lot more heart.
One difference in the stage show's version is its depiction of how Veronica joins forces with the "Lip gloss Gestapo," aka the Heathers-only clique (the three most popular girls in school share the same name). In the opening song, "Beautiful," Veronica appears as a nerdy girl, habitually harassed by her fellow classmates. After saving the Heathers from detention with a forged hall pass, the Heathers take Veronica under their wings, swapping out her dowdy dress for a mini skirt and bright blue blazer. The musical also takes artistic liberties by expanding the role of Martha Dunnstock, who doesn't get much screen time in the film. In the musical, she's Veronica's best friend. This friendship that Veronica tries to hold onto, and ultimately betrays, makes Martha's attempted suicide—which occurs in both film and musical—all the more heartbreaking.
Despite all the changes, "Heathers: The Musical" delivers the same way the film does, with diverse characters, witty dialogue, and a resonating message. Ryder's portrayal of Veronica in the film is definitely the grittier of the two. She goes from a schoolyard Queen Bee to a lovesick murderer to a no-nonsense deliverer of justice as—Spoiler Alert!—she unblinkingly shoots JD. Contrastingly, in the musical, Veronica is under JD's spell right until the very end. She tries to persuade him with words of love to call off the bombs in the song "Dead Girl Walking (Reprise)" with lyrics "I wish your dad were good/ I wish grown-ups understood/ I wish we'd met before they convinced you life is war/ I wish you'd come with me." Veronica's accidental shooting of JD during a struggle, and his subsequent death, is made all the more poignant because Veronica obviously still loves him.
Fans of the film will find their favorites lines woven into the musical one way or another. Lines such as "Our Love is God," and "I Love My Dead Gay Son" have evolved into full-fledged musical numbers. Other favorite catchphrases including, "What's your damage?," "My teen angst bullsh*t has a body count," and of course "F*** me gently with a chainsaw," all make their way into the script.
Though both film and musical impart important messages, they differ a bit. The film focuses on how suicide affects a community, and the potential repercussions. It uses comedy to comment on the deadly fascination with it. The musical takes a different approach. By shedding light on the cruelties of high school combined with powerfully sung lines such as, "we are done with acting evil/ we will lay our weapons down," the show promotes the importance of kindness and acceptance.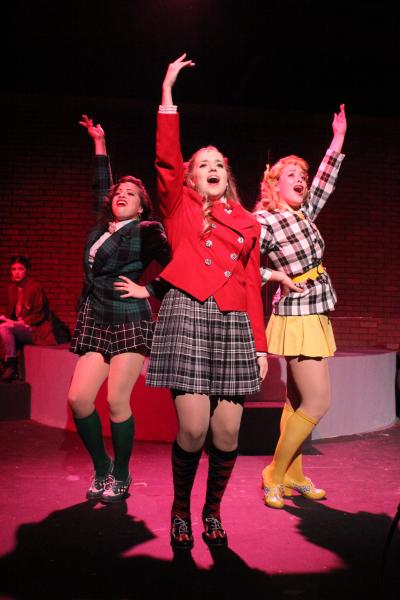 In the Doctuh Mistuh Production, Aline Mayagoitia carries the show beautifully as Veronica Sawyer. In this vocally demanding role, Mayagoitia rises to the occasion and belts out the money notes in the hilariously sexual "Dead Girl Walking," and in, contrastingly, the heart-wrenchingly beautiful "Seventeen." Gray Randolph brings all the necessary mystery and darkness associated with JD, and handles the transition from strange new kid to downright psychopath effortlessly. The title characters, the Heathers—Chandler (Taylor Bryant), McNamara (Kassiani Menas), Duke (Celeste Castillo)—are all fabulous and intimidating, owning the stage, and slaying their mean girl anthem, "Candy Store." Krystal Newcomer plays a lovable Martha Dunnstock, enamored with football star, Ram (Ricky Gee), who is never without his buddy, Kurt (Jeff Jordan). Rounding out the cast is Lara Wright, who plays both Ms. Fleming and Veronica's Mom, creating such unique characters out of each role that it's hard to believe they are played by the same person. Matt Connely (Ram's Dad, Big Bud Dean, Coach Ripper) and Jose Villarreal (Kurt's Dad, Veronica's Dad, Principal Gowan) add great humor to the show.
Madison Piner provides the actors with lively choreography that almost enticed me to jump onstage to join the "Big Fun" party scene. Glenda Barnes nails the Heathers' costumes, fitting them in their signature colors, plaid miniskirts, and blazers. The scenic (Joe Carpenter), lighting (Sam Chesney), and sound designs (Joel Mercado-See) are all kept to an effective minimum, and the cast of impressive singers certainly reflects well on vocal director Adam Roberts. Giving the singers strong musical accompaniment: Tyler Groft and Melissa Yanchank (Keyboard), Ryan Beavers (Guitar), David Lucas (Bass), Trevor Detling (Drums), and Michael McKelvey (Conductor).
I had the unique experience of attending this production on Love Wins Day—the day of SCOTUS' ruling to legalize gay marriage in all 50 states. Never has the show's message of acceptance been so relevant. The song "My Dead Gay Son" changed from being a song about accepting love in all its forms to a full-fledged celebration of equality and love. While singing out "Yes! My boy's a homosexual/ and that don't scare me none/ I want the world to know/ I love my dead gay son," a young man in a sequins burst through the doors with "LOVE WINS" scrawled proudly on his chest. The scene perfectly reflected the joy many in the audience obviously felt on that momentous day.
If you happen to find yourself in Austin, TX, Netflix "Heathers," head over to the Salvage Vanguard Theatre for "Heathers: The Musical" and do a little comparing and contrasting yourself. After watching either one, it's easy to see why both are such cult classics.
"Heathers: The Musical" is playing at the Salvage Vanguard Theatre (2803 E Manor Rd, Austin, TX) through July 11. Tickets range from $15-30, and are available at brownpapertickets.com
Contact Contributor Julia Stier here.
For more Theater and Dance coverage, click here.