Arts+Culture
9 Artsy AF Shows, Exhibits and Events You Have To Check Out This July

In the city even our East Coast rivals at The New York Times are calling "irresistible to the culturally attuned," the Next Big Thing in the art world could be – and probably is – just down the street. Well, just down the street with traffic.
No matter what topic strikes your fancy, from the daguerreotype to hip-hop poetics to a Pop artist activist nun, L.A.'s art scene has you covered this summer. And with so many free and Metro-accessible events, there's no excuse not to enjoy these plentiful artistic offerings. So put down "Orange Is The New Black," just for the afternoon, and culture yourself with these can't-miss artsy activities:
1. Visit Sarah Cain's girl-power-palooza
TOMORROW (July 11) is the last day you can view Sarah Cain's "Bow Down" show at the Honor Fraser gallery. The vibrant colors, splashy shapes and playful use of material make Cain's works a joyful treat for the eyes, no matter your level of art understanding; for those who care to dig deeper, the show has a lot to say about gender and how we treat certain art practices as masculine (say, the 1950s Abstract Expressionism Cain takes notes from) and feminine (like the "craft" practices of the domestic sphere Cain references in her use of items like potholders and beads).
The L.A. Times calls Cain a "fangirl" of the highest order, with works ranging from "splendid to magnificent"; I don't know what other persuasion you need.
The show runs through July 11 and is free to view.
2. View the film made to accompany Kendrick Lamar's "good kid, m.A.A.d city"
"m.A.A.d" is a film by Kahlil Joseph that plays out on two screens, showing two shots of L.A. (more specifically, Compton) life at once. The soundtrack is songs off Kendrick Lamar's album "good kid, m.A.A.d city," and in fact Lamar commissioned the film to visually accompany to the story he tells orally of growing up in Compton.
The film, which first drew my eye as it played behind Lamar at a concert last week, gives us a different angle to interpret "good kid, m.A.A.d city" from. As The Verge says, "through Joseph's lens, though, the album isn't the story of the kid, so much as it is about the side characters and background players in the city that turned him into the person he is."
"m.A.A.d" is on view at MOCA in the exhibit "Kahlil Joseph: Double Conscience" until Aug. 16. Admission is $12 regularly and $7 for students.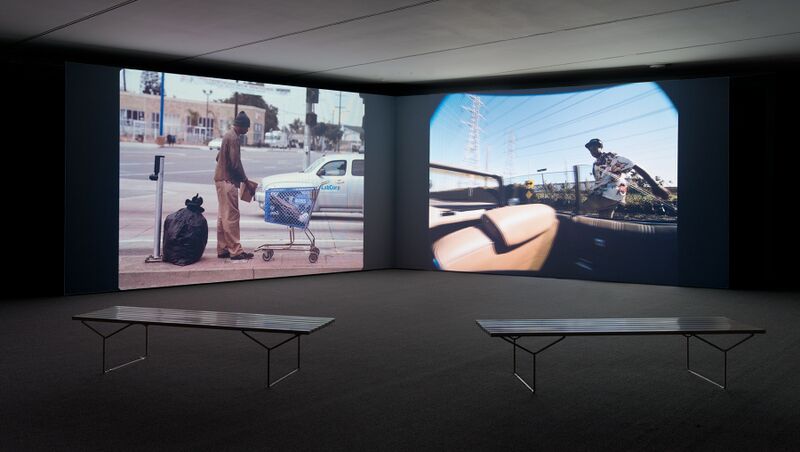 3. Get a history lesson at LACMA (and take a selfie by the street lamps)
LACMA's newest exhibit "The Magic Medium" spans 150 years of photography history, featuring artists who have somehow challenged the limits of the photographic medium. Works are featured from the first days of daguerreotypes all the way up to today's digital practices.
My favorite artist featured is bright young thing Matthew Brandt, who has made his name in the art world by developing film photographs using media other than the traditional chemicals – examples include lake water, bubble gum and earwax.
"The Magic Medium" begins tomorrow, July 11, and will be on view until February 7. Admission is $15 regularly and $10 for students.
4. View some stripper screensaver art
"Niki, Lucy, Lola, Viola," Petra Cortright's solo show at Depart Foundation in West Hollywood, just opened yesterday, and it's already causing a stir. The video works in the main gallery are comprised of screensavers downloaded from a website called VirtuaGirl, which lets you purchase a virtual stripper that struts her stuff in a corner of your desktop while you go about your business.
The point isn't, really, about grabbing attention with strippers or making a statement on the sexual economy; it's more a comment on "infinite virtual redundancy," and what it means to be a "net artist."
"Niki, Lucy, Lola, Viola" runs through Sept. 12 and is free to view.
5. Learn about rap from professors and poets (for free)
The Hammer Museum is offering a free event exploring the overlap between rap, poetry and academia, examining the study of rap as spoken-word poetry and how works like Kendrick Lamar's "To Pimp a Butterfly" are being used in schools to teach about racism and other social issues of our day. The event, in which "mini-lectures" by hip-hop and poetry scholars will be interspersed with performances, will also be available to stream online here.
"Hip-hop Logic: The Role of Hip-hop in 21st Century Education & Poetics" is on Sunday, July 12 at 3:30 p.m. Get your free tickets at the Hammer Box Office an hour before the show.
6. Enjoy performance art, comedy and food trucks in Little Tokyo
"Step and Repeat," MOCA's annual "celebration of performance art, comedy, poetry, live music, and more," costs less than a movie to attend and couldn't be easier to access off the Gold Line. Each of the three nights offers a different selection of poets, DJs, comedians and artists curated by MOCA for a funky (and loud) experience perfect for a hip date or friends' night out.
The party runs July 17-19. Buy tickets here for $12.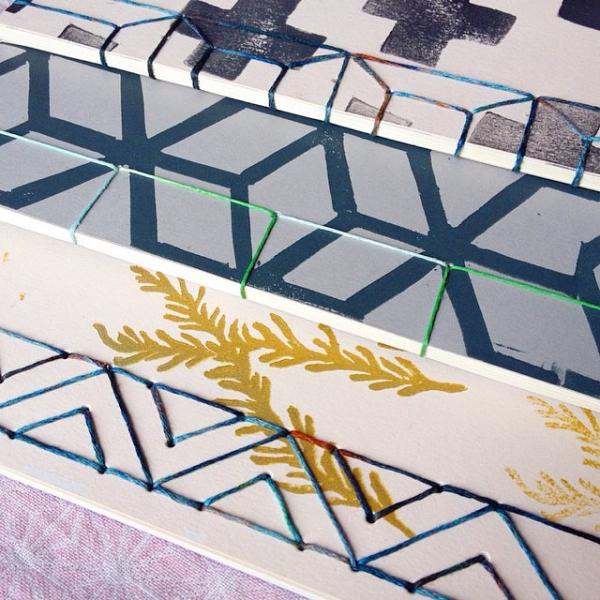 7. Make your own books at Otherwild
Otherwild is a super cool, very L.A. store in Echo Park that offers goods ranging from handmade ceramics to "MATRIARCHY NOW" t-shirts. They also host a variety of workshops on making everything from macramé terrarium hangers to letterpress business cards. In this lesson, you'll learn how to block-print – basically making your own rubber stamp and using it to create a pattern on paper – and make a notebook out of your printed results using Japanese stab binding techniques. The class is a splurge, but you'll learn a skill you can use over and over; that's worth the price tag to me.
"Block Printing and Bookbinding" is on Sunday, July 19th from 2-5:30 p.m. Register here for $75.
8. Experience a nun's take on 1960s Pop Art
Sister Mary Corita Kent could not have been cooler – besides being a nun, she was a political activist, teacher and graphic artist with a message not at all preachy. In the same vein as Andy Warhol, Kent manipulated existing commercial products into loud political statements. Her use of type and color made her one of the most influential graphic designers in American history. Now, almost 30 years after her death, the Pasadena Museum of California Art is offering a retrospective on Kent's decades of badassery.
"Someday is Now: The Art of Corita Kent" runs through November 1. Admission is $7 regularly and $5 for students.
9. View 20 years of a former USC prof's photo archives
A.L. Steiner is a hugely influential artist whose works have been shown at LACMA, MoMA in New York, and the Tate Modern in London. She was a beloved figure at the USC Roski School of Art and Design until very recently, and her departure as the director of the graduate school (and Roski's inaction in appointing a successor) figured prominently into the "USC Seven" M.F.A. students dropping out of the graduate program in May.
This show at Blum & Poe looks at 20 years of her photo archives, everything from political commentary to personal snapshots, and is supposed to function as "a relaxing space for the lost art of print viewing."
"Come & Go" runs through Aug. 22 and is free to view.
How are you getting artsy this July? Send Editor-in-Chief Gigi Gastevich your suggestions here.