USC Sports
USC Trojans MLB Draft Recap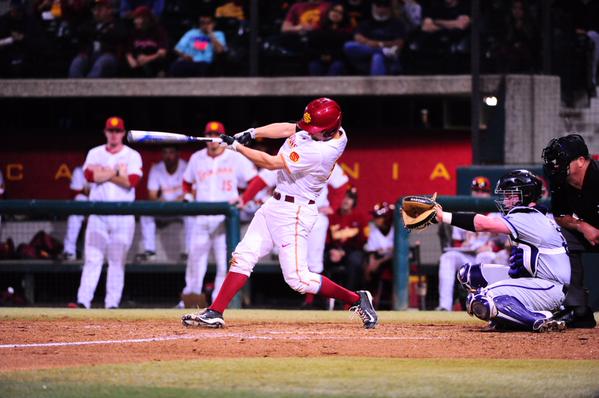 Another forty rounds of the Major League Baseball First-Year Player Draft has come and gone, and another handful of USC Trojans have once again been selected to take their talents—hopefully someday—to The Show.
With eight players selected by eight different organizations, this is the highest number of Trojans selected in the draft since 1999. After their surprising and impressive season this year, it's no wonder major league scouts took notice. Here's a recap of where and when each Trojan was drafted.
Tyler Gilbert (Round 6, 174th overall- Philadelphia Phillies)
The first Trojan selected in the draft was the left-handed pitcher and transfer from Santa Barbara City College. Gilbert suffered through a slew of injuries that left him unrecruited out of high school, but the versatile pitcher played two stellar seasons at junior college and continued to impress at USC, going 5-2 with two saves, a 2.79 ERA in 67 innings, and striking out 66 batters. Gilbert has already opted out of returning to USC.
Garrett Stubbs (Round 8, 229th overall- Houston Astros)
USC's stud catcher and Johnny Bench Award finalist had the season of his life. Stubbs hit .346 with 25 RBIs and threw out 52.8 percent of base stealers. His phenomenal play didn't go unnoticed, as he was named Pac-12 Defensive Player of the Year, First Team All-Pac-12, Pac-12 All-Defensive Team and First Team-All American. The Trojan's catcher continued to dominate in postseason play as he was also awarded the Lake Elsinore Regional MVP. According to FOX 26 News, Stubbs already has a verbal agreement with Houston.
Kyle Twomey (Round 11, 383rd overall- Chicago Cubs)
The Trojans' left-handed ace was originally drafted by Oakland directly out of high school in 2012, but he decided not to sign and instead play college ball in Los Angeles. Now three years later, Twomey put up a team-low 2.88 ERA and had a record of 8-2, striking out 68 in 93 innings, the most innings thrown of any Trojan starter.
Brent Wheatley (Round 17, 518th overall- Oakland Athletics)
The right-handed pitcher will be following in the footsteps of older brother and former Trojan Bob Wheatley, who was selected by the Toronto Blue Jays in the 26th round last year. The California native finished this season with a 4-4 record through nine starts and had an ERA of 4.50 through 70 innings. Wheatley pitched from the bullpen as well as from a starting role.
Dante Flores (Round 18, 532nd overall- Chicago White Sox)
The left-handed senior second baseman became the third USC infielder drafted by the White Sox in the past five years. After Flores struggled through the 2014 season, he batted .304 and drove in 43 runs and had five home runs in 2015. Flores was named an All-Pac-12 honorable mention selection and has been praised for his solid defensive play.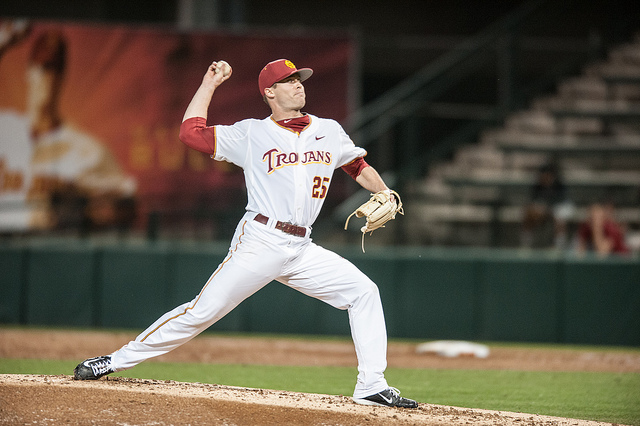 Bobby Stahel (Round 20, 587th overall- Colorado Rockies)
The Trojans' leadoff batter led the team with a .376 batting average, racking up 92 hits, 33 RBIs and a couple of phenomenal defensive plays in left field to his name. Stahel is a semifinalist for the Gregg Olson award, was named First Team All-Pac-12, and finished second in batting average in the Pac-12. The breakout star will not return to USC and will begin his professional career with the Rockies.
Kyle Davis (Round 29, 872nd overall- Toronto Blue Jays)
The fourth and final Trojan pitcher to be selected was the right-handed Davis on Day 3. Davis began the season out of the bullpen after an ankle injury in December, but became the Trojans' Friday starter for the last four weeks of the season. In his first start of the season, Davis pitched a complete game shutout against Stanford and held Virginia hitless into the seventh inning in Game 1 of the NCAA Regionals. Davis has particularly excelled in high-pressure situations, pitching a 1.12 ERA with nine saves as USC's closer last season, a quality that should suit him very favorably in the major leagues.
Angelo La Bruna (Round 33, 1004th overall- Washington Nationals)
The Duke transfer finished off the draft for USC as the eighth and final Trojan to be picked. The shortstop appeared in 39 games in his lone season at USC, batting a decent .250 with nine RBIs and 46 putouts with only six errors on the season defensively. La Bruna was also named to the Pac-12 All-Academic Second Team with a 3.35 GPA.
Reach Staff Reporter Carly Fasciglione here and follow her on Twitter.