Opinion
South L.A. Man's Fight Against Homelessness Highlights Deficits In Affordable Housing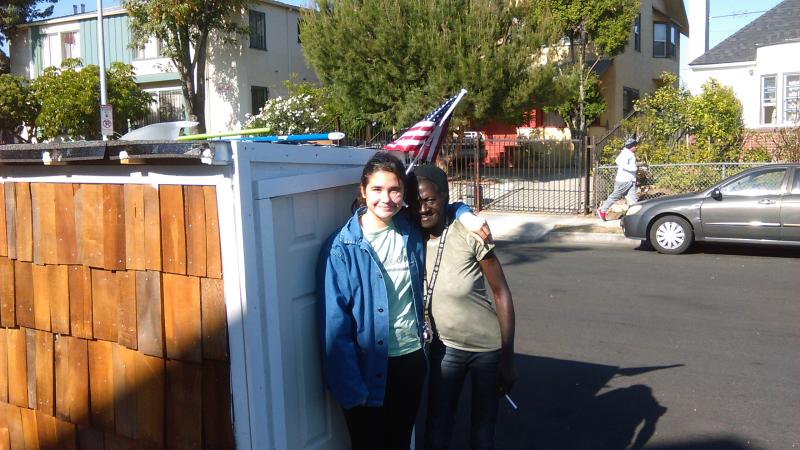 In the United States, homelessness is a growing epidemic that plagues the lives of more than
3.5 million people
each year. Of these,
35 percent
are families with children, which represent the
fastest growing segment
of the homeless population.
Strolling around the USC area one early afternoon, I met 60-year-old grandmother Irene McGhee, better known as "Smokie," who became homeless over a decade ago.
"My husband died from lung cancer in '04, he took care of me for 23 years. After he passed away…I was just out here by myself with no income, no house…nothing," she said.
What caught my attention about Smokie the most, however, was that I found her living in a tiny house on wheels. Soon enough, I discovered that the person responsible for building her mobile home was South L.A. resident Elvis Summers.
Smokie told me that about a month and a half ago, Summers asked, "How would you feel if I built you a house?" It was ready in a week's time.
After purchasing $500 worth of wood boards and receiving siding and roofing donations from a local company, Elvis was able to build Smokie a portable three-and-a-half-by-eight-foot house with a window. Having suffered from a case of pneumonia which hospitalized her for five days, Smokie fully embraced her new home.
"I felt so good and relaxed. I think I must've slept half of the day," she said.
Elvis's reason for helping Smokie out. "She's a human being, 60 years old, a mother, grandmother, sleeping in the dirt. It's just not right," he said.
Prior to the house, Smokie and Elvis had formed an unlikely friendship. She would come by his place and ask him for recyclables. He would help her out with anything he had. Little did she know that shortly thereafter, Elvis would build her a place to call home.
For Smokie, the mobile house became much more than a home. It improved her quality of life.
"I'm gaining a little weight. I'm resting better. I'm not out in the cold. I'm in good health now. I'm good today, praise God," she said.
More importantly, however, the mobile home gave her a sense of hope.
"I want to go back to school. I went up to 11th grade. I want to get my diploma and get me a job," she said.
Summers' willingness to help homeless people did not end with Smokie. He started a campaign titled "My Tiny House Project L.A." on the crowdfunding website GoFundMe. His ultimate goal is to hire other homeless people so that they can build their own houses alongside him. Right now, Smokie says that Summers is working on a house for a handicapped man and looking for a big enough place to start building more houses.
Nonetheless, both Summers and Smokie know that the small homes are a "first step," not a solution. In order to make change in Los Angeles County, at least, city officials need to stop making so many speeches and promises and start taking action - following in Summers' footsteps.
It is inexcusable and unjustifiable that within two years, the homeless population of LA County has increased by 12 percent. Instead of tearing down inexpensive housing - cheap hotel rooms, motels and single-room apartments - in areas like Downtown L.A. and Venice, authorities must recognize that there are 41,174 homeless individuals that are in desperate need of such affordable accommodation.
Advocates for affordable housing have been vocal about their dissatisfaction. Executive director of Venice Community Housing Steve Clare recently told the L.A. Times, "The city and county have done such a terribly poor job of creating affordable housing, basically they've ignored the issue."
Aside from building affordable living space, a big help would be to create more jobs that can serve as stepping-stones for the homeless to progress to self-sufficiency. With an unemployment rate of 7.5 percent, well above the national rate of 5.6 percent, L.A. County still has a long way to go before it reaches true economic recovery.
City officials must find also innovative ways to provide the homeless with the clinical and psychiatric support they may need to be fully functional in society. Across L.A. County alone, 25 percent of homeless individuals suffer from substance abuse, while a whopping 30 percent suffer from mental illnesses. If change is to be expected for these individuals, they must first escape from these crippling circumstances.
If one man is able to build a home for a homeless woman and restore her sense of hope, elected officials with decision-making powers and discretion over taxpayer dollars should be able to do the same for the thousands of homeless people living on the streets of Los Angeles. If not, then why do we vote for them? Why do they hold their respective titles? Why are they in power?
Until results show that our representatives are actively combatting the tasks that we entrust them with, the majority of citizens will most likely continue to ask themselves these questions. In the meantime, we, as individuals, have an obligation to show kindness and respect towards those in need.
Smokie could not have said it better: "Tell people I love you. Give them a hug, a handshake. That means a whole lot. It might take a person a long way if you make them feel good about themselves. Let them know somebody out here cares."