Sports
Serena Williams Captures 20th Grand Slam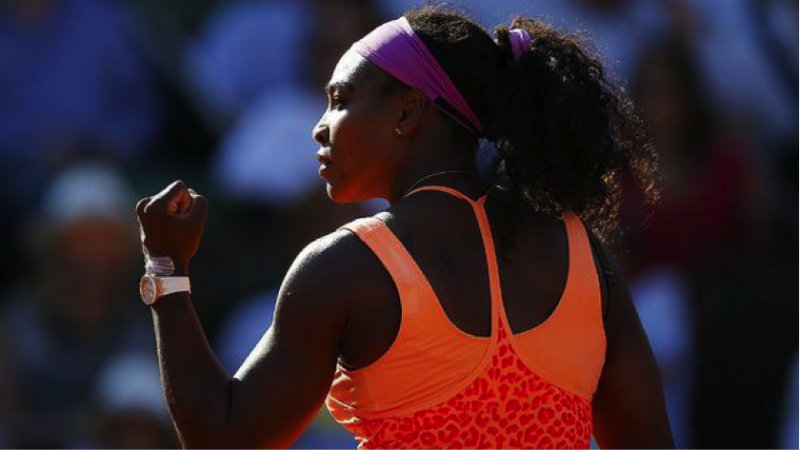 For Serena Williams, the 2015 French Open as a whole was not one of her best, but the end result still have her the ultimate prize she wanted: Her 20th Grand Slam.
Williams has been suffering from the flu, and that was evident during her semifinal match on Thursday. The illness greatly affected her game. Coming into the final, Williams had dropped the first set in four out of her six matches at the French Open. Despite the poor starts, however, Williams always managed to close out her competition. Her final opponent, Lucie Safarova had not lost a single set in six matches. Safarova had been playing great, beating second-seeded Maria Sharapova and seventh-seeded Ana Ivanovic.
Many experts had made the point that Williams had played her toughest competition during the middle of the tournament having to beat American Sloane Stephens and Belarusian Victoria Azarenka. Entering the final, questions around Williams' health abounded. Would she even be healthy enough to compete at her normal level, especially since skipping practice on Friday?
Yet health did not seem to be a factor during Saturday's French Open final. From the beginning of the match it seemed as though Williams would be able to cruise to her 20th Grand Slam title. Williams dominated Safarova in the first set, taking it 6-3. After easily taking the first set, Williams was up 4-1 during the second, when momentum began to shift. Safarova was able to rally back from four games down and force a tiebreaker with Williams.
Williams' serve came apart during the second set, and she doubled faulted during the sixth and eighth games, making it possible for Safarova to make a comeback. In the end Safarova was able to win the second set 7-6(2). For a brief moment it seemed that number 20 could have to wait until Wimbledon. Safarova lead 2-0 during the third set, but double faulted on break point, and in an instant Williams was level.
Williams never looked back, winning six straight games to take the match. As Williams does so very often, she took control and put herself on the right way to her third title at Roland Garros. This can be described as one of the most difficult tournaments in her career, but at 33, Williams is still the most dominant women's tennis player in the world.
"I choked," said Williams in an interview with NBC, after winning her third French Open title. Even with illness, and a poor second set, she still managed to win in a dominant fashion, defeating Safarova, 6-3, 6-7 (2), 6-2.
Williams is the first women to capture both the Australian and French Open in the same year since Jennifer Capriati in 2001. 20 Grand Slams now under her belt, Williams is now only two away from tying Steffi Graf's all-time record of 22.
So, what does this French Open title mean for Williams among the pantheon of not just female athletes but American athletes as a whole?
There is no denying Williams has consistently dominated her sport and has thus become not only the face of women's tennis, but of tennis as a whole. Williams is also one of the most recognizable athletes on the planet, and has been a breath of fresh air for tennis. Recognized by 91 percent of U.S. consumers, she is more recognizable than the most popular active male player, Rodger Federer, according to The Marketing Arm; a company that evaluates the potential of celebrity endorsements.
She has remained dominant even at the age of 33, when the body of an elite athlete becomes less and less reliable. The possibilities for Williams are endless, and now she has the chance of winning all four majors in the same year since Graf. With all her accomplishments and continued dominance, Williams is undoubtedly in the discussion for one of the greatest female athletes of all time. The power and force behind her play, and her athletic build have created a whole new image of what the female athlete of can be.
Tennis greats such as Steffi Graf, Martina Navratilova, Chris Evert and Billie Jean King, all dominated their sport but it can be said that they did not face competition as fierce as Williams has. Williams has dominated tennis at a time when female sports in the United States is the most competitive it has ever been. With Title IX, better training and coaching, along with more funding, the competition in female athletics is the best it's ever been. Battling top-ranked players throughout her career, including Sharapova, Wozniacki and at one point her own sister Venus, Williams has showed no signs of slowing down, and no rival has emerged to truly give her a challenge.
Along with being the face of women's sports, she has also held the torch for African American female athletes as well, both on and off the court: Williams was the first African-American to win a major title since Arthur Ashe and Althea Gibson. And in March, she became the first African-American female to be on the cover of Vogue. Williams has continued the legacy of African-American tennis greats such Althea Gibson and Ashe, subsequently paving the way for newcomers such as Sloane Stephens, Madison Keys and Sachia Vickery.
The sport of tennis has evolved and become more culturally diverse than it has ever been; today there are more African-American players than there has ever been. That's in large part to the influential play of Williams herself. Both the Williams sisters have advocated for equal pay for the women of the sport, and due to their efforts in 2006, the French Open became the third Grand Slam to offer equal pay for its female participants.
In all aspects of the sport she loves, Williams is and continues to be the face of tennis and female sports. Her 20th Grand Slam is just the icing on the cake.
You can reach Contributor Avery Etuk here.