NFL
Rookie Trojans Set Up For NFL Success: Buck Allen
USC had six players taken in the 2015 NFL Draft, tied for fifth-most among all schools. However, the three with the most direct opportunities for significant playing time are Leonard Williams (sixth overall, NY Jets), Nelson Agholor (20th overall, Philadelphia Eagles), and Buck Allen (125th overall, Baltimore Ravens).
Williams goes to a situation in New York that is already loaded at defensive line, but he will still see a lot of opportunity, as one of the best incoming NFL prospects. Agholor should see plenty of snaps due to Jeremy Maclin's free agency departure and Chip Kelly's pension for using young receivers both early and often. And finally, Allen already has a chance to win the second running back job this year behind one of the best offensive lines in the league. All three of these players have clear paths to playing time, and the respective situations each has been drafted into could mean great success in the very near future.
We've already looked at Williams and Agholor in previous installments, and now, here's how Buck Allen can fit on the Baltimore Ravens.
Buck Allen
Although Gary Kubiak left Baltimore to become Denver's head coach, the West Coast passing and zone running schemes put in place by Kubiak are expected to stay largely the same under new O-coordinator Marc Trestman. This is fantastic news for Justin Forsett, who had a career year in the Ravens' offense last year, and Buck Allen, whose skillset fits the zone running game extremely well.
The basic idea of zone running is to get the defensive line moving horizontally, so the offensive linemen can "cut" or "reach" them, allowing for the running back to pick and choose to run to whatever daylight he sees. For the running back, this requires patience for the right hole to open up, and calls for an extreme burst when he finally sees the hole and cuts upfield through it.
Here is the Ravens' offense on a zone-running play last season:

Left tackle Eugene Monroe (No. 60, bottom of screen) cuts Saints defensive end Cam Jordan (No. 94), and while he doesn't get Jordan to the ground, Monroe does get enough of him to keep him from closing on the play from the back side. At the same time, Kelechi Osemele (left guard, No. 72) simply powers his defender across the field and into the dirt, opening up space for Forsett to run. Center Jeremy Zuttah (No. 53), meanwhile, "reaches" the nose tackle John Jenkins (No. 92), securing the running lane that Forsett reads perfectly. The left side of the offensive line executed well here. This style of attack depends a lot on the decision making of the running back, and his burst upfield.
Here's an example of another play from the endzone angle. Notice Forsett's cutting and acceleration upfield at the end: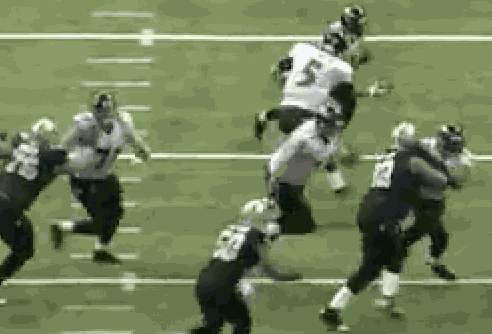 Anything look familiar?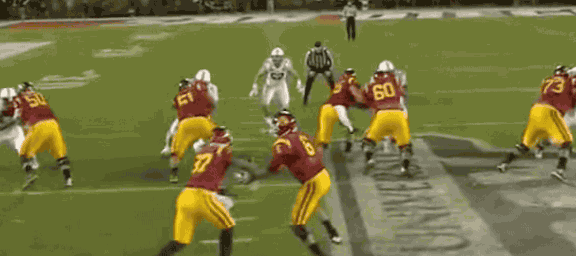 Allen shows awesome vision in the example above. He sticks his foot in the ground on his second step and takes the play to the back side when he sees left guard Damien Mama gain leverage on his defender and open the hole there. This is exactly the type of situation he will see in Baltimore.
Allen also catches the ball extremely well (and again, check out that cut), which Marc Trestman's running backs are asked to do constantly: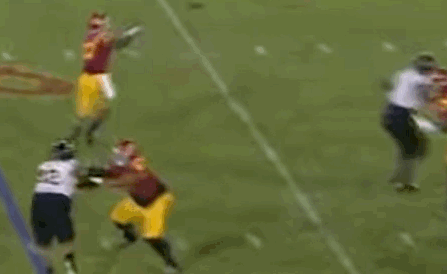 Notice his acceleration here: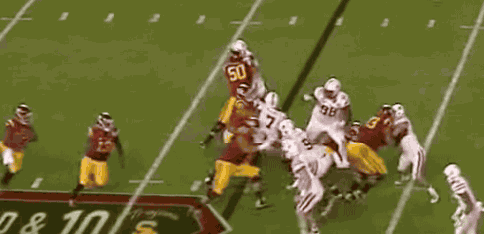 Here's Allen cutting off the block of center Max Tuerk (No. 75). Beautifully done.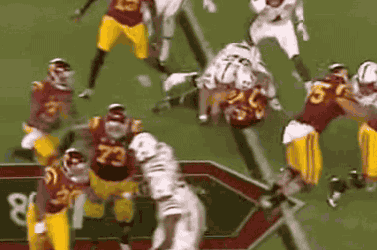 Allen's combination of natural vision, cutting ability, acceleration and hands make him perfect for an offense like Baltimore's (it also would have been fun to see him in Dallas, Cleveland, or even Atlanta). The backup running back position is wide open on Baltimore's roster, opening the door for Allen to get significant touches and make a big impact right away. He has the skills to take over the starting job in the near future, especially if Baltimore decides to move on from Forsett's $3.7 million cap hit for each the 2016 and 2017 seasons.
While running back is an increasingly devalued position in the NFL, Allen is positioned to let Forsett see the majority of carries for the next couple seasons, at which point Allen could very well take over in Baltimore's favorable rushing offense just in time for a new contract. All without having too much wear-and-tear on his body.
Whatever the case, Allen is certainly primed for production in the big leagues.
Follow Andrew McKagan here or email him at [email protected]