Los Angeles
Is Los Angeles Ready For A Second Soccer Team? Part 2
For years, the small contingent of rabid soccer fans here has been claiming that the sport is bound to blow up in the United States. In 2015, after multiple exciting World Cup runs and the revamped MLS, soccer may have finally arrived in full force.
Look no further for proof than the land of the defending MLS Champion LA Galaxy, where the soccer market is set to duplicate as a second team will make its Los Angeles arrival in 2018.
LAFC is set to make Los Angeles into one of the few two-team soccer cities in the country, perhaps creating a dynamic much like that of the Clippers and Lakers that attempts to cover every corner of the Southern California market.
In Part 1 of this three-part series, we looked at the chosen location for the expansion squad's stadium, and how it would benefit both team and landlord in hopes of setting up a successful franchise foundation. In Part 2, we'll look at the team's arrival through the lens of the surrounding South L.A. community.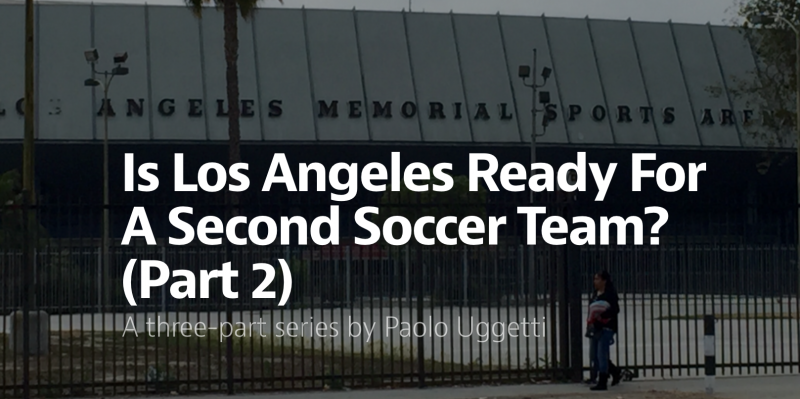 On six days during the fall season, the signs get brought out and the barriers assembled. The policemen and traffic officers are affixed to their posts.
The crosswalks are filled with an influx of people flush in cardinal and gold attire, the traffic slows to a near halt and the bottlenecked parking lots exude barbecue smoke from above, while spilling beer flows down below.
It's a typical USC game day at the Coliseum; an event that transforms the area from North University Park, through the school's campus and down to Martin Luther King Drive into a fan frenzy.
Sometimes raucous and always hectic, the atmosphere is an addicting mess for the Trojan faithful. But for many who inhabit the houses that align South Figueroa Street or whose businesses are unluckily positioned nearby the 92-year old stadium, game day has a much more negative connotation.
"It's horrible," complains Inez Alcansa, a nearby homeowner. "We need to go run an errand but we get stopped by police and so many cars, we can't do anything."
Alcansa's home on Flower Street faces the 110 Freeway and is just a few steps away from Exposition Park, where both the Coliseum and the Sports Arena reside. She says all her neighbors have the same problems with game day or event traffic.
A seemingly unavoidable product of a large influx of people into a confined area, traffic is largely a nuisance the public in Los Angeles must deal with. For some businesses like Amanda Chen's 'Crystal Bakery', however, the car congestion could also mean a detrimental drop in sales that could worsen with the addition of a soccer stadium to the area.
"We don't like USC football game days or soccer games; they hurt our business," explained Chen, the manager of the small bakery situated right across from the Sports Arena on South Figueroa.
"All our regular customers come for the cake mainly, so they cannot come or order one because they know of the traffic. Even if they actually did order a cake, they won't come, so it's a lot of impact on us."

To her, the additional traffic impediment caused by soccer games in Expo Park would present a substantial loss given how much the cakes represent in terms of sales. Chen is already apprehensive.
"If it's an event for the kids or at the museum, that's better for us," she admitted. "I can't speak for other businesses, but for us, we don't like soccer games or USC football games because [the attendees] don't buy anything from us."
On the other hand, almost next door to Chen's bakery, other businesses are welcoming the influx of both team and public.
"We didn't even know there was a soccer team coming," chuckled the manager of Soccer Shop USA, a small store that sells fútbol attire and accessories. "But if there is one coming, I would imagine that would be definitely seem to help our business a lot."
It's safe to say neither Chen's case, nor the soccer shop's is an accurate representation of the entire commercial area near Expo Park. Context is everything, and a fast food spot may be better served than a bakery, but among many there seems to be a consensus over the fact that traffic can become an even bigger problem than it is if not dealt with properly.
"Traffic will always be a problem around the Coliseum complex," admitted USC sports communications professor Dan Durbin. "The number of lanes in streets and available vehicle access ways have not (to my knowledge) been expanded significantly over the last 20 years. So, there will be some glut, no doubt."
"When the Rams and later the Raiders played there, parking was so inadequate that many local folks rented their front lawn for vehicles," continued Durbin.
Unsurprisingly, that practice has not ceased. LAPD officer Irwin Rocha, a regular patroller of the area, admits he sees it all the time.
"Some of the residents let people park in their driveway and make money off of it," he said. "They'll sell water, t-shirts, food, whatever to make a profit."
Rocha and his partner Sicilia Crosto do see a potential benefit in the franchise's arrival, however. If anything, they believe this could be the straw that breaks the camel back on the traffic issue.
"It will press them to figure out some of the issues, and [the city] will be forced to figure out ideas to alleviate [them]," Rocha elaborated. "Create better parking structures, bigger exits, all that stuff will have to come in to play."
Said Crosto: " Maybe they need to build an overpass for pedestrians. That way you can alleviate the traffic."
Joe Furin, the Sports Arena general manager, did specify in an interview that before any building or groundbreaking is done, there are still some minor hurdles the team must climb, some of which do involve the traffic component.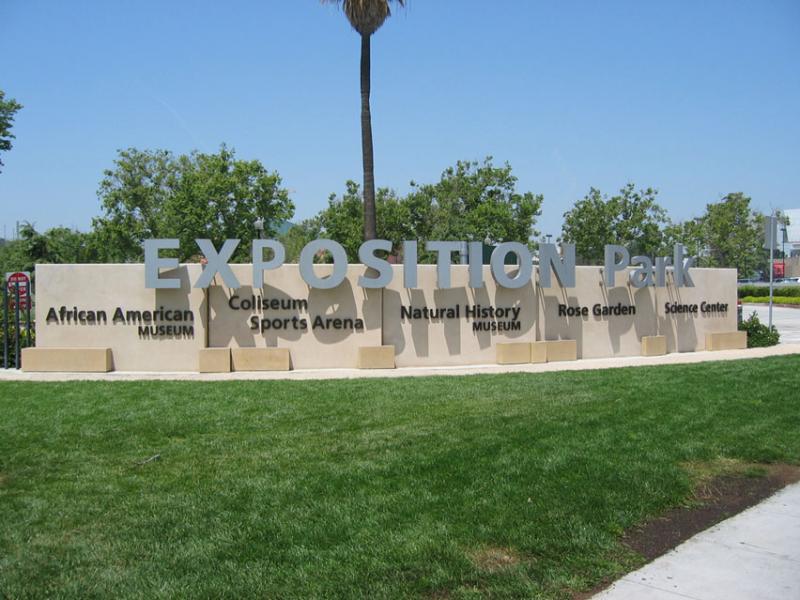 "Any development of this place, we would have to do an environmental impact report, which includes a traffic study," he explained. "So if they found that an exorbitant amount of traffic is coming to the site in the construction process, they might have to create more entrance ways or realigned parking ways."
The biggest sticking point, and perhaps the most crucial component of creating a traffic oasis, is the utilization of public transportation.
"The thing is you need to provide transportation structure for people," said South L.A. resident Verdel Flores. "Otherwise they're stuck."
One of the main benefits that LAFC proposed to calling the Sports Arena their home was their belief that the public transportation in the Expo Park/Downtown area was among the best compared to other sites in Los Angeles.
Professor Durbin touts the public transportation rail service the city has built to funnel fans "right up to the door" of the Coliseum area, but among the residents, the sentiment toward public transportation is divided.
"Traffic would not be as bad if people used public transportation," proposed Nato Flores, Verdel's husband who lives in Leimert Park. "I use it all the time, and it makes everything so much easier."
Flores says the system does need a lot of improvement, but points to the Hollywood Bowl's bus system as one that he believes LAFC should emulate.
"With a pro soccer team coming and they know they are pulling [fans] from a wide area, they should set up these park and ride areas; One at the Culver City station, one in Torrance, one in Westchester, from East L.A. and one from union station."
A paid bus service would surely dissolve some of the congestion; the improvement of public transportation may be both a necessity and an added benefit from the team's arrival.
According to the team, however, there are plenty of other benefits already on their way.
Visit LAFC.com's 'Community Benefits' page and you'll find words soothing to the ears such as "support," "promote," "green." "jobs" and "commitment." But though infrastructure and parking are mentioned, traffic improvement is not directly addressed.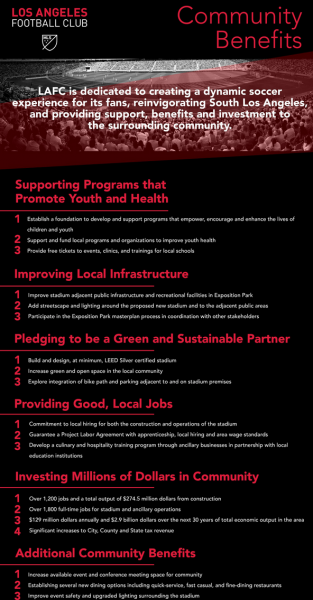 "[Traffic] creates a lot of stress, especially in the late parts of the day when I have to get the kids from school," explained stay-at-home mom Santa Gonzalez, whose home is less than a mile east of the Sports Arena. "It would really slow everything down if they play regularly during the weekdays."
When LAFC settles into their $250 million, 22,000-seat abode in 2018, those extra games may be the biggest factor in how the new team fares with the locals. For with a soccer team not only comes excitement and entertainment, but also more games and thus, more responsibility.
In 2014, the Coliseum hosted a total of five "big" sporting events, excluding USC football games, according to a Coliseum official. Tack on the latter — six in 2014 — and that still only totals out to 11 events during a calendar year.
Once LAFC arrives, the number of large sporting events the area will host each year will at the very least rise by 17 games, the number of home games an MLS team partakes in per season. With the league expanding rapidly (see also: New York, Orlando), that number could very well be even higher by 2018.
Both weekday games and weekend duels will aim to bring the crowds to the pitch; and the added matches for possible tournaments, cups and the playoffs would only make the count rise even higher.
LAFC's plans to turn the land into a commercial center that includes retail, restaurants, museum space and office space could transform Exposition Park into Los Angeles' most hectic sports hub since the creation of L.A. Live in Downtown. While other concerns are already floating to the surface, including gentrification effects that USC has already been kicking into gear, the most glaring and immediate predicament remains traffic and what to do about it.
"Developing public transportation into a safe, reliable alternative for people from all different neighborhoods is a great asset for a metropolitan area like Los Angeles to have."
That's Congressman Xavier Becerra, the representative for the 34th Congressional District that encompasses the area.
"Proper street planning can reduce traffic and make our community more efficient," he reiterated in an email.
But LAPD Officer Crosto contends: "Even when they set up the metro rail link, it created even more traffic pockets around the area."
Three years out to the arrival of the team, but only 10 months to the date of the groundbreaking and commencement of construction, traffic as a point of debate and reform awaits to be addressed and dealt with. For now, with the decision already made, residents and businesses in the area alike will have to just wait, see and hold their breath, hoping that more games, more illustrious structures and more hoopla does not more traffic and no adjustments make.
--
In Part 3: The team's economic investment into South L.A., the state of their fanbase and a possible rivalry forming already?
You can reach Sports Editor Paolo Uggetti here, or follow him on Twitter at @PaoloUggetti