Film and TV
'Hell's Kitchen' Top Two Meghan Gill, T Gregoire Talk Gordon Ramsay, 'Masterchef Junior'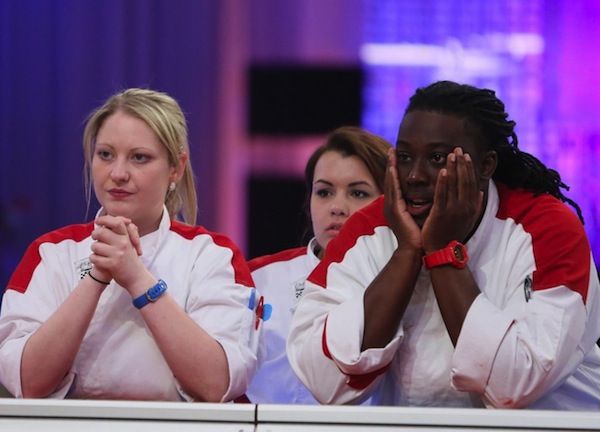 Executive chef Meghan Gill and line cook T Gregoire face off in tonight's finale of Gordon Ramsay's culinary competition "Hell's Kitchen." Before the world watches them cook for their lives, the women took a moment to reflect on season 14.
Gill, 28, and Gregoire, 31, are competing for employment in Ramsay's new English pub in Caesars Atlantic City and snag a prize package valued at $250,000. The winner will join Season 13 winner La Tasha McCutchen, who will also be running the kitchen.
READ MORE: Elliphant Discusses New EP 'One More,' Disgust With Pop, Hip Hop Artists
Neon Tommy caught up with the finalists to ask about their experience on the show.
Neon Tommy: How would you describe your experience on the show?
Meghan Gill: It was amazing. A once in a lifetime. I'd do it again in a heartbeat.
T Gregoire: It was something I'll never forget.
NT: Who was your toughest competitor who has now been eliminated?
MG: Michelle [Tribble].
TG: Michelle and Milly [Medley]. Michelle is really good.
NT: How do you feel about how the show portrayed you?
MG: I think they portrayed me in the kitchen how I am in the kitchen. I think they did a very good job of getting how I am, my personality in the kitchen, across.
TG: Of course, some things were for drama. But I think it was pretty accurate.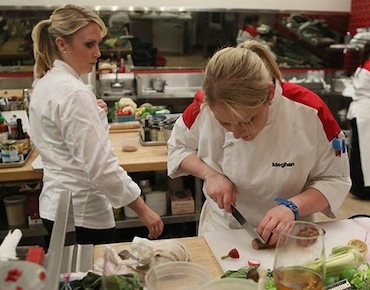 NT: What's Gordon Ramsay like off-camera?
MG: He's a very smart person. He's a force. You know that he's in the room when he's in the room. He is really intense during service, but after service he is jovial.
TG: He turns it down several notches.
NT: Besides yourselves, who did you think would make top two?
MG: At one point, I thought Alison [Rivera]. I thought Alison was a really good competitor, as well.
TG: Top people that I had in mind was probably going to be myself, Meghan, Michelle… I always thought we were going to be there.
NT: If you weren't in the culinary industry, what would you be doing?
MG: I've been in the kitchen since I was 19 years old, I haven't done anything else since.
TG: If I were not in the culinary industry, I would probably be somewhere fixing somebody's computer or something like that.Something boring. My mom's a nurse and she always wanted me to be a nurse. I'm like, "Eh… no."
NT: How did you like being in Los Angeles?
MG: It didn't rain at all. Beautiful weather all the time. I mean, it was awesome [Laughs].
TG: Oh, my god. L.A. is beautiful. The sights that I got to see when I was out on rewards were awesome. The views from Hell's Kitchen -- it was actually really nice, even though you were inside. It was really nice in L.A.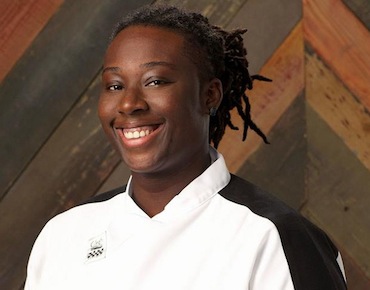 NT: Who were you closest to on the show?
MG: I'd say Christine [Hazel], Josh [Trovato]… Christine and Josh, now. In retrospect, while I was there, I think [T and I] were in that position of the final two and I think we really bonded. Even though we were competing against each other, we were going through that experience together. We definitely have a special bond.
TG: I don't really think I allowed myself to be really too close. But, overall, out of everyone, Milly and I would sit down every once in a while and talk about our lives. I got to know Milly a lot more than anyone else.
READ MORE: TV Premiere Dates For 2015
NT: What were your favorite moments on the show?
MG: Probably when we did the challenges and we're making something for Chef Ramsay to taste and the time I got the five out of five. And I think the very first signature dish. I thought he was going to hate it and I was like "Oh!" He said, "Oh, five out of five" and I was like "Oh, my god!" That was awesome. That was a great moment.
TG: My favorite moment on the show was - I have two favorite moments - going to Laguna Beach and then when Chef announced I was in the top two. That was my all-time favorite moment.
NT: In your opinion, what kept you in the competition until the finale?
MG: I think I tried to stay out of the drama. I tried to stay diplomatic to it. I tried to think clearly. Not only in my cooking, but how I presented myself. I tried to be professional and not get tied up in the drama so much. I think that's what kept me focused.
TG: My ability to move straight and be focused, because this competition will weigh on you physically.
NT: Would you want your child or future child to compete on "Masterchef Junior" in a few years?
MG: I don't know if I would wish this on anybody [Laughs]. It's a tough business. But absolutely. I mean, of course. This was a huge experience, bigger than I could've imagined. Of course I'd absolutely want my kids in the future to do whatever they want to do and if that's what they want to do, then absolutely.
TG: I would, if they wanted to. Absolutely. My daughter loves cooking, actually… I welcome healthy competition. I'm very competitive.
Tune into the "Hell's Kitchen" Season 14 finale on Tuesday, June 9, at 9 p.m. on FOX.
Watch a sneak peek of the finale below.
Reach Senior Entertainment Editor Kathy Zerbib here. Follow her on Twitter here.