Film and TV
Film Review: 'Fan Girl'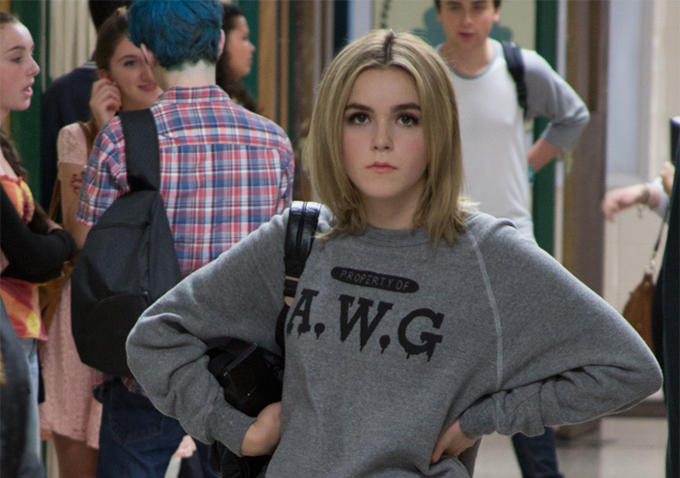 At one point or another, everyone goes through a phase—or maybe you're still in it—where you obsess about a band, learn everything there is to know about your favorite member and dream about being a groupie. For me, that band was The Jonas Brothers. For Telulah Farrow, that band is pop punk band
All Time Low
.
Directed by Paul Jarett, "Fan Girl," which premiered at this year's L.A. Film Festival, is a high school comedy for the 21st century. With a humor and style similar to that of Juno and Superbad, "Fan Girl" has its own factors of absurdity and physical comedy that play on the world of a high school girl and her social media generation. The film's main character, Telulah Farrow, played by Kiernan Shipka, combines her love for All Time Low with her other true love, making films.
READ MORE: 6 Anticipated Films At The L.A. Film Festival
We see the film from three different perspectives, the traditional cinematic approach, Telulah's own view in a found footage format, and the realist style influenced heavily by the social-media using, video shooting generation. It also pays homage to All Time Low's music videos with pop-up titles for various groups or situations throughout the movie.
What's interesting about "Fan Girl" is how it ties in how social media plays such a large role in the post-millennial teen world. From the way Telulah divides high school social groups into Fashion Bloggers, Tumblr users, and the seemingly prehistoric Myspace girls to mentioning how her fan girl video reached over 500,000 views and that her closest friends are from the Internet, we see just how much the Digital Age has taken over the young adult world--there's even a character named Hashtag. We also see the gap of social media use when her mother, played by Meg Ryan, struggles to take the perfect "selfie."
READ MORE: Film Review: 'In The Treetops'
Kiernan Shipka makes a fantastic performance as she plays a punk pop loving teen with a deadpan sense of humor. While we've seen her grow as a young actress in "Mad Men," Shipka's role as Telulah embodies the semi-angsty teenage girl who thinks that every day is "the worst day ever." Perhaps it's the older, "super senior" Darvan, played by Joshua Boone who keeps the film on a good pace. With his nonstop gift of gab and a heart full of good intentions, Darvan's liveliness counters well with the character who hates "almost everything."
Somewhat of a coming-of-age film, "Fan Girl" is silly, fun and youthful. Telulah as a somewhat deviant student who likes to stand out among her classmates. She stalks her favorite band and breaks the dress code at school. "Fan Girl" successfully brings together the teen nostalgia of wanting to be different and obsessing over a band and fitting into the modern ways of social media.
Reach Film Editor Dale Chong here. Follow her on Twitter here.