Los Angeles
Widow Says Fight For Justice Will Continue After $5.3 Million Settlement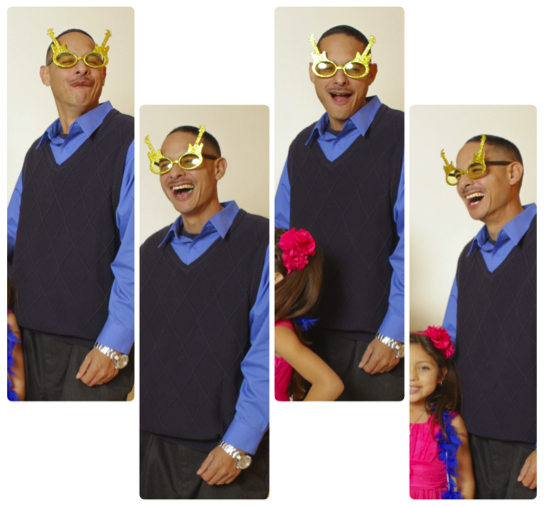 Rosie de la Trinidad spent the wee hours of a Sunday morning in November 2012 on a search for her husband. After hours of retracing his final steps, a trip the Los Angeles County Century Station Sheriff's Department and miles of following ambulances, she felt that her attempts to find answers were in vain.
What she did know was that he had been involved in some kind of police encounter. What she did not know was that just hours before, she had shared her last dance with her partner of almost 10 years.
In early April, after over two years of waiting, de la Trinidad was awarded a $5.3 million judgment against Los Angeles County for the shooting of her husband by two County Sheriff's Department deputies.
This settlement represents one of a growing number of deaths involving men and women of color at the hands of law enforcement across the country. The decision was reached in the wake of national protests against the killing of unarmed civilians such as Rekia Boyd in Chicago, IL, Michael Brown in Ferguson, MO, Tamir Rice in Cleveland, OH and Eric Garner in New York City.
The officers involved in these cases have not been charged. The deputies involved in the killing of Jose de la Trinidad were placed on desk duty for five days before returning to patrol.
The L.A. County Sheriff's Department cost the county $20 million in excessive-force settlements in 2013, nearly $7 million more than 2012, according to the Los Angeles Times.
"I feel like it's blood money," says the widow.
Seven bullets
Rosie de la Trinidad, 32, returned to her Inglewood home at 5 a.m. to check on her two daughters after hours of searching for her husband. She fell asleep sitting up on her couch that morning.
It was not until she turned on the 7 a.m. news that she learned two Los Angeles County Sheriff's Deputies had killed her husband. She fell to the ground and says she screamed so loud that the neighbors heard her cries.
The night before, the de la Trinidads went to a party for Jose's niece. Rosie de la Trinidad and her two children were following her husband and brother-in-law home from the Compton party hall in a separate car until Rosie got stuck at a red light. Jose was riding in the passenger seat of his brother's white Nissan Maxima when two deputies tried to pull them over for speeding. Despite Jose's pleas during the police pursuit, his brother, Francisco, did not wish to stop the car.
"Man, if you're not going to stop, pull over and let me out," were Rosie's husband's alleged last words. "I can't let the girls go visit me in jail."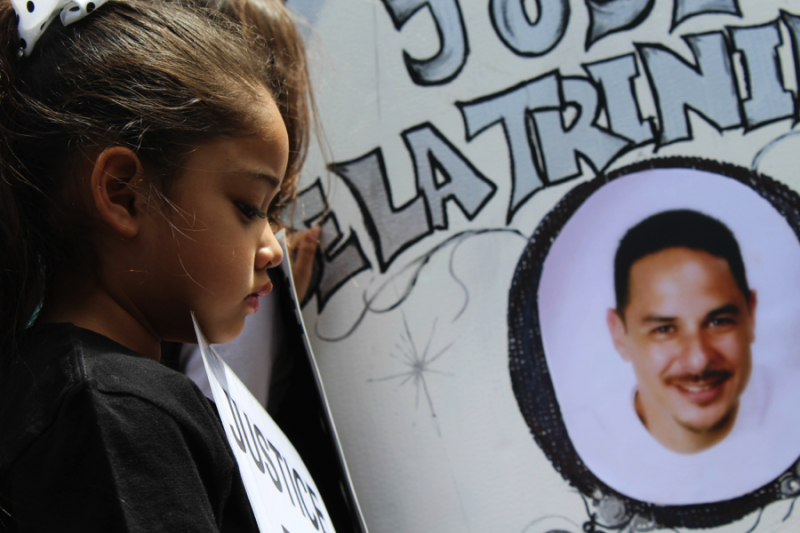 His brother suddenly stopped on the 1900 block of East 122nd Street and sped off after letting Jose de la Trinidad out.
There are conflicting reports about what happened next. Witnesses say that the unarmed man was shot while his hands were above his head. Deputies told investigators that they believed he was reaching for his waistband when they fired their guns.
The official autopsy report revealed that Jose de la Trinidad was shot seven times. Five of those bullets struck him in the back. According to the coroner, four of the seven wounds were fatal.
De la Trinidad says that the injustice did not stop after the night of the shooting. When she arrived at the scene of her husband's death the following morning, she was told that his body had just been taken to the coroner.
The thought of his dead body strewn on the pavement for hours enraged her.
"[The Coroner] showed me a picture of his body on the pavement with leaves all over him like he was just a part of the trash," she says.
The photo of her husband's naked, handcuffed corpse often replays in her mind. She returned to the scene of the shooting in search of answers after leaving the coroner. Some of the witnesses who spoke to the widow told her they feared coming forward due to possible retaliation.
"I'll never forget," she says. "They said he hit the fence on his way down and tried to hold on, and then finally he just hit the ground."
The language she says officers used during the investigation also upset her.
"I hated that they kept calling him a suspect," says de la Trinidad.
Her sister-in-law told de la Trinidad that the police questioned her the night before about whether her brothers were in a gang and if they had enemies in the neighborhood before revealing Jose de la Trinidad's death. These alleged questions confused de la Trinidad, and she felt like the department was trying to smear her husband's name.
"Who do you call when the police kills your loved one?" she asks.
"My God, does this happen here a lot?"
This is when Rosie says she decided to put her grief aside and become "Wonder Woman." She hired a lawyer and spoke with every media outlet that she could in an attempt to "fight back" and tell her husband's story.
One day she attended a Compton Town Hall meeting and saw a group of people in the back holding signs that said "Stop Killer Cops."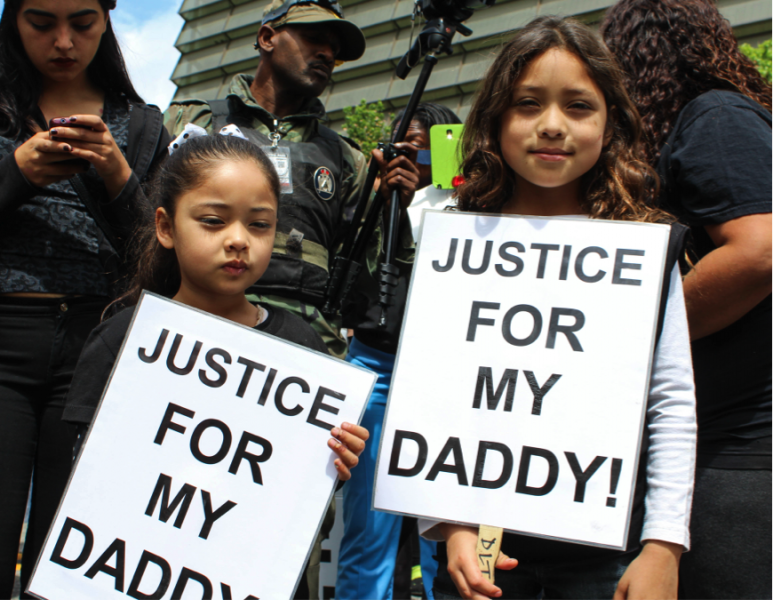 "I just thought, 'My God, does this happen here a lot? Call me naïve, but I thought it was like an isolated incident."
After Jose's death, Rosie's Facebook inbox was flooded with messages from families who had lost loved ones in police-involved shootings. She started to realize that she was not alone, and she organized her first rally in Jose de la Trinidad's name on January 20, 2013.
Rosie's family, along with her two daughters, protest by her side. She recalls the discomfort her daughters felt when the police arrived at their first protest.
"I didn't realize what it was doing to them but at the same time, I wanted them to know that it was wrong," she says. "They need to apologize to my kids."
When she is not holding up signs that read "Justice for Jose de la Trinidad" on the streets, Rosie is posting stories on her Facebook account about other police-involved shootings. She is now a regular at Compton City Council meetings. She frequently works with the Youth Justice Coalition of Los Angeles in coming up with proposals to end police brutality in Los Angeles.
"This is never going to end for me"
Jose's shoes were planted at the doorway for a year and a half. His cologne stayed in the bathroom and his clothes hung neatly in the closet. Rosie occasionally sits by her window, hoping that her husband will return someday. She says that she suffered from hallucinations and would see visions of her husband while in bed.
She's ailing, despite her tough exterior. Doctors prescribed her with Valium to help her sleep at night and attributed her rheumatoid arthritis flare-ups to heavy stress.
The now-single mother has not returned to work since the incident. She used to work as a plastic surgeon's administrative assistant while her husband worked two jobs in the Costco Pharmacy and on The City of Santa Monica's beach maintenance crew.
Despite the financial relief that the money might provide for her family, she says that a dollar amount cannot repair the fatherless world that her two daughters now live in.
"The money is not going to replace his involvement in their school and their education," she says. "He'll never chaperone them to prom. He would say he was going to be their dates."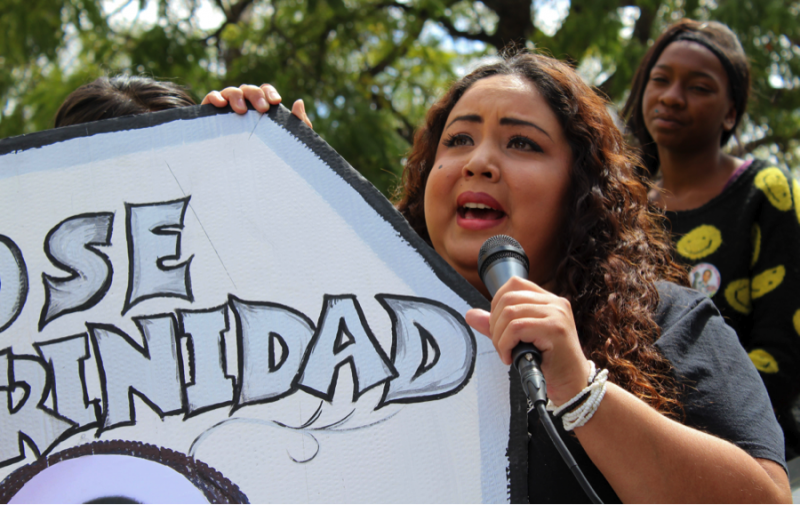 Rosie de la Trinidad says that her oldest daughter has her husband's green eyes, his laugh and his prankster personality. She sees him every time she locks eyes with her daughter, which makes some days especially hard. De la Trinidad and her two daughters place fresh flowers on Jose's grave every Thursday evening. She says that her love for him has turned her into a florist, as she lets out a slight laugh.
The family still lives in the same Inglewood home, where a photo of Jose de la Trinidad sits on the altar surrounded by candles.
"Maybe I should try to move," she hesitates. "It's like my body and my mind and my life is at a standstill."
De La Trinidad was marching for justice on the day that the L.A. County Board of Supervisors reached the settlement decision, and she says that she her fight will not stop at the end of the lawsuit.
"This is never going to end for me," she says. "You never go back to the person you were."
Contact Staff Reporter Ashley Velez here. Follow her on Twitter here.