Art and Design
USC Seven Slam Back At Roski Dean In New Statement, Continuing MFA Debate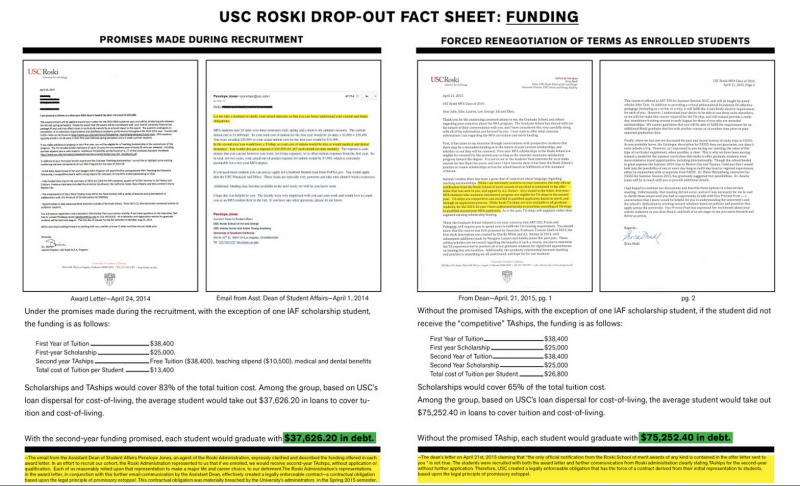 This morning, the seven students who dropped out of USC Roski's Master of Fine Arts program – now dubbed the "USC Seven" – published a
new statement
on their tumblr site in response to an email statement sent by Roski Dean Erica Muhl to the school's students, faculty and staff a week ago.
This is the fourth move in a public-statement banter between the USC Seven and the Roski administration. It counters claims made in Dean Muhl's first two statements point-by-point and elaborates on the Seven's argument contained in a "fact sheet" of highlighted and redacted Roski documents.
READ MORE: USC Student Show 'Grand Depository' Pushes For Change At The Art School
Dean Muhl asserts that Roski never misguided the students. "We honored in every respect the 2014 offer letters sent to them by the school," she says in the letter to the Roski community.
But students say that isn't true: "The Roski Administration's representations in the offer letter, in conjunction with recruitment communications, created a legally enforceable contractual obligation which was materially breached by the University's administrators in the Spring 2015 semester," they counter in today's statement, asking readers to look at their their fact sheet and see exactly what they say the university failed to deliver.
The blows started almost two weeks ago with the seven students – the entire first-year MFA class – announcing their unanimous withdrawal from the art school sans degree. The gist of the students' concerns surround promises made to them in the recruitment process about faculty members, curriculum and TAships (which translate into valuable financial support for art students) that they say were broken by the school administration in a "classic bait-and-switch."
After "a slew of unproductive, confounding and contradictory meetings" with Roski administration, the students felt they had no choice but to drop out in protest, which they did on USC graduation day, publishing their statement on tumblr 38 minutes before the start of the main commencement ceremony. The entire second-year MFA class chose not to attend their own graduation in solidarity with the first-year students.
Since then, the story has grabbed national attention because the MFA students' words and actions allude to much larger tensions in the art higher education world – ones expressed by just seven students but affecting thousands more – about the value of an MFA in today's job market and the changing role of art in a "new, more corporate university order."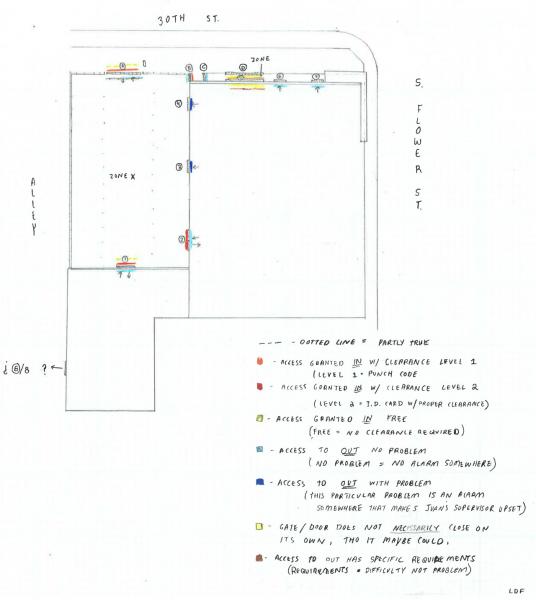 "In the case of USC," said DeWitt Godfrey, president of the College Art Association, in the L.A. Times, "they're making a big push into an interdisciplinary arts school that has a lot to do with technology and uses a lot of Silicon Valley buzzwords like 'disruption.'"
Roski has taken strides to set itself apart as a school that integrates art with the current market for creative work. The school was already notable for offering design classes to undergraduate students, a choice many institutions decide against in favor of a more traditional, studio-based, liberal [fine] arts education. Under Dean Muhl, the school changed its name from the Roski School of Fine Arts to the Roski School of Art and Design.
With the opening of the Jimmy Iovine and Andre Young Academy, for which Roski Dean Muhl is the lead director, the line between arts and corporate "creativity" gets even blurrier. "The degree is in disruption," the website announces. With the Roski dean as its lead, the Academy aims to create an interdisciplinary, highly pre-professional curriculum with art and design as one of three "essential areas" of learning, along with technology and business. Course offerings for next fall include, among others, "Innovators Forum," "Innovators Roundtable" and "Disruptive Innovation."
The Academy mission statement echoes that of another new, very similar-sounding venture developed at Roski: the building of an online Masters degree in "integrated design, business and technology." The program is in collaboration with Condé Nast and WIRED magazine and aims to "teach discipline and disruption," said WIRED's Editor-in-Chief.
But the conceptual shift that these developments allude to – the perception of "art" at USC as less fine arts, more the business of creativity – upsets those who came to USC for a traditional fine arts education. The culture has its nexus in Roski, perhaps, but spills over into many creative pursuits; some of the most fervent #MFAnoMFA sharers on my Facebook page are not Roski students but music, film and creative writing majors.
Music major Evan Pensis called out USC for "[undermining] process for production": "At USC, I feel that there's an enormous pressure to pursue lucrative endeavors--that if you don't conform to the race, you aren't fit enough to exist," he said in a Facebook post. "As a student in the arts, it pains me to see that the pressure to constrict one's development/craft/learning for immediate monetary success… [that] squanders true innovation."
No matter what USC is doing with their art curriculum or how much value they truly place on maintaining fine arts traditions in the midst of "innovation," the evolution is coming at a price.
In a seemingly conciliatory move, Dean Muhl addressed the USC Seven at the end of her statement: "I respect your decision and strong feelings on this issue, but I want you to know that we have not recorded your withdrawal. Instead, we have granted each of you a two-year leave of absence. If you let us know that you wish to rejoin the school…we will welcome and celebrate your return."
But the students see her move as something else. "[Dean Muhl] may wish to obfuscate the truth and refuse to recognize our group's Withdrawal purely for administrative and statistical benefit," they asserted today. "We already officially withdrew from USC on May 15th, but the dean's statement forces us to withdraw once again. We wish to fully withdraw from the University of Southern California, effective immediately."
Senior Arts Editor Gigi Gastevich is a Roski BFA student. Contact her here.